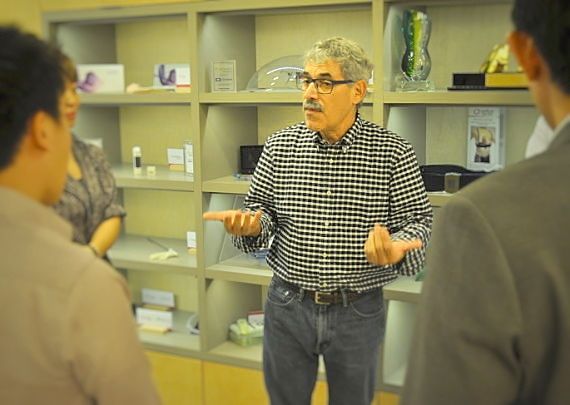 Trendlines co-chairman Todd Dollinger describing some of the innovative devices of Trendlines on the shelves behind him.
Photo by Leong Chan Teik
In Israel for the AgriVest 2016 conference recently, I met Eddy Wang. A Chinese national, he is business director in China for Singapore-listed Trendlines Group.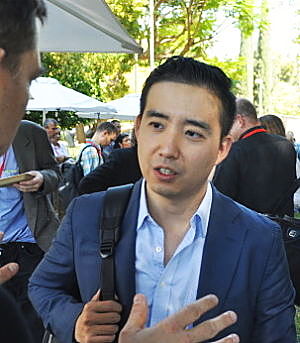 Eddy Wang: Sourcing for Chinese investors for Trendlines.
Photo by Leong Chan TeikIt was news to me that Trendlines has had a man in China for the past two years. Eddy's contribution is becoming evident. (He, in turn, is thankful for a growing pool of deep-pocketed investors in China who are enthusiastic about new technologies.)

In the park outside the venue of the AgriVest conference, I noticed a group of Chinese visitors during meal breaks. As I learnt, they were investors from China whom Eddy had arranged to seek exciting start-ups to invest in.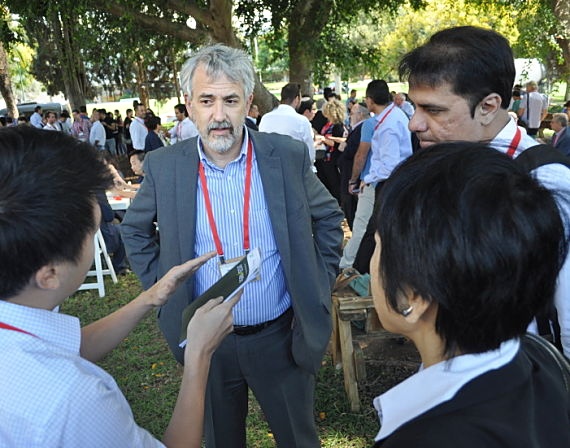 Trendlines co-chairman Steve Rhodes speaking with Singapore and HK visitors during a break in the AgriVest conference held at Weizmann Institute of Science.
And Eddy -- with the help of partners -- had lined up investors to attend the presentations of the seven portfolio companies that Trendlines took on a roadshow in Beijing, Shanghai, Shenzhen and HK in July this year.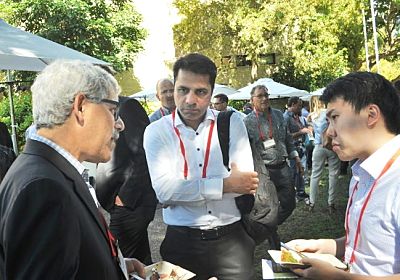 Trendlines co-chairman Todd Dollinger with Deepak Ramchandani and Saw Wei Jie from Singapore. Photos by Leong Chan TeikChinese money has already made its way into Trendlines portfolio companies such as Gordian Surgical, Acuro Medical and Sol Chip(click on the links for more info). "

A number of other Trendlines portfolio companies are now negotiating investments with Chinese and Singapore investors.

Over time, Trendlines is likely to enjoy even greater success attracting Chinese money. That could happen pretty soon, as Trendlines is planning to hit the road again, in January 2017, to talk to investors in four big cities of China (and in Singapore).

The AgriVest conference would have opened up the eyes of other investors, especially those relatively new to Israel, to the fact that Israel is teeming with innovative start-ups.

Aside from the conference (more on this later), which was co-organised by Trendlines, we -- a group of analysts, investors and media from Singapore and Hong Kong -- had the opportunity to visit several Trendlines portfolio companies.

We learned of:

Leviticus Cardio:
It's developing a wireless system of charging pumps that power VADs (ventricular assist device) implanted in patients. The VADs

partially or completely replace the functions of failing hearts.



The wireless system is superior in many ways to the wired one which connects a wire from the VAD inside the body, exits at the abdomen and hooks up to an external power source.
EdenShield: It has developed natural solutions from Israeli desert plant extracts for spraying around greenhouses to mask the odour of
crops being grown inside.

In that way, pests are fooled from seeking them out.


The solution, which is an ecofriendly alternative to conventional pesticides, gained US patent approval in Sept 2016.

These are two of the 43 portfolio companies of Trendlines whose business is to nurture them, help to raise funds, and then find acquirers which are, typically, large and established players.

While we were in Israel, Trendlines announced the conclusion of a deal to sell its 26.46% stake in portfolio company E.T. View Medical.

Ambu A/S of Denmark has paid US$13.6 million to E.T.View shareholders (gross, before withholding taxes, but after deduction of transaction costs, certain debts, liabilities, and other expenses).

Among its portfolio companies, Trendlines, one would expect, would eventually have gains that range from modest to significant to outsized, reflecting the value of the medical device or agri technologies developed by its portfolio companies.

A big exit -- or a few modest exits in a short period -- could spark life in Trendlines' share price, which has been underperforming, trading at 16.5 cents or half of its 33-cent IPO price just a year ago.





Back to AgriVest (see videos above): At the event, FieldIn was voted No.2 among 12 Israeli start-ups by the audience and judges. FieldIn has a pest management solution for high-value crops.

Voted No. 1 was Enzootic, which has developed the know-how to produce all-female shrimps in aquaculture. Female shrimps grow faster and bigger than males, and consume less food.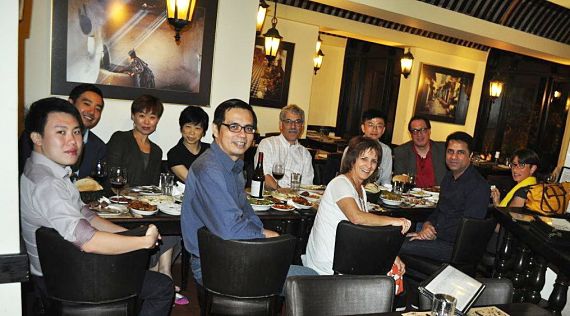 The curtain-raiser was: Heading to Israel to check out innovations of TRENDLINES' start-ups