Excerpts from CGS-CIMB report

Analyst: Ong Khang Chuen, CFA


■ Sunsine's 1Q21 net profit of Rmb125m (+64% qoq, +274% yoy) was above expectations, mainly due to stronger than expected GPM.


China Sunsine

Share price:
56.5 c

Target:
66 c
■ We believe that a healthy profit spread can be sustained, supported by robust downstream demand and elevated raw material prices.

■ We reiterate our Add call with a higher TP of S$0.66 (1.05x FY21F P/BV).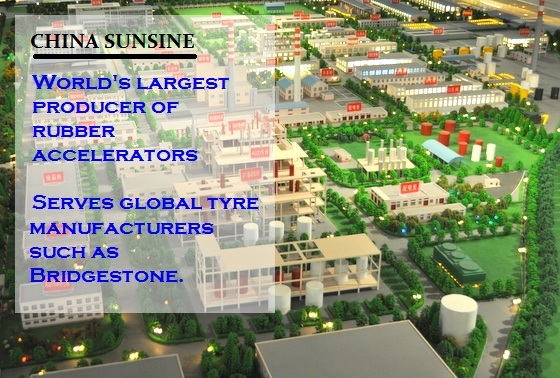 Positive 1Q business update
Sunsine's 1Q21 net profit of Rmb125m (+64% qoq, +274% yoy) was above our expectations, forming 42% of our FY21F forecast.

Key surprise was stronger-than-expected GPM of 31.6%, as Sunsine successfully passed on higher raw material costs to customers.

Robust downstream demand led Sunsine to achieve Rmb840m revenue in 1Q21 (+22% qoq, +66% yoy), riding on record sales volume of 47,000 tonnes (98% utilisation rate) despite 1Q being a seasonally weaker quarter.

Downstream demand recovery to continue
We believe that downstream demand will remain strong in CY21F.

We expect China's tyre manufacturing industry production (Mar 21: +16% yoy) to remain robust with the continued growth in the auto industry (China Association of Automobile Manufacturers expects new vehicle sales in China to grow 4% in 2021F).

We expect the export volume of China's rubber accelerators (1Q21: +4% qoq, +11% yoy) to also stay strong with the resumption of economic activities in the overseas markets.

Overall, we forecast Sunsine's sales volume to grow 15% in FY21F.

Healthy profit spread could be sustained
Post a strong start to the year, rubber chemical prices have retreated slightly in Apr 21, and now stands at Rmb23k/ton (+8% YTD, +44% yoy), according to sci99.com.

We think this is mainly due to downstream manufacturers having sufficient inventory post heavy procurement in 1Q21.

We expect rubber accelerator prices to stabilise at current levels, supported by

1) robust downstream demand, and
2) elevated raw material costs.

Price of aniline, a key raw material, has surged c.120% yoy riding on higher oil prices. We believe healthy profit spread for Sunsine (Rmb4k gross profit per tonne) can be sustained for the remainder of the year, and raise our FY21F net profit forecast to Rmb365m (+67%).


Reiterate Add with a higher TP of S$0.66
Maintain Add. We raise our FY21-23F EPS forecasts by 1.2-22.0% to reflect higher GPM assumptions.

Our TP rises to S$0.66, still based on 1.05x FY21F P/BV (0.5 s.d. above its 10-year historical mean).

Potential re-rating catalyst is stronger-than-expected selling prices.

Key downside risks include worse than expected pricing competition and resurgence of Covid-19 cases, impacting demand.

Full report here.