There are 2 iron ore miners recently listed on the Singapore Exchange.

They may have appeared to be unlikely market darlings of the future since investors here are unfamiliar with the iron ore industry.

And if investors were keen, they could easily invest in major iron ore players listed in other markets like Australia.

However, the 2 miners have proven to be able to overcome investor inertia/ignorance, with the help of a strong uplift from iron ore prices.


Company

When
IPO

IPO
Price

26.4.21
price

Gain since IPO

Fortress Minerals

March 2019

20 cts

49.5 cts

148%

Southern Alliance Mining

June 2020

25 cts

85 cts

240%
Fortress Minerals and Southern Alliance Mining, both of which operate in Malaysia, launched t

heir IPOs in Singapore in 2019 and 2020, respectively.

In those times, iron ore prices were already strong enough to imply decent profitability (see chart below).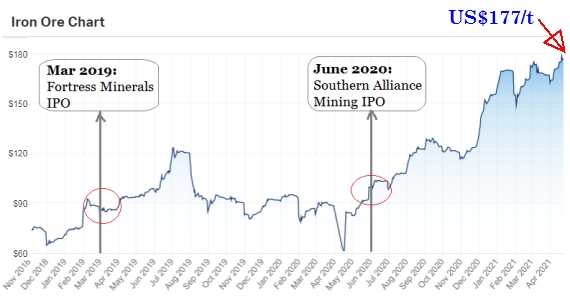 Since the 2 company IPOs, iron ore prices have surged further (approximately 100%) to an all-time high of US$177/ tonne.

For the fundamentals driving iron ore prices currently, see Mining.com's analysis : Iron ore price up as China steel futures hit new highs

The latest financial results of Fortress and Southern Alliance showed their profitability has shot through the roof.

Which is not surprising as commodity producers are highly leveraged to the market prices of their products, and their stock prices act accordingly.


Share price runs in past 12 months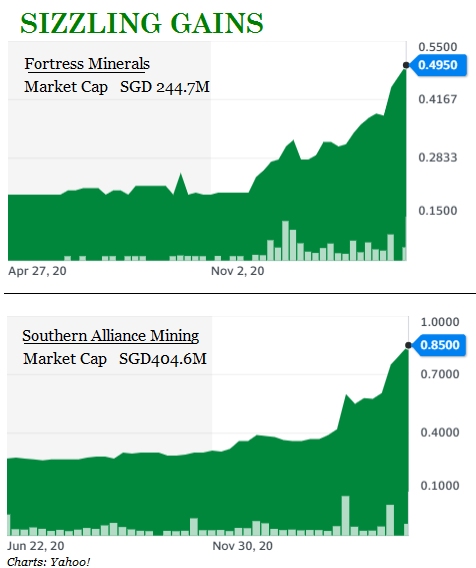 Fortress Minerals

FY20*

FY21*

Revenue

US$25.9 m

US$47.7 m

Net profit

US$6.5 m

US$18.2 m

*FY ended February
Southern Alliance Mining

1HFY20*

1HFY21*

Revenue

RM141 m

RM152 m

Net profit

RM35.0m

RM51.4 m

*Half year ended January

For more, click on recent stories:

• FORTRESS MINERALS: Maintain BUY with higher TP of S$0.64