2020 was a year to forget for Uni-Asia Group, no thanks to Covid-19.

Its previously-promising hotel operating business fell into the Japanese equivalent of Chapter 11, completely wiping out Uni-Asia's stake.



The Singapore-listed company even managed to propose a 1-cent final dividend.

That translates into a dividend yield

which is not to be sniffed at

of about 1.7% (based on the recent 58 cent share price).

This, despite reporting a net loss of US$7.7 million attributable to shareholders (FY2019: US$5.9 million net profit).
But thanks to its diversified business model -- ie it is also into property and shipping -- Uni-Asia has pulled through the year and found itself on firmer ground currently.
Additionally, as far as optics go, the 1-cent dividend is a positive -- it marks the 9th consecutive year that the group has paid a dividend (see chart).



Note: (1) Total number of shares used for computing dividend per share are adjusted for corporate actions where applicable so that the dividend per share figures are comparable. Source: Uni-Asia
There are bright spots in Uni-Asia's story, as management pointed out in a FY20 results briefing.

As with the container shipping market, the dry bulk ship market that Uni-Asia takes part in has been enjoying a sharp rise in charter rates from 4Q2020.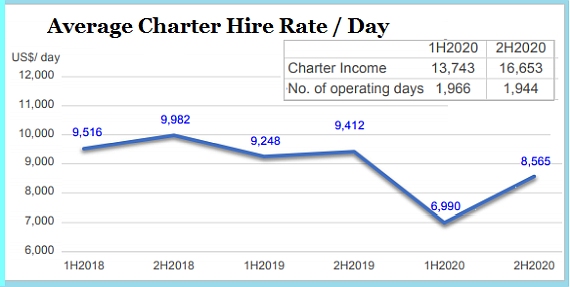 2H2020 marked a recovery in Uni-Asia's dry bulk shipping segment's charter hire rates. They have continued to rise in 1Q2021.
Source: Uni-Asia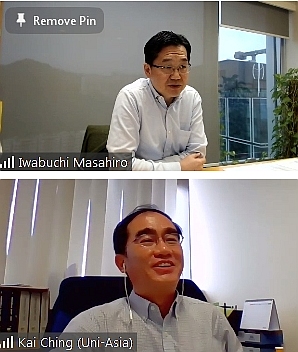 Executive Director Iwabuchi Masahiro and CFO Lim Kai Ching.Uni-Asia, which wholly owns 10 dry bulkers, said the rates have gone up due to factors such as an increase in Chinese dry bulk imports from the Atlantic and port congestions.

That helped boost the shipping segment of Uni-Asia to a $0.8 million profit in 2H2020.

But the full-year result was still a net loss of US$10.4 million largely owing to an impairment loss and a loan write-off.

Elevated charter rates persist. "In January - March this year, the rates have gone up month by month," said CEO Kenji Fukuyado.

"For example, the spot charter rate for a 28,000-29,000 DWT vessel was US$10,000 in January, and it jumped to US$12,500 in February and US$19,000 in March."

Uni-Asia's dry bulk ships are on short-duration time charters, including two vessels whose rates are pegged to the Baltic Handysize Index.

Going forward, as in the recent past, charter rates will depend on several factors in global trade but particularly how much iron ore, coal and grain that China imports, he added.


Property investment in HK
Meanwhile, Uni-Asia's property business was profitable in 2020, contributing $4.3 million to the group's bottom-line.

Property investment in Japan accounted for US$2.0 million of the profit while investments in Hong Kong, US$2.3 million.

In 2020, US$2.5 million of fair valuation gain were recognised for property projects in Hong Kong

Uni-Asia has invested in 8 projects in Hong Kong, of which three have been completed and sold while five are ongoing, as follows:


| | | |
| --- | --- | --- |
| Ongoing projects in HK | Investment | Current status |
| #4. Commercial office building | HKD25.0 million (2.5% effective ownership) | Construction completed and the building is in the approval stage for occupation. Ground floor shops are all sold and presale of office units is underway. |
| #5. Industrial building | HKD26.81 million (7.5% effective ownership) | Construction is close to completion. Building is expected to be ready for occupation in mid-2021. Pre-sale is being launched. |
| #6. Industrial building | HKD48.2 million (3.825% effective ownership) | Superstructure construction above ground will commence soon. Project's target completion is mid-2022. Presale may start on this project in 2H2021. |
| #7. Commercial office building | HKD53.75 million (8.27% effective ownership) | Superstructure construction is underway and the building is expected to top-out before 2021-end. Presale of this project will follow the completion of presale for projects #4 and #5. |
| #8. Industrial building | HKD33.00 (3.0% effective ownership) | Demolition of the two old buildings is underway. Recently extra GFA of about 10%+ has been approved. |
Property investment in Japan
In Japan, the Group expanded its small-residential development projects named ALERO.


Uni-Asia
stock price

58.5 cents

52-week range

37 – 67.5 cents

Market cap

S$46 m

PE

--

Dividend yield (FY20)

1.7%

1-year return

54%

Price/NAV

0.3

Source: Yahoo!
Typically, Uni-Asia's stake in projects ranges from 20% to 100%, with an average investment period of less than 2 years with sums of of up to USD3m per project.

It has invested JPY658 million in the projects in 2020, exceeding the full-year amounts (JPY478 - 496 million) of 2017, 2018 and 2019.

2020 saw the most number of new projects (12) and on-going projects (16) as at year-end since 2011, including construction management projects.

For the full year, US$2.7 million of realised gain were recognised for ALERO projects.

The FY2020 presentation material is here.