Excerpts from UOB KH report


Alpha Picks: Adding In Venture And AREIT



Japfa outperformed on the back of its strong set of 3Q20 results, while top decliners were CapitaLand Mall Trust, Wilmar and YZJ.

For Nov 20, we remove Singtel and CapitaLand Mall Trust, and add Venture and Ascendas REIT to our portfolio.Our portfolio lost 3.0% mom in Oct 20 vs the FSSTI's narrower decline of 1.7% mom.


WHAT'S NEW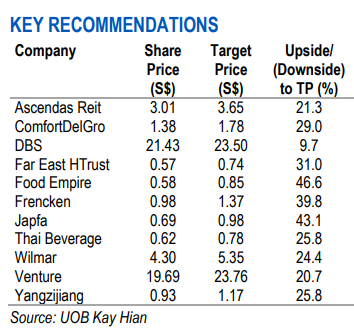 • Reviewing our picks in October. Our portfolio recorded a 3.0% mom decline vs the FSSTI's retreat of 1.7% mom.

The hardest hit within our portfolio were CapitaLand Mall Trust (-10.4% mom), Wilmar (-8.2% mom) and YZJ (-7.1% mom).

Notable outperformers include Japfa (+7.5% mom), which reported stronger-than-expected 3Q20 results.

• Remove Singtel, add Venture. While we retain our BUY rating on Singtel, we remove the stock from our portfolio, given the risk of higher-than-expected impairments in the near term.

In its place, we add Venture which we believe deserves to trade at higher valuation multiples, given:

a) its clients' better earnings prospects;
b) sustainable dividend yield of 3.9%; and
c) outperformance vs peers, with net margin of about 10% even during the challenging environment in 1H20.
Consensus revenue forecasts for its clients show expectations of a strong recovery in 2021, to levels comparable or higher than 2019's for key clients in its Test & Measurement (+4.2% yoy) and Life Sciences/Medical (+18.8% yoy) domains.

• Switch out of CapitaLand Mall Trust for AREIT. Given the change in profile and asset mix post-merger with CapitaLand Commercial Trust, we remove CapitaLand Mall Trust at this juncture.


FOOD EMPIRE
• Compelling valuation. At the current price, Food Empire trades at 8.4x 2021F PE, a significant discount compared to >20x for its regional peers.
For Ascendas REIT (AREIT), we think the retracement in its share price in the past month (-7.4%) presents a good buying opportunity.

While rental reversion swung to a negative in 3Q20, it is positive on a ytd basis at 4.2% and management has maintained guidance of low single-digit reversion for the full year.

Furthermore, we like AREIT for its quality tenant base and geographical diversification.

Full report here.