Ivan Huang contributed this article to NextInsight


Listed on SGX since 2006, Jiutian Chemical manufactures dimethylformamide (DMF) and methylamine for sale in the PRC market to end-buyers and intermediaries.

It operates in Henan Province where surrounding regions are seeing rapid industrialisation and urbanisation, with the establishment of factories producing a wide range of consumer products.

This drives demand for chemicals such as DMF and methylamine.


Decline in ASP of its two main products, DMF and methylamine, is a key risk to Jiutian's earnings.
Jiutian says it is the only significant DMF producer in the Henan Province (within 500km from the plant).

In fact, since its second DMF/methylamine facility of 120,000 annual ton capacity was completed in late 2007, Jiutian says it is one of the world's largest manufacturers of DMF with a total annual capacity of 150,000 tons of DMF and methylamine.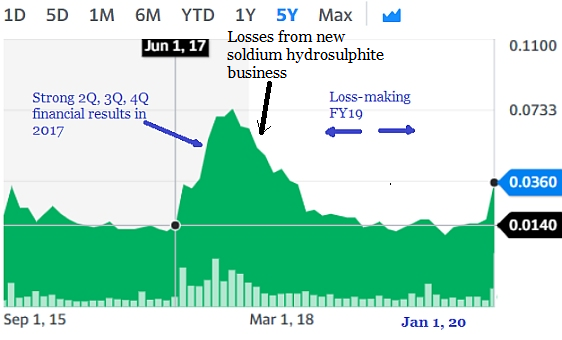 Chart: Yahoo!

Business has been poor in the last decade so Jiutian has paid zero dividends.

That plus high debts and current account deficit, not surprisingly, caused the share price to be very depressed. It was considered a disgraced S-chip.

Jiutian's largest shareholder is a Chinese state-owned company, Anyang Longyu (HK) Development, which holds a 27.63% stake.

This was bought over from Stateglory Investments at 8 cents a share in 2011.


Stock price

3.6 c

52-week range

0.8–4.7 c

PE (ttm)

5

Market cap

S$66 m

Shares outstanding

1.82 b

Dividend
yield (ttm)

--

1-year return

21.4%

Source: Yahoo!
The current sole executive director is Singaporean Lee Chee Seng (who owns a 3.0% stake), a former Managing Director of Deutsche Morgan Grenfell (Malaysia).

The SOE being the controlling shareholder and a Singaporean ex-investment banker at the helm, to my mind, suggest very little risk of business fraud.

Jiutian used to carry very high debts and had current account deficit. I recall that management promised in 2017 to start to rectify the situation.

Based on the 2Q20 results released a few days ago, they have delivered.

Net profit for 2Q2020 came in at RMB 32.6 million, compared to a loss of RMB 7 million in 2Q2019.

This was also a significant jump from RMB 2.8 million profit in 1Q2020.

By a stroke of luck, Jiutian saw one of its largest competitors shut down permanently recently due to environmental concerns, according to Jiutian's press release:

The positive results are due to a combination of:

a) A recovering China economy from the depth of the COVID-19 crisis;

b) A generally depressed market for energy and related commodities, resulting in low price levels of our raw materials; and

c) A robust demand in our main product of Methylamine and DMF which benefited from the recovering economy and permanent closure of one of our largest competitor due to their environmental reason.

In the 2Q20 results statement, management guided that business fundamentals in the near term are expected to stay solid.

"We are especially glad that various cost cutting and loss containment measures taken since 2H2019 have put us on a firmer footing, which allowed us to continue to operate efficiently and profitably focusing on products with robust demand and firm prices, taking advantage of the low raw material prices. Going forward, barring any significant resurgence of COVID-19 in China, we are hopeful that such conducive operating environment will continue for the rest of 2020 and we will continue to be very focused in maintaining the current momentum of the Company."

-- Jiutian's Non-executive Chairman, Han Lianguo
I've checked DMF selling prices in China, and am happy to learn that they rose from RMB 5k to 5.8k in the last couple of months.


That gives me some confidence to annualise 2Q20 earnings, arriving at a 12-month earnings per share of RMB 7.2 cents.

That translates into a PE of 2.5 (based on a recent stock price of 3.5 cents).


A factor that will have boost earnings is higher capacity utilisation for DMF. The rate for 2019 was 62% and 56% for 2Q2020, which means there is a lot of upside potential.


The share price has moved up sharply after the 2Q20 results but it could rerate further if the company continues to make good profits over the next couple of quarters and, one day, declare a dividend.

S-chips that have re-rated in such fashion include Delong (subsequently privatised) and China Sunsine.