Excerpts from UOB KH report

Analyst: Clement Ho

Jiutian Chemical Group (JIUC SP)
High ASPs To Remain Firm As Supply Remains Limited

We are seeing a widening of gross profitability from high product ASPs and a slower rise in raw material prices.


Jiutian Chemical

Share price:
9.0 c

Target:
16.8 c
We do not expect any significant new production capacity for dimethylformamide and methylamine due to environmental concerns remaining at the forefront of the Chinese government's agenda, while ample supply of methanol will put a cap on feedstock costs.

Maintain BUY with higher target price of S$0.168 (from S$0.138) after re-basing our valuation year from 2021 to 2022.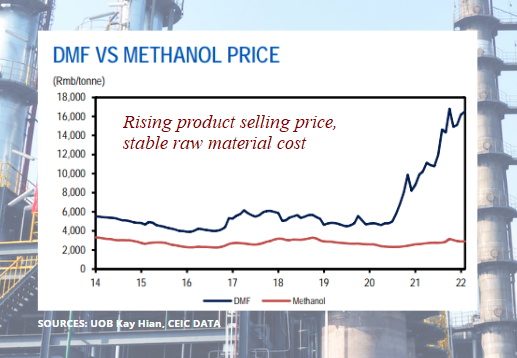 WHAT'S NEW
• Product ASPs continue to trend upwards in 1Q22. According to CEIC Data, the average price for dimethylformamide (DMF) recorded a 74.5% yoy spike in 2M22 to Rmb16,350/tonne (2M21: Rmb9,370/tonne).

This compares with our initial estimate of Rmb10,500/tonne in 2022 for Jiutian Chemical Group (Jiutian). Historically, ASPs are typically the lowest in the first quarter, before trending up the rest of the year.

• No new capacity in the foreseeable future. China's manufacturing industry continues to see a DMF supply shortfall as applications for new capacity remain on hold without any follow-ups by the Chinese government as environmental concerns remain at the forefront of policies.


No new capacity on horizon
"Even if the Chinese government gives approval for new supply, it would still require a minimum of 9-12 months for trials and further approvals, before the new capacity can come on-stream to the market."
We continue to maintain our view that any significant new increase in DMF supply will be capped, and this will support prices in 2022 and 2023.

Even if the Chinese government gives approval for new supply, it would still require a minimum of 9-12 months for trials and further approvals, before the new capacity can come on-stream to the market.

• Widening gross margins also coming from ample supply of methanol. Methanol prices have been kept low because of ample supply. Relative to DMF's 74.5% yoy spike, average methanol price in 2M22 saw an increase of just 11.1% to Rmb2,893/tonne, according to CEIC Data.

This implies a widening spread in gross profitability (see chart on page 2) for Jiutian Chemical, and we expect 1Q22 financials to reflect a significant scale-up in gross margin and operating leverage.

• Stark improvement in 2021 financials, not seeing any slowdown. Jiutian's 2021 net profit of Rmb310.3m (2020: Rmb174m) significantly exceeded street estimates due to the elevated product ASPs.

Operating cash flow of Rmb655.8m was a marked improvement over Rmb129m in 2020, while free cash flow was also healthy at Rmb633.5m (2020: Rmb122.7m) as capex was minimal at Rmb22.3m (2020: Rmb6.3m). Furthermore, Jiutian's balance sheet swung from an accumulated loss position (since 2009) of Rmb199.0m in 2020 to Rmb43.5m at end-21.

This places the company in a better position to access credit facilities and also pay dividends going forward.

STOCK IMPACT
• Gross margin expansion anticipated. Averaging 19.3% in 2017-21, adjusted gross margin is expected to improve to 33.9% in 2022 (2021: 32.4%), due mainly to higher product ASPs.

This is despite higher growth in raw material cost assumptions of 2% in 2022, based on the forward curve on crude oil futures.

• No impact from China's lockdown at this point. There is currently no impact of China's lockdown on Jiutian's operations, which are primarily situated in Henan, Zhengzhou. Its customer base stems mainly from Henan, the surrounding provinces adjacent to Henan, namely Hebei, Shaanxi, Shanxi, Hubei, Shandong, and Anhui, and provinces in the Yangtze Delta Region, namely, Jiangsu and Zhejiang.

EARNINGS REVISION/RISK
• We have revised our 2022 and 2023 DMF price assumptions by 4.8% and 10.0% respectively to Rmb11,000/tonne for both years, from Rmb10,500/tonne and Rmb10,000/tonne respectively.

This is based on our view that: a) China's industrial growth can be sustained, and b) there will be a continued supply shortage in the industry.

• Accordingly, our net profit growth estimates have risen by 10.9% and 3.9% to Rmb392.9m (+26.6% yoy) and Rmb381.0m (-3.0% yoy), from previous estimates of Rmb354.5.6m and Rmb366.9m respectively.


VALUATION/RECOMMENDATION


• Maintain BUY with higher PE-based target price of S$0.168 (previously: S$0.138). We have rebased our valuation year from 2021 to 2022, with the target price pegged to 4.3x PE, or -1SD of its historical 10-year average.

We view its current valuation at 2.3x 2022F PE as attractive.



SHARE PRICE CATALYST


• Better-than-expected product mix between DMF and methylamine.

• Higher-than-expected factory utilisation rates.

Full report here