Excerpts from CGS-CIMB report

Analyst: Kenneth Tan & Ong Khang Chuen, CFA

Jiutian Chemical Group Ltd
Widening profit spread drove record GPM

■ 2Q22 net profit came in strong at Rmb184m (-8% qoq, +163% yoy), above expectations on better-than-expected MA pricing and lower input costs.


Jiutian Chemical

Share price:
9.5 c

Target:
18 c
■ GPM was a record high at 39.5% (vs. 2Q21: 26.6%). We raise our FY22-24F EPS by 16-38% in view of stronger profit spreads.

■ Significant net cash at c.80% of current market cap.

Reiterate Add with a higher TP of S$0.18, pegged to 4.8x FY23F P/E.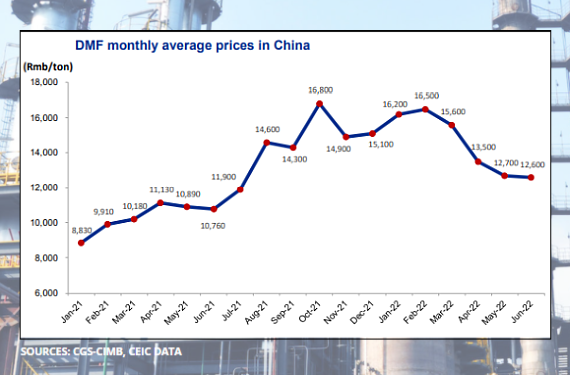 2Q22: solid results despite some ASP normalisation
2Q22 net profit of Rmb184m (-8% qoq, +163% yoy) was above expectations, with 1H22 net profit forming 97% of our and 79% of Bloomberg consensus forecasts. The beat was driven by strong methylamine (MA) prices (+104% yoy) and lower-than-expected input costs.

Dimethylformamide prices (DMF) saw some hoh normalisation in 1H22 to Rmb14k/tonne (DMF) on the back of

1) lower export orders from producers, and
2) slowdown in China's economy, but prices remained 40% stronger yoy.
Overall, 2Q22 gross margin improved to a record high of 39.5% (vs. 2Q21: 26.6%) as raw material costs continued trending lower.

DMF prices weaker but MA prices remain healthy
According to 100ppi.com, DMF prices normalised further to Rmb10.5k/tonne in Aug 22 (vs. Rmb12.7k as at end-Jun 22); we believe this can be partly attributed to seasonally weaker end-demand amid lower manufacturer output in view of higher summer temperatures.

Part of the pricing weakness was also caused by China's zero-Covid policy, which has temporarily dampened economic growth, in our view.

Positively, MA prices still remain elevated based on our channel checks, which should support continued healthy profit spread for Jiutian. With the business environment likely to remain challenging in 2H22F, we cautiously forecast Jiutian's 2H22F net profit to grow 10% yoy.


Reiterate Add with a slightly higher TP of S$0.18
We raise our FY22-24F EPS by 16-38% on the back of higher MA ASP assumptions.

Reiterate Add. We believe valuations are attractive, as the group currently trades at an undemanding c.2.6x FY23F P/E.

Net cash of Rmb792m forms c.80% of Jiutian's current market cap, which could also support higher FY22F dividends (we estimate c.11% dividend yield).

On the back of our higher EPS forecasts, our TP is raised to S$0.18, pegged to 4.8x FY23F P/E (based on a c.20% discount to 5-year historical mean of SGXlisted peer China Sunsine).

Potential re-rating catalysts include stronger DMF and MA ASPs amidst robust downstream demand.

Downside risks include weaker ASPs due to increased competitive pressure with new industry supply coming in.

Full report here.