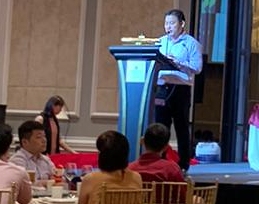 Excerpts from speech by Tiong Seng Holdings CEO Pek Lian Guan at the group's Chinese New Year celebrations on 28 Jan 2020.




Corporate Reorganisation & Formally Establishing Engineering Solutions
As some of you may know, we celebrated our 60th anniversary in December last year.

As we celebrated this milestone, we also rolled out several strategic initiatives while introducing new Board and management members to enhance our capabilities, corporate governance and the depth of our leadership.

With that said, we would like to give a warm welcome to all new members of the Tiong Seng family.

Of notable mention, Dr John Keung was appointed as Chairman of Tiong Seng Contractors and Board member of our property development subsidiary, Tiong Seng Chang De Investments.

Having served as CEO of the BCA for 11 years, Dr Keung will impart valuable industry expertise, thought leadership and industry contacts to strengthen our core construction business.

In addition, Mr Lam Siew Wah was appointed as Chairman of Tiong Seng Engineering Solutions, our third business segment, and Board member of Tiong Seng Contractors.

Mr Lam, previously Deputy CEO of the BCA for 18 years, has also served a stint as Managing Director of the Built Environment Research and Innovation Institute.

As such, he will bring experience in deep research and innovation, to elevate the Group's reputation as an industry leader in developing cutting-edge construction solutions.


With the formal establishment of Tiong Seng Engineering Solutions, we are now in a prime position to optimise our resources and better manage our niche engineering solutions' subsidiaries.

Moving into this new year, the dedicated management team of TSES will work to harmonise our suite of engineering solutions to create synergistic value, and provide more holistic solutions to our valued clients, both locally and abroad. For one, the scalability of our technologies will allow us to capture the growing demand for social housing in the ASEAN region.

More importantly, TSES will now support our internationalisation drive and be deployed as a "front scout" to establish new or follow-on business for the Group.

Organisational Rebranding
As we enter our sixth decade with a new tagline "Pioneer of Possibilities", our desire to "Synergise, Innovate & Actualise" represents who we are as an organisation and will continue to guide us as we aim for the future.

As innovative problem-solvers, we constantly explore new ideas and pilot new technologies to improve the way things are done.

With our diverse expertise in construction, property development and engineering solutions, we pride ourselves on being able to create synergies and deliver value-added solutions to our clients.

Finally, decades of industry experience and a strong foundation has equipped us with the aptitude to actualise the full potential of our technologies, and apply them in practical, efficient and meaningful ways.

Construction Achieves close to Billion Dollar Order Book as at FY2019
Let me take a moment to share some of our highlights and achievements in 2019, made possible with the support of all of you here today. Operationally, our construction segment secured a total of approximately S$613.0 million worth of contracts in 2019, bringing our order book close to the billion dollar mark.

This includes our industrial project JTC Space @ AMK, as well as the iconic One Pearl Bank residential development at Outram Road.

BCA Platinum Star Award under the Built Environment Leadership Category
Apart from expanding our portfolio, Tiong Seng was named the top winner of the Build Environment Leadership Award, receiving the Platinum Star during the Annual BCA Awards held in May 2019.

Tiong Seng-Ngee Ann Polytechnic Collaboration
We also announced a five-year collaboration with Ngee Ann Polytechnic to establish the Tiong Seng-NP Construction Robotics Lab, Singapore's first joint lab focusing on developing industrial-grade robotics for construction.

Property Development & Expanding Abroad
On the property development front, we have made good progress locally with the launch of Sloane Residences at 17 Balmoral Road. Similarly, our residential development at 16 Cairnhill Rise is on track to launch earlier this year.

Conclusion
In closing, our achievements thus far would not have been possible without the hard work and dedication from everyone within Tiong Seng, and more importantly, from the support that we have had from our cherished partners. I would therefore like to take this opportunity once again to thank each and every one of you. Here's wishing all of you a Happy Chinese New Year and to another 60 more rewarding years ahead!