CGS-CIMB has published a 9-page report with an "overweight" rating on the construction sector in Singapore. Excerpts:

Analysts: Ong Khang Chuen, CFA & Lim Siew Khee


●

Singapore's construction demand is expected to remain strong in 2020F, with BCA forecasting a range of S$28bn-33bn. The forecast for 2020 excludes any construction contracts by the two integrated resorts (IRs), Marina Bay Sands and Resorts World Sentosa, pending confirmation on the timeline and phasing of expansion projects.


"We are also positive on the public residential segment. According to a blog post by National Development Minister Lawrence Wong, around 16k-17k build-to-order (BTO) flats will be launched in 2020; this is more than the BTO supply of 14.6k flats in 2019."

-- CGS-CIMB
● BCA expects public sector construction demand to be spurred by major infrastructure projects (35% of total construction demand), including works for Changi Airport Terminal 5, Jurong Region MRT Line, and Cross Island MRT Line.

● On the other hand, private sector construction demand may moderate, in view of the likely continued global economic uncertainties and current overhang in the supply of private residential housing units, according to BCA.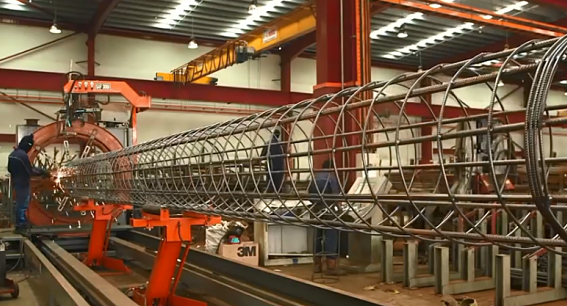 BRC's prefabricated reinforcement solutions are tailored to customers' specifications. Youtube video screenshot

Higher demand for construction materials in 2020F
● We see near-term catalysts for building material companies (including steel rebars and concrete suppliers) as BCA expects accelerated demand growth in 2020F.

BCA projects steel rebar demand to grow to 1.5m-1.7m tonnes in 2020F (2019: 1.4m tonnes) while ready-mixed concrete demand rise to 14m-15m m3 (2019: 12.5m m3).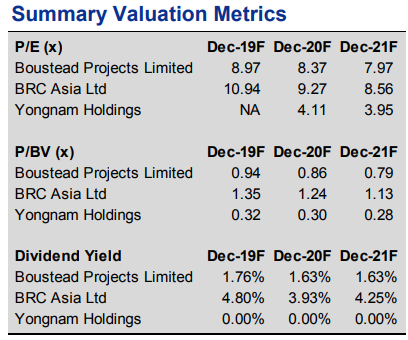 Boustead Projects Limited
ADD, TP S$1.24,
S$0.92 close

BRC Asia Ltd
ADD, TP S$2.05*,
S$1.56 close

Yongnam Holdings
ADD, TP S$0.28,
S$0.15 close

We believe Boustead Project's two ongoing public sector projects could support its earnings growth through FY21F. We also think BP could be ready for a REIT listing as early as 2020F.

We like BRC for its market leadership in Singapore's reinforced steel industry, earnings visibility riding on the recovery in home market demand, and improving balance sheet strength.

Yongnam's orderbook has recovered strongly in 2019. With the rollout of North South Corridor and Changi East projects, we forecast Yongnam to return to profitability in 2H20F.
*CGS-CIMB upped its target price for BRC to $2.05 in a separate report on 9 Jan 2020.
Full report here.