Excerpts from KGI report

Analyst: Joel Ng


• Uni-Asia reported US$0.3mn in 3Q19 PATMI, a reversal
from the US$0.2mn loss in 3Q18.

Uni-Asia Group

Share price:
$0.74

Target:
$1.24
• We focus on UAG's Japan-based businesses in this report
given the favourable tailwinds from the 2020 Olympics and
the growth of its asset management business.

• We reiterate our OUTPERFORM recommendation and fair
value target of S$1.24.

Our fair value price implies a
conservative 0.6x 2020F BVP and 8.5x EPS, supported by an
attractive 5.5% dividend yield.
3Q19 summary. UAG's reported a decent set of 3Q19 results despite headwinds from its shipping business and a decline in fee income from lower deal transactions. Its hotel business continued to grow from strength to strength as 3Q19 hotel income rose 6% YoY to US$21.4mn on the back of higher occupancy rates.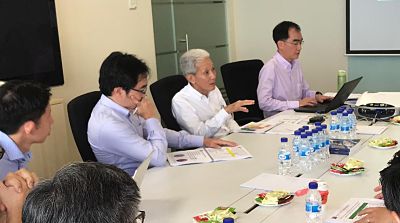 Executive chairman Michio Tanamoto (second from right) and CFO Lim Kai Ching (extreme right). NextInsight file photo.The group managed to pare down debt by US$37.1mn while increasing its cash holdings to US$57.3mn. As a result, gearing (total debt/equity) improved to 1.12x as at end Sep-19 from 1.36x as at end Dec-18.

The improved balance sheet and future cash flows will likely be deployed into its Japan businesses in the near to medium term.

The group was initially planning on investing in a 7th property project in Hong Kong, but this was placed on hold given the uncertainties in the city.

UAG still has three ongoing Hong Kong commercial projects slated for completion in 2020, 2021 and 2022.

Japan hour. We highlight UAG's Japan businesses in this report given the favourable tailwinds from the Summer Olympics next year and the potential for the group to increase recurring revenue through its asset management of hospitality, healthcare and residential properties.

Japan contributed 55-61% of UAG's total income in 2017 and 2018, and represents businesses such as ship finance arrangement, investments and asset management of properties and hotels.

UAG's hotel operations are operated under the Hotel Vista brand, while its residential projects are operated under the ALERO brand. This year, UAG started managing healthcare assets and had eight facilities under management as of June 2019.

40mn visitors next year. UAG currently has 2,515 rooms under management in Japan and plans to increase this to 2,710 by the end of 2019, and to 3,401 rooms by 2020.

Occupancy at UAG's hotels improved to 85.9% in 3Q19 from 83.8% in 2Q19 and 82.3% in 3Q18. We expect an uplift in hotel occupancy and rates as Japan aims to attract 40mn visitors in 2020 as it hosts the Olympics.


Valuation & Action: UAG's valuations are trading at

distressed levels, which we believe does not justify its

diversified business model and potential growth from hotel management.



Even if we were to strip out UAG's highly
cyclical shipping business, we estimate a minimum S$0.82
fair value target.

We thus reiterate our OUTPERFORM
recommendation and fair value of S$1.24, based on a sum-
of-the-parts (SOTP) valuation of its three businesses.

Our TP
implies a conservative 0.6x FY20F BVPS and 8.5x FY20F EPS,
supported by an attractive 5.5% dividend yield.

Risks: Shipping slowdown as the trade-war escalates. Decline in Hong Kong property market due to the ongoing protests.

Full report here.