Excerpts from KGI report

Analyst: Joel Ng


• Uni-Asia Group (UAG) reported a 52% YoY increase in 2Q19 PATMI to US$3.0mn, driven mainly by the US$3.9mn fair value gains from its Hong Kong office property projects.


Uni-Asia Group

Share price:
$0.74

Target:
$1.24
•

The group announced a maiden interim dividend of 2 Sing cents for 1H19, payable on 27 September 2019. Its full-year dividend yield is at an attractive 5.5%.



•

We re-iterate our OUTPERFORM recommendation and fair value target of S$1.24. Our fair value target implies a conservative 0.6x 2020F BVP and 8.5x EPS.

2Q19 results review.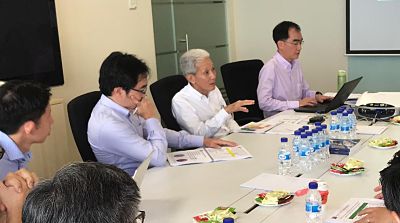 Executive chairman Michio Tanamoto (second from right) and CFO Lim Kai Ching (extreme right). NextInsight file photo.Top line increased by 23% YoY to US$36mn, driven mainly by a 34% rise in hotel income to US$20mn, and a 75% surge in investment returns due to fair value gains from the group's 2nd and 3rd Hong Kong commercial office property projects.

Fair value gains from its Hong Kong projects contributed US$3.9mn in 2Q19, an increase from US$3.1mn in 2Q18.

UAG's shipping segment continued to be an underperformer as net profit declined 52% YoY to US$0.6mn in 2Q19 given the weaker bulker market in 1H19.

UAG declared its maiden interim dividend of 2 Sing cents, in line with its earlier commitment to pay at least 35% of its net profits for FY19.

The 2 Sing cents dividend are payable on 27th September 2019.

Shipping recovery.
The 4% YoY decline in charter income was due to a vessel disposal in 2Q18, as well as weakness in the dry bulk market. It now has 11 wholly-owned/majority owned vessels contributing to charter income compared to 12 in the prior year period.

We had initially expected a recovery in 1Q19 but renewed trade tensions between China and the US derailed the sector recovery.

Looking ahead, the Baltic Handysize Index (BHSI), a good proxy for the group's vessels, is firmly on an uptrend after hitting a trough of 290 pts in February 2019.

Since then, the BHSI has more than doubled to 619 pts in August 2019.


"UAG has a total of 6 property projects in Hong Kong, of which, the 1st has been completed, the 2nd and 3rd have been fully sold, while projects 4, 5 and 6 are still under development.

UAG still has sufficient time for the situation in Hong Kong to improve until the pre-sales of its 4th project in 1H20. Meanwhile, the 5th and 6th projects are scheduled for pre-sales further out from 2021 onwards."

-- KGI Securities
Still some time until the pre-sales of its 4th Hong Kong project. It is still too early to determine the full extent that the ongoing protests are having on investors' confidence in Hong Kong.

But at least in the short-term, Hong Kong investors have focused their attention on Singapore.

According to Cushman & Wakefield, Hong Kong investors have deployed around US$1.4bn in Singapore commercial properties in 1H19, the first time that Singapore is the favoured destination for them.

Higher hotel occupancy. UAG currently has 2,515 rooms under management and plans to increase this to 2,710 by the end of 2019, and to 3,401 rooms by 2020.

Occupancy has improved significantly to 83.8% in 2Q19, an increase from 77.4% in 2Q18.

We expect an uplift in hotel occupancy and rates over the next two years as Japan hosts the Rugby World Cup in 2019 and the Tokyo Olympics in 2020.

Japan attracted a record 31.2mn visitors in 2018, representing a 9% YoY increase and its seventh straight year of growth. 2019 is expected to be another record year, with May tourist arrivals increasing to around 2.8mn visitors, or a 3.7% YoY increase.


Valuation & Action: We reiterate our OVERWEIGHT recommendation and fair value of S$1.24 (previously S$1.86 on a pre-bonus share base of 52.4mn), based on a sum-of-the-parts (SOTP) valuation of its three businesses.

Our TP is an implied 0.6x FY20F BVPS and 8.5x FY20F EPS.

We expect two out of three of its business segments to be key drivers of earnings growth in FY19F and FY20F.

Risks: Shipping slowdown as the trade-war escalates. Decline in Hong Kong property market due to the ongoing protests.

Full report here.