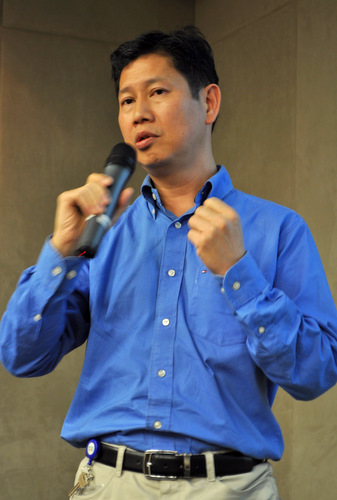 Andy Luong is executive chairman and CEO of UMS Holdings and JEP Holdings. NextInsight file photo.Recently, UMS Holdings made a mandatory conditional cash offer for all the issued and paid-up ordinary shares in the capital of JEP Holdings.

JEP, which operates mainly out of Seletar Aerospace Park, is a solution provider of precision machining and engineering services, with a primary focus on the aerospace industry.

After the close of the offer on 24 June 2019, UMS and concert parties controlled 47.4% of JEP, including acceptances received for the offer. (However, the Offer did not become unconditional).

Following that, two JEP executive directors bought JEP stock for their own account from the open market.

Their average price: 14.8 cents apiece, which was lower than UMS' 15.0 cent takeover offer price:


JEP insider

Date
(2019)

No. of Shares

Cost

Latest holding

Stake

Zee Hoong Huay (exec director)

10 Jul

500,000

S$74,000
(Ave: 14.8 cts)

61,054,855
shares

15.01%

09 Jul

500,000

S$74,000

Andy Luong
(exec chairman)

09 Jul

600,000

S$88,800
(Ave: 14.8 cts)

159,929,983*
shares

39.34%*

* Andy Luong holds a 20.67% stake in UMS Holdings, which holds 39.19% of JEP Holdings.

See also: JEP: Look out for sweeping changes under Andy Luong


Some investors have pointed out that well-regarded Pheim Asset Management has accumulated two Singapore stocks in its Pheim Emerging Companies Balanced Fund.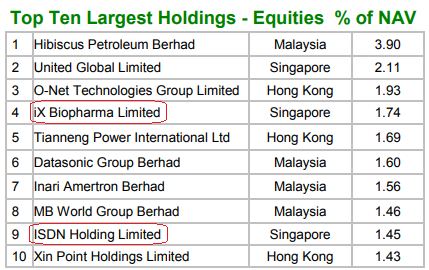 See its July 2019 factsheet here.

In the July 2019 factsheet, the fund's holding of the two stocks -- ISDN Holdings and iX Biopharma -- amount to over S$100,000 worth each.

This is estimated based on the stated fund size of RM25.1 million.

The two stocks have appeared in the fund's Top 10 list for at least the past six months, which suggests the fund is sitting on double-digit percentage gains on those stocks.

iX Biopharma figures also in another Pheim fund -- the Asia ex-Japan Fund -- where it is the N0.2 holding.


To know more about these 2 stocks, see our recent articles:

iX BIOPHARMA: Ready to monetise drug via out-licensing
ISDN: Catalysts include organisation streamlining, hydropower earnings