The Moss Piglet has been vested since 2015 at an average price of $0.32 per share. The stock closed at 40.5 cents yesterday.


Sing Holdings (SGX:5IC) – Worth The Wait?


The greatest trader of all time, Jesse Livermore, said, "It was never my thinking that made the big money for me. It always was my sitting."

Some companies have the ability to make you sit for very very long before they realize their value. This is one of them.

Considered by many to have one of the more conservative management and not really that shareholder friendly, value investors often debate if this is actually a value play or a value trap.

Company Background
Sing Holdings (SGX:5IC) is one of the niche developers listed in SGX that has developed projects such as The Laurels, Robin Residences and Waterwoods. Currently, they own a limited service hotel, Travelodge Docklands in Melbourne, Australia, and 43 strata units in BizTech Centre. They also have an ongoing project, Parc Botannia at Sengkang, which is expected to achieve TOP in 2021.

Their largest shareholder is F.H Lee Holdings, the investment vehicle used by various family members of the founder. The chairman and CEO, Mr Lee Sze Leong and Mr Lee Sze Hao, have been regularly purchasing shares using their own money.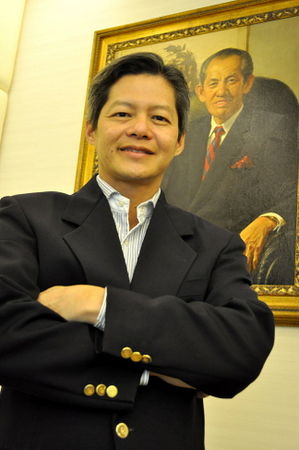 Lee Sze Hao, CEO of Sing Holdings. NextInsight file photoLet's take a look at their remuneration. I can say that it is on the lower end of the range compared to other developer companies.

The exact amount they earn is stated on the Annual Report, not some range (eg. $1mil-$2mil) like most companies. A rather open gesture I must say.

Financials

Earnings for Sing Holdings have always been lumpy due to the nature of their business, where profit is realized when they sell their units.

There was improvement in 2017 when they start to receive income from their 2 investment properties, BizTech Centre and Travelodge Docklands. This will provide them with a bit of stability during the years when they did not book any profit from their development projects.




Net asset value has been steadily climbing from 54.75 cents to 63.98 cents. They have debt of around $200mil which they have started to pare down since last year. The loan is for the purchase of the land parcel at Fernvale Street and also to purchase Travelodge Docklands.

I'm not really too concerned about their high debt level as most of it will be repaid with the sale revenue from Parc Botannia. Travelodge Docklands is a stable income generating asset for Sing Holdings and their recurring income is sufficient to repay the debt eventually.

Current Development – Parc Botannia

Parc Botannia is a 99-year leasehold private condominium along Fernvale Road. It is a 70:30 joint venture with Wee Hur (SGX:E3B), who is constructing the development. Getting Wee Hur in is a good move because it is like getting skin in the game for Wee Hur. They will strive to lower construction cost in order to maximise their ROI.


"As of 1Q19, it has achieved 81% of units with options to purchase, amounting to sales value of around $568.3mil. Currently I think only about $140mil of revenue was accounted for, meaning that in the next 2 years when it achieves TOP, the remaining revenue plus the 19% of the units not yet sold will be booked."

-- The Moss Piglet
The location is not bad, I guess, as it is within 10 minutes from Seletar Mall, Compass One and Jalan Kayu. It is directly opposite Thanggam LRT Station and for those who drive, you are minutes away from TPE after Jalan Kayu. There is plot of empty land beside them reserved for HDB but it is not expected to have any developments for the next 2-3 years.

Value Buy or Value Trap?

Sing Holdings has always been trading below book value, never hitting P/B ratio of 1 for the past 10 years. However, their share price has been quite stagnant for the past 10 years.

Shareholders have been calling for the management to do something about it to realise their value like conducting share buybacks or be more generous with their dividends. However, they have been rather stubborn and stated that they rather use the cash on hand for their expansion.


https://nextinsight.net/index.php/story-archive-mainmenu-60/916-2012/5148-sing-holdings-stock-price-is-not-causing-shareholders-to-sing

In my opinion, if the management thinks that the cash can be used more efficiently in their development projects, I would rather they keep it than to conduct share buyback just to appease shareholders. Looking at their track record, they have been quite conservative in their land bidding and most of their projects have churned out decent profits.

Currently, besides Parc Botannia they would mainly be an investment holding company with no need to invest it at a premium. In order to unlock their NAV, the management must replenish their land bank soon. When it starts to replenish its landbank with well priced purchases, it will lead to future stream of profits and increase their RNAV even more.

From there, investors will forecast their future profit based on their previous projects and this is when the management's ability in identifying good sites will be valued.

If not, it will be a value trap and price may stay below its NAV for a long time.


Valuation
Let's do a little math. I have tabulated their estimated cost and profit from the development of Parc Botannia, provided they achieve 100% sales and total cost is around $230mil.


Parc Botannia: Estimated profits

Land Cost

$287 mil

Development, Marketing, Professional Fees

$230 mil

Total Cost

$517 mil

Ave Sale Price (psf)

$1,280

Sellable Area (sq ft)

560,000

Total

$716.80 mil

Profit

$200.20 mil

Margin

27.9 %

70% share

$140.14 mil

Profit per share

$0.35
This amounts to about $0.35 earnings per share for this project, almost the amount of their market cap.

This will raise their RNAV to almost $1 (including their investment properties and cash of about $0.53 per share) in Parc Botannia TOPs in 2021.
Average sale psf is around $1280 according to srx property website. http://www.srx.com.sg

However, before you rush in to buy, let's be realistic. I don't think this will warrant a fair value of $1. I have mentioned earlier, if they are unable to add more land bank, they will just be a company with 2 investment properties and loads of cash, nothing to be excited about.

Looking through their performance over the years, I also like to point out that their book value per share has been steadily growing over the years. This shows that the management is doing a pretty decent job of growing the company.



Worth the Wait?

Most people who invest in Sing Holdings probably do it due to their discount to RNAV, dividend yield, or even privatization potential. I agree with them but these qualities are not enough to convince me to invest in a company. What I see differently is that they are going to have a high ROE in the coming years.

On a side note: I dont think privatization is on the cards as it will be harder to obtain loans to purchase land.


"Sing Holdings would be earning around $140 mil within the next 2 years. Compare it with their current equity of $270mil, that is about 23% CAGR. This shows that the management is shrewd with their investments and it is worth putting your money with them and watch them grow. It is also a relatively easy company to analyze and forecast as you can track the number of units sold for their development with information easily available on the internet."

-- The Moss Piglet
Their decision not to conduct share buyback is one that I can understand as they rather expand the business. It may not be a popular view but I think it is more important to replenish their land bank than to distribute the excess cash.

When it happens, I expect a rerate in their stock price, similar to when they announced the acquisition of a land parcel along Fernvale Road. I am confident that the management will continue to perform by replenishing good land bank within their conservative means.

https://www.edgeprop.sg/property-news/hong-leong-group-bids-3835-mil-sims-drive-site

Although it may take a while to see growth as I don't expect much movement for the time being, I see Sing Holdings as a growing company, expanding with every development project they do, never overextending themselves.

Definitely worth the wait.
The Moss Piglet is vested since 2015 at average price of $0.32.

Article is republished from The Moss Piglet with permission.