Uni-Asia Group, an alternative investment company and integrated service provider of vessels and properties, has raised approximately S$5.42 million in net proceeds through the placement of 5,420,720 ordinary shares on 4 April 2019.

Approximately 40 investors took up the placement shares, or an average of $146,000 each.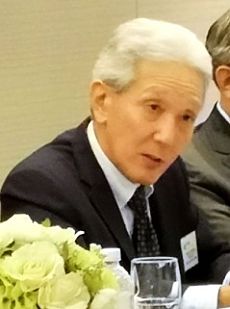 "We welcome new shareholders as we continue to grow the business of Uni-Asia Group. The share placement attracted a good mix of investors, which demonstrated the confidence that these investors have in Uni-Asia's long-term prospects. The funds raised will help us enhance our financial flexibility to take on attractive projects in future."

- Michio Tanamoto (photo),
Executive Chairman & CEO,
Uni-Asia Group

The subscribers were institutional investors such as Judah Value Activist Fund, Hibiki Path Value Fund and Golden Hill Investments, as well as individuals, family offices, and corporate investors.

The Placement Shares were issued at S$1.08 each, representing a discount of approximately 9.98% to the volume weighted average price of S$1.1998 for trades done on the SGX-ST on 25 March 2019.

The stock traded this morning at $1.14-$1.16.

Through the placement, the Group hopes to broaden its shareholder base, as well as improve trading liquidity of its shares with the enlarged shareholder base.

Uni-Asia plans to use the proceeds for investing into property and/or hotel projects in the ordinary course of the Company's business including but not limited to ALERO projects in Japan as well as Hong Kong property projects.

As announced on 1 March 2019 in the FY2018 results announcement, the Directors have recommended:(i) a final one-tier tax exempt cash dividend of 6.25 Singapore cents; and (ii) a special one-tier tax exempt cash dividend of 0.75 Singapore cents.

The dividends will be subject to shareholders' approval at the AGM to be held this month.

If the dividends are approved, the ex-dividend date will be 6 May 2019, and the books closure date 7 May 2019 with the payment date on or about 17 May 2019.

Maybank Kim Eng Securities acted as a placement agent.