For Uni-Asia Group, 2018 was a story of a very good valuation gain on its property investments and a very awful loss for its ships.

Both are non-cash in nature.

And with a net cash inflow of US$2.9 million in 2018, Uni-Asia proposed a final dividend of 7.0 cents a share, including a special dividend of 0.75 cent a share.

That demonstrates a consistent payout (see table), even when the bottomline was choppy.


SG cents

2014

2015

2016

2017

2018

Dividend

6.25 c*

6.25 c

3.0 c

6.25 c

7.0 c

*Adjusted for 1-for-10 share consolidation

On a recent Uni-Asia share price of $1.22, the dividend translates into a yield of 5.7%.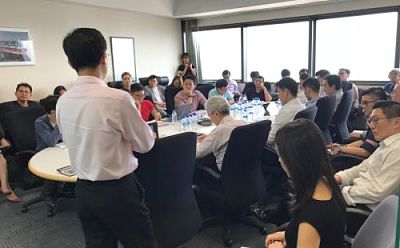 CFO Lim Kai Ching at FY18 results briefing.
Photo by Colin LumUni-Asia said the special dividend is derived from its gain from its second HK commercial property development project -- at 650, Cheung Sha Wan Road.


Stock price

$1.22

52-week
range

$1.15 -$1.53

Market cap

$57m

PE (ttm)

9

Dividend
yield

5.7%

P/BV

0.44

Data: Yahoo!
In 2018, that very successful project returned to Uni-Asia the HK80 m investment that Uni-Asia sunk in plus a HK$80 m dividend.

That's not all, as some more proceeds will come this year, said Uni-Asia.

Uni-Asia has reinvested into Projects No.3, 4, 5 and 6 in 2018.

Strategically, they will be completed one after another in different years, ie, 2019, 2020, 2021 and 2022.

This sets up an annual flow of income for Uni-Asia.

The property investment segment yielded a fair value gain of US$9.3 million in 2018, following a US$6.8 million fair value gain in 2017.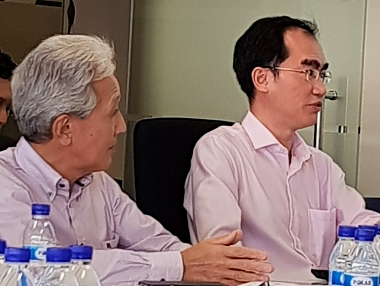 Executive chairman Michio Tanamoto and CFO Lim Kai Ching at the FY18 results briefing.
NextInsight photoThese gains, which ride on the buoyant commercial property market in HK, are a sharp contrast to the fair value loss on Uni-Asia's ships.

After recording a US$6.2 million fair value loss on its ships in 2017, Uni-Asia had another round of loss of US$9.2 million in 2018 -- for containerships and a disposed product tanker.

In addition, there was an impairment of US$3.0 million for a wholly-owned containership and a US$3.0 million provision for an onerous ship sale-and-leaseback contract.

The bright side is that its containership joint-investments have been written off completely.

(The word is "containerships". The numbing pain was there, a consequence of Trump's trade war).

Uni-Asia's dry bulk carriers are fine -- thanks to steady movement of commodities such as iron ore and grains.

And possibly in favour of Uni-Asia, the supply of certain types of dry bulk carriers will shrink because of a new environmental regulation, the IMO 2020 global sulphur cap.


♦
US$3.9 million net profit
in 2018
US$'000

2018

% change

Shipping
(and related financial services)

Revenue
Net Profit

36,938
(5,749)


(8%)
(268%)


Property & Hotels (and related financial services)

Revenue
Net Profit

86,360
14,296


35%
26%

Headquarters
(Shared corporate services)

Revenue
(Net Loss)

138
(4,628)


156%
(21%)

Group total

Revenue
Net Profit

123,281
3,920


19%
(56%)

As the table shows, while the HK property market was the star in 2018, Uni-Asia's property investment segment in Japan was nearly as shining: It turned in an after-tax profit of US$US$4.2 million.

And so, that's how Uni-Asia's "property & hotels" segment pushed back a sea of red created by the shipping segment.

All told, Uni-Asia reported a US$3.9 million net profit (attributable to shareholders: US$1.2 million).

For more, see the FY18 results Powerpoint presentation materials here.