Despite its core businesses continuing to improve, Uni-Asia Group reported a small loss of US$140,000 for 3Q18 -- owing to a fair value loss of US$3.5 million on its containerships.

That clouds a positive set of operating performance:

Rising tide (US$'m)

9M2014

9M2015

9M2016

9M2017

9M2018

Net profit

2.96

3.04

0.49

5.69

6.20

EBITDA

10.5

19.2

15.1

15.6

33.6

Operating cashflow

0.80

7.40

10.64

7.56

12.65

• 9M2018 profit after tax of US$6.2 million was the highest 9M profit in 5 years (despite the 3Q loss); Net profit attributable to shareholders was US$4.96 million.

• 9M2018 EBITDA of US$33.6 million was the highest in 5 years (+ 115% year-on-year).

• 9M operating cashflow of US$12.65 million was the highest in 5 years (+67% year-on-year).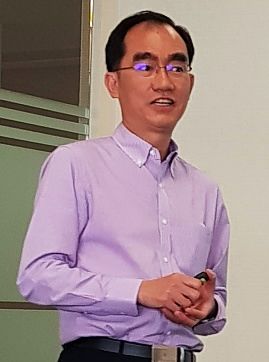 Lim Kai Ching, CFO.
NextInsight photo.Takeaways from the 3Q18 results briefing on 13 Dec:

#1. Shipping profitable: The negative news first -- Uni-Asia's three containerships (which are joint investments in nature) suffered a fair value loss.

Globally, containerships are impacted by slowing trade arising from the US-China tariff war, among others.

After taking significant fair value loss over the past several years, Uni-Asia may still have to write down further its three containerships over the next few years.

The good thing is, these containerships are valued at only US$3.2 million on Uni-Asia's books currently, so that's the maximum fair value loss, if any, to come.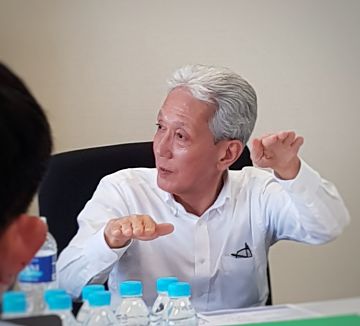 Michio Tanamoto, Executive Chairman. NextInsight photo.Uni-Asia Shipping also owns a fleet of 8 handysize bulk carriers, whose prospects are better given the steady global seaborne dry bulk trade in commodities such as iron ore and coal.

As a whole, after adjusting for items including the fair value loss on containerships, Uni-Asia's shipping business recorded US$2.4 million in net profit (-55% y-o-y) for 9M2018.

#2. Property investment in HK: Uni-Asia has taken up minority equity stakes in 5 commercial property development projects so far, positioning this business segment to contribute cashflow and profits every year.

So this is a recurring (quasi, if you like) revenue stream.

For example, this year, Uni-Asia has received from its second HK project HK$80.0 million capital and a further HK$80.0 million in dividends. Next year, further proceeds are expected from the project company.


Stock price

$1.20

52-week range

$1.15 - $1.53

Market cap

$56m

PE (ttm)

6.5

Dividend yield

5.2%

P/BV

0.3

Data: Bloomberg
#3. Hotel management business growing: As Uni-Asia incurred pre-opening expenses on five new hotels, its 9M2018 reported profit was squeezed to US$171,000.

Stripping out these expenses, the segment would have enjoyed a US$1.3 million profit.

Uni-Asia's hotel management arm receives all income, and pays all expenses, associated with operating the hotels. Also, it hands over a fixed and a variable fee to the owners.

It is progressively running more hotels: From 2,667 rooms as of 3Q18, the number will rise to 2,871 next year and 3,553 in 2020.

The hotel operation business is expected to report rising profitability over time.

In aggregate, the property and hotel segment recorded US$7.3 million net profit in 9M2018. After deducting headquarters' losses (ie expenses) of US$3.4 million, Uni-Asia's bottomline was US$6.2 million.

For more information, see the 3Q18 Powerpoint materials here.