Investors who have looked over Uni-Asia Group in the past few years have often remarked on the attractive discount its stock trades to its net asset value (NAV).


Stock price

$1.43

52-week range

$1.02 - $1.55

Market cap

$67m

PE (ttm)

8.2

Dividend yield

4.37%

P/BV

0.5

Data: Bloomberg
Even currently, Uni-Asia at $1.43 a share goes for about 62% discount to its US$2.89/share NAV.

The thing now is, after a solidly profitable 2017, Uni-Asia is offering more reasons for investors to like it.

Its 2017 profit was its biggest in five years -- and there's a 6.25 cent/share final dividend to come.

Here's how the various business segments did -->

US$'000

2017

2016

% change

Shipping
(and related financial services)

Revenue
Net Profit / (Loss)

39,981
3,419

30,404
(18,212)

31%
NM

Property & Hotels (and related financial services)

Revenue
Net Profit

64,054
11,342

59,957
11,975

11%
(5%)

Headquarters
(Shared corporate services)

Revenue
Net Profit / (Loss)

54
(5,895)

41
(4,226)

32%
39%

Group total

Revenue
Net Profit

103,874
8,866

86,298
(12,228)*

20%
NM

*In 2016, Uni-Asia took an impairment loss of $8.6 m for ships held under fixed assets; provided $3.5m for an onerous ship contract; and booked $7.1m fair valuation losses.
Full-year net profit amounted to US$8.9 million (attributable to shareholders: US$6.2 million), reversing a loss of US$12.2 million in 2016.


And the cashflow trend is encouraging:
Rising operating cashflow

2013

2014

2015

2016

2017

US$12.14m

US$4.80m

US$10.30m

US$12.33 m

US$14.10m
From the table it can be seen that the star segment was "property & hotels" while the shipping segment grew steadily.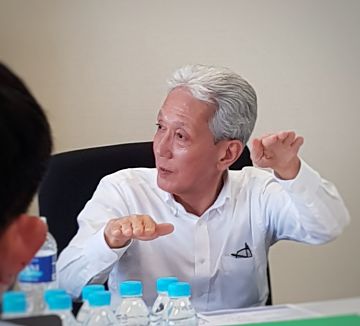 @FY17 results briefing: Michio Tanamoto, executive chairman of Uni-Asia Group.
Photo by Leong Chan TeikWithin the property & hotel segment, the bright spot was investment returns which surged 296% to US$8.5 million in 2017:

♦ Realised gains on investment properties of US$4.35 million,
♦ Fair value gain from investment properties of US$1.2 million, and
♦ Net fair value gain from a Hong Kong property project (commercial office building) of US$6.8 million.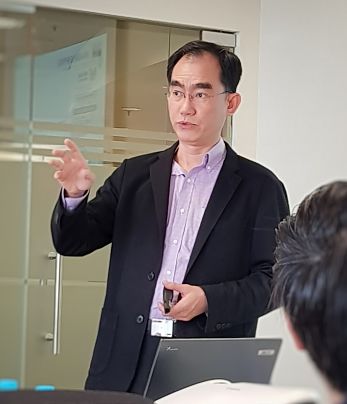 CFO Lim Kai Ching. Photo by Leong Chan TeikShip charter income increased by 10% to US$37.8 million in FY2017 attributable to:

♦ Better spot charter rates for the Group's portfolio of ships under short-term charter, and
♦ More charter-hire days for the ships due to an addition to the ship portfolio in 2017.

The Group's shipping business -- largely made up of dry bulkers -- is expected to continue to recover from the doldrums of the past five or so years.

The oversupply situation in the dry-bulker segment is easing, and demand picking up from infrastructure projects in 'Belt and Road' countries.

Looking further out, Uni-Asia is expected to see a profit boost from its hotel management operations from 2019 when it attains about 3,000 rooms under management.

KGI Securities has forecast US$2 - 2.5 million in recurring net profit a year.

For more on the 2017 results, see presentation materials here.