Excerpts from Ernest Lim's blog

What's next for Sapphire if HKICIM becomes a substantial shareholder?


Two of Sapphire Corp's largest shareholders, namely Best Feast Limited and Ou Rui Limited, are swapping a combined 27.96% stake in the company with new shares to be issued by Hong Kong-listed Hong Kong International Construction Investment Management Group ("HKICIM"). According to an announcement by Sapphire, the above share swap represents Sapphire's share price of approximately S$0.51[1] per share.

Why Sapphire?

I have been following up on Sapphire's corporate transformation plans over the last few years. I believe potential investors and, possibly, HKICIM were attracted to the post-turnaround Sapphire due mainly to its existing core infrastrcuture business operated under its principal subsidiary, Ranken Infrastructure Limited ("Ranken").

It is worth noting that

a) Sapphire's successful transformation bears fruits

Under the stewardship of the Group CEO and Managing Director, Mr Teh, since his appointment in Oct 2013, Sapphire has divested its legacy steel business in 2014 and disposed of its 81% stake in its mining services in early 2017. Mr. Teh has successfully turned around the company from a loss-making position to a company which posted RMB 47.2m (converted from S$) and RMB20.5m net profit for FY2016 and 1HFY17 respectively.

Such transformation has not gone unnoticed as Sapphire announced on 28 Nov 2016 that it has received Hong Kong-based Capital Weekly (資本壹週) "Listed Enterprise Excellence Award 2016" - the first public listed company not quoted on the Hong Kong Stock Exchange to secure the prestigious accolade. This acknowledges the success of Sapphire's corporate turnaround strategies under the leadership of Mr Teh. Readers can refer to my earlier write-up (click HERE) on the significance of this award.

b) Acquisition underscores the intrinsic value in Ranken's licences and track records
Sapphire has always mentioned in their press release that their wholly-owned subsidiary Ranken is one of China's largest privately-owned integrated rail transport infrastructure construction groups and the only privately-owned operator in China which has obtained the prestigious full AAA-certification for design, construction and project consultation in the rail sector. The acquisition by Sapphire underscores the intrinsic value of the licences held and track records achieved by Ranken.

c) Significant synergies may be reaped

It appears that HKICIM believes that Ranken's capability in rail and infrastructure engineering procurement and construction could complement that of HKICIM. Furthermore, this acquisition will facilitate HKICIM in taking advantage of the industrial development opportunities brought forth by the "One Belt, One Road" development strategy of the PRC.


My personal view on this transaction

This acquisition gives a strong vote of confidence to Ranken's capability under Sapphire's capital market platform, its track records and licenses; and obviosuly, the industrial prospects. In addition, there may be other commercial points to note:

Possible larger pipeline of projects
Looking at HKICIM's profile and its networks, it is likely to have a larger portfolio of projects which may bode well for Sapphire/Ranken over the medium to long term, further strengthening its existing good business fundamentals.

Financial target of RMB64.75m in the 12 months ending 30 Jun 2018
Although Sapphire mentioned that it has not done any independent review of the financial target for the HKICIM deal, I find it encouraging that the financial target is around RMB64.75m for the 12 months ending 30 Jun 2018. To put this into perspective, 1HFY17 net profit ended 30 Jun 2017 was only RMB20.5m.

More stake in Sapphire - perhaps in the long term
I am making a wild guess here, if HKICIM and Sapphire/Ranken can work well together with significant synergies, HKICIM could further up its stake in future – as the current interest of about 28% under the deal is very close to trigger the 30% threshold for a general takeover offer.

If I were to play devil's advocate…
With (almost) all announcements of this nature, we can view them positively or negatively. Some readers may have the following questions which I have put in my personal views:

Are the substantial shareholders Ou Rui and Best Feast cashing out of Sapphire?

After this transaction, Best Feast will still have 17.33% of Sapphire, thus it still has a significant stake in Sapphire.

Ou Rui which is 100% owned by Mr Li Xiaobo, a private and sophisticated investor, thus it is natural for him to exit if he deems fit. However, HKICIM will replace him as a substantial and, more importantly, a strategic shareholder.

Overall, I would think this is still a positive outcome.

Controversy around HKICIM

Although there may be some controversial news surrounding HKICIM and its related companies, I am focusing more on the potential significant synergies which Sapphire/Ranken could gain given HKICIM's profile and its networks.


Sapphire's existing business remains very promising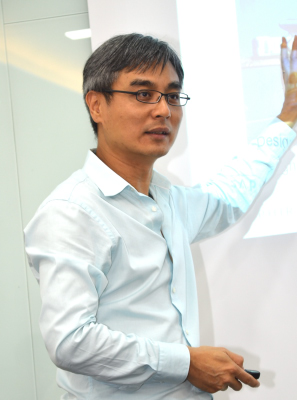 Teh Wing Kwan, CEO of Sapphire. NextInsight file photoNotwithstanding the above transaction, Sapphire's existing business looks very promising. Last Thurs, it announced it clinched RMB856m contracts and lifted its order book to a record RMB3.4b!

The RMB856m new railway contracts came from Dalian and Urumqi. In my opinion, there are 5 noteworthy points in this contract announcement namely,

♦ Sapphire has clinched RMB1.132b of contracts from 12 Sep to 12 Oct 2017. To put this in perspective, Sapphire's order book was RMB2.6b before this string of contract wins in the past one month;

♦ 2017 year to date contract wins amount to RMB1.9b which already surpasses the RMB1.7b contracts won for the calendar year 2016;

♦ Since the acquisition of Ranken, this is the first time that Sapphire's order book has risen above RMB3.0b. This is indeed a significant milestone;

♦ On 12 Sep 2017, Sapphire mentioned that its order book had increased to RMB2.8b. With the new RMB856m contracts announced on 12 Oct 2017, Sapphire's order book has increased to RMB3.4b and not RMB3.6b. Based on my personal interpretation, this may mean that RMB200m has been "digested" in just one month.

Although some of these RMB200m may not translate immediately into revenue (for example, it may be recorded first as "contracts work in progress"), it does show that things seem to be moving faster in 3Q and beyond vis-à-vis 1HFY17 à based on my personal view;

♦ Contract momentum remains very strong as there are various opportunities such as the Taiyuan City Metro Line which Sapphire highlighted in Section 10 of their 2QFY17 financial statements. Furthermore, according to the 12 Sep 2017 press release, Sapphire is evaluating a potential consultancy contract for a metro rail project in Bangladesh.

Sapphire has been operating in Bangladesh for some time, thus I hope it can clinch this potential consultancy contract in time to come…
Conclusion

In a nutshell, with the emergence of HKICIM as a potential substantial shareholder, coupled with record order book and strong order momentum for the Sapphire Group, Sapphire seems to have completed its turnaround story from a loss-making firm to an up-and-coming infrastructure player of significant scale. Let's look out for its 3QFY17F result scheduled for release around mid Nov.

P.S: As with all investments (most investments carry at least some degree of risk), readers should carefully evaluate each investment decision with care. Readers who wish to know more about Sapphire can refer to their informative website HERE.

Disclaimer
Please refer to the disclaimer here
---
[1] Sapphire's implied share swap price without any premium to HKICIM share price is around $0.39-0.40.