Republished from Ernest Lim's blog with permission

SAPPHIRE – 4 interesting updates which market may have ignored

Since my last company update on Sapphire on 10 Mar 2017 (see HERE), Sapphire has unveiled interesting updates. Although the share price did appreciate 15% from $0.310 on 10 Mar 2017 to a high of $0.355 on 3 Apr 2017, it has since slid back to $0.320 on 2 Jun 2017. What are the recent updates and why are they interesting?

Strategic collaboration with Beijing Enterprises Water and China Railway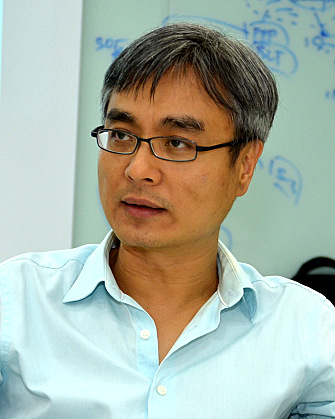 Teh Wing Kwan, CEO of Sapphire.
NextInsight file photoOn 16 May 2017, Sapphire announced that its wholly owned infrastructure business, Ranken, has entered strategic partnerships with major Chinese conglomerates and state-owned enterprises to explore civil engineering and infrastructure projects in China. Through strategic partnerships with Beijing Enterprises Water Group and China Railway Investment Group, Ranken will explore and evaluate large scale and long-term infrastructure projects related to environmental conservation and water management.

What is so significant about these collaborations?

As per Sapphire's press release, Ranken will explore and evaluate projects related to environmental conservation and water management. My personal interpretation it the collaboration may include (but not limited to) projects such as sponge cities.

Based on an article on China Daily dated 5 March 2017, Premier Li Keqiang included sponge cities in the central government's work report which he delivered to the nation's top legislature on 5 March. A sponge city places significant attention to the underground pipe network design and construction such that it allows rainwater to be collected and recycled. This is environmental friendly as it recycles rainwater for other uses and solves flooding issues. Based on statistics, from 2014 – 2016, urban flooding has occurred in 180 cities in China per year. Some of you would remember the flooding in Beijing in July 2012 which killed 79 people and sparked nationwide fury over China's lack of water / flood management. Thus, China does place great emphasis on such projects.

Previously, China set an ambitious plan in 2015 to transform 80% of China's urban area to be a "sponge" by 2030. Progress has been slow. However, it is noteworthy that 2017 is the first-year which sponge cities are included in the government's work report, thus there may be more focus and more funds set aside for such projects in the future. In the report, there are plans to construct at least 2,000 km of underground pipes this year.

Why does a HKD54b market cap company such as Beijing Enterprises Water Group want to partner with Ranken?

Beijing Enterprises Water is a specialist in water management and environmental services. Sponge cities require massive expertise in civil engineering, major tunnelling works, underground structures etc which Ranken possesses. For example, Ranken has completed projects such as Luguoqiao Covered Culvert of South-North Water Transfer Project, improvements to Funan River at Wuding Bridge, and the Dragon-Shaped Artificial Lake / Water System in the Beijing Olympic Park. Given the track record, it is apparent why Beijing Enterprises Water has chosen Ranken as its partner.

Clinched RMB432m contracts with largest consultancy contracts won till date

On 24 Apr 2017, Sapphire announced that it won RMB432m of Infrastructure Construction and Consultancy Contracts in China (click HERE). Sapphire said Ranken has secured RMB 342m (S$70m) worth of transport infrastructure contracts, as well as RMB 90m (S$18m) worth of design consultancy contracts, which by far is Ranken's largest consultancy contract to date in mainland Chinese cities. It is noteworthy that consultancy contracts typically carry higher margins than EPC contracts. With these contracts, Sapphire's order book has increased to RMB2.5b.

Annual report reveals interesting points

Readers who have read Sapphire's annual report 2016 released on Apr 2016 (click HERE ) would also have noted the following interesting points.

Mr Teh, CEO of Sapphire, has crafted his CEO's review in a succinct yet engaging manner. He even left his email address in the annual report for shareholders to contact him.

Sapphire said it has paid down close to $60m loans including interest in FY16 and is reviewing various re-financing structures for the Group. The Edge reported on 16 Jan 2017 that any fund raising (fund raising may also be considered part of various re-financing structure in my interpretation) may include a good balance of debt and equity and will not be unfriendly to shareholders. Furthermore, any new strategic shareholder should add value to the company by opening doors to new markets or new project types.

Sapphire also mentioned that it is exploring opportunities via the public private partnership ("PPP") model in China and South Asia with their partners. Sapphire sees a possible meaningful pickup in their contracts under the PPP model if regulatory and institutional reforms for PPP in China are successful.

Formation of Strategy Committee

On 24 Mar 2017, Sapphire announced the formation of a Strategy Committee. Based on Figure 1 below, besides Mr Teh, the other three members are from Ranken. For example, Ms Wang Heng is the co-founder of Ranken. The committee is to oversee the formulation, review and execution of the Group's strategies in relation to its core business in the infrastructure sector.

Examples of strategies may include strategic collaborations with renowned partners in potential PPP projects. Other strategies may include potential acquisition of companies in complementary sectors.

Figure 1: Strategy Committee composition
Strategy Committee
Mr Teh Wing Kwan – Group CEO and MD (Member)
Ms Wang Heng – Executive Director (Member)
Mr Cheung Wai Suen – Executive Director (Member)
Ms Yang Li Jun (non-Board member) (Member)

Even a fraction of Belt and Road Initiative spells immense long-term opportunities

China first proposed "One Belt, One Road" in 2013. This is now renamed to "Belt Road Initiative ("BRI"). This is an ambitious plan to connect 65 countries across Asia, and the Middle East to Europe by land along the historic Silk Route and another maritime route, down the Pacific and Indian Ocean and up the Mediterranean Sea.

According to some estimates reported in an article on Straits Times on 2 Jun 2017, "Asia Pacific needs to allocate US$26 trillion from now to 2030 on infrastructure". Thus, even a fraction of the above translates to immense long-term opportunities. It is noteworthy that Sapphire revenue comprised of 80% from railway and 20% from roads.

Overall industry dynamics remain positive

Notwithstanding the above Belt and Road Initiative, based on an article in China's state news agency Xinhua in January 2017, similar to last year, China intends to spend RMB800b on railway construction this year. From 2016 – 2020, China targets to spend an aggregate RMB3.5 trillion on railway construction.

Chart analysis

Based on Chart 1 below, Sapphire has been forming higher lows since Jun 2016. Since 1 Feb 2017, it has been range trading between $0.310 – 0.350. Although the directional indicators are positively placed, ADX remains low at 11.8. Most indicators such as RSI and MACD do not exhibit any bearish divergences. Based on the chart's current developments, it seems likely to trade within the range 0.310 – 0.350, albeit with a slight upward bias. A sustained break above $0.350 is very positive for the chart as it will also break the long-term downtrend line established since Nov 2014.

Near term supports: $0.315 / 0.310 / 0.305

Near term resistances: $0.330 – 0.335 / 0.350 / 0.355

Chart 1: Forming higher lows since Jun 2016
Source: Chartnexus 2 Jun 17
Conclusion

The above is just a summary of the recent interesting updates on Sapphire.

P.S: As with all investments (most investments carry at least some degree of risk), readers should carefully evaluate each investment decision with care. Readers who wish to know more about Sapphire can refer to its informative website HERE.
Disclaimer
Please refer to the disclaimer here