Excerpts from KGI Securities' report

Analyst: Colin Tan


CHINA SUNSINE: Riding high on favourable supply-demand dynamics





Event


Average selling prices (ASP) of rubber accelerators – a chemical essential for the

production of rubber tyres - have reportedly escalated to high levels due to

limited supply in Shandong area – one of the key provinces for major production

of rubber chemicals in China.



China Sunsine, a leading producer of rubber accelerators in China, is expected to

benefit from favourable demand-supply dynamics amid ongoing environmental

scrutiny from authorities that have impacted production of rubber chemicals f

rom other players that have not met stringent environmental regulations.



Sunsine serves over 1,000 customers globally, of which many are among the top

tyre makers including Bridgestone and Michelin.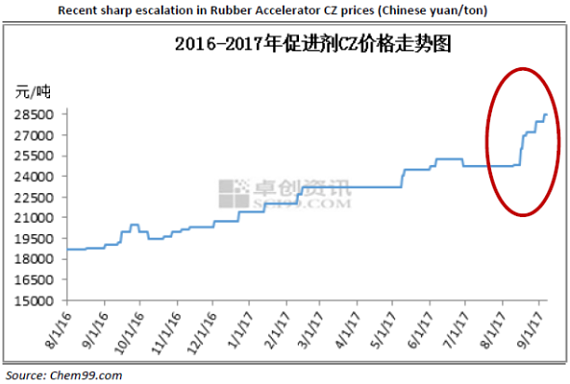 Impact
"The price surge was due to supply shortage as competitors' productions were shut down as a result of the authorities enforcing strict environmental standards to curb pollution. Faced with the tight supply situation, Sunsine would benefit from higher ASP and greater demand for accelerators."
-- Colin Tan
Analyst, KGI Securities
Escalating rubber accelerator prices could lead to higher margins. ASP of accelerator CBS (CZ) have rose from about RMB 20,000 – 20,500 per ton at the start of the year to RMB 28,000 – 29,000 per ton in September, representing an increase of over 40%.

Expanding production capacity to meet growing demand in rubber accelerators. Since its listing on SGX, Sunsine has expanded its production capacity in accelerators from 32,000 tons in 2007 to 97,000 tons currently and could add another 20,000 tons with the completion of phase 2 of its new 30,000-ton capacity Shanxian plant in the near future. With increasing market share in accelerators, both domestically and internationally, Sunsine is expected to gain further traction in sales growth.

Valuation & Action
Sunsine is trading at a FY17F P/E of 8.0x and operates in a net cash position with zero gearing. Compared to its Shenzhen-listed competitor, Yanggu Huatai (300121 CH), which is trading at 21x forward P/E, we opined that Sunsine is deeply undervalued and should trade closer to its peer's valuation.

Risks
Mainly regulatory risks in China; slowdown in rubber tyre consumption.