Notes from Maybank Kim Eng Securities Retail Research Team:

CHINA SUNSINE: Poised to benefit from continued strength in China passenger car sales.


Stock price

79.5 c

52-week range

38.2 – 83.5 c

PE (ttm)

7.4

Market cap

S$391 m

Shares outstanding

492 million

Dividend
yield (ttm)

1.26%

Year-to-date return

60%

Source: Bloomberg
- According to the China Passenger Car Association (CPCA), retail sales totalled 1.78m vehicles in Jun, a 4.6% rise from a year ago. This bodes well for China Sunsine, which makes chemicals that are used to cure rubber in the production of vehicle tyres.

- According to industry thinktank, ReportLinker, new passenger car sales in China should reach 29.7m by 2020, maintaining an annualised CAGR of 7.1% between 2017 and 2020.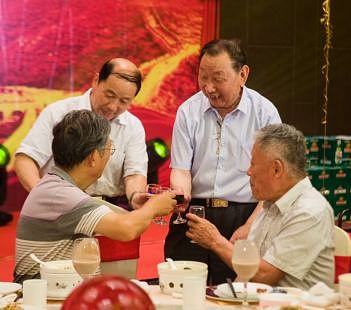 China Sunsine CEO Liu Jing Fu (standing, left) and executive chairman Xu Cheng Qiu (right) celebrate the company's 40th anniversary this month. Photo: Company- China Sunsine currently holds a market leading position both in China and the world with 31% and 18% market shares respectively, as of FY16.

- The group is taking advantage of this growth by expanding its annual capacity by 13% to 172,000 tonnes by the end of FY17.

- Assuming China Sunsine is able to maintain its 10-year earnings growth trend of 12.6% (1Q17: +70%), we could see the stock rerate to $1.10 based on a conservative 10x trailing P/E.

- China Sunsine has been a strong performer in Market Insight's Growth basket, appreciating 15% since inception at $0.70. In view of the continued earnings growth trajectory, we believe that the counter still has some runway for share price appreciation.