Picture this: Security personnel on patrol, or manning roadblocks, for example, are wearing cameras on their uniform.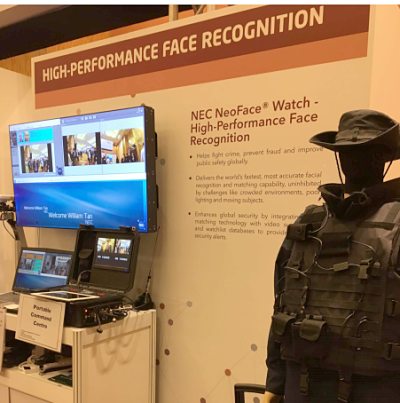 Miyoshi's system was on showcase at NEC Solutions Fair in Singapore in Jan 2017. Photo: Company The cameras transmit images real-time, wirelessly, of people's faces. Somewhere, these images are automatically matched against a database.

When "persons of interest" are detected using NEC's much-vaunted face-recognition capabilities, the security personnel are quickly alerted.

This ground-breaking system was developed by Singapore listco Miyoshi Limited, and is being marketed jointly by Miyoshi and NEC Asia Pacific.

Last month, we had an article on this: MIYOSHI: Achieves breakthrough product for security personnel with NEC

This week, Channel NewsAsia and Channel U reported on the system which was exhibited in the Hanoi Homeland Security Expo in Vietnam.

Click on the videos for a better understanding of the system -->
The system is a product several years in the making at Miyoshi, spearheaded by Mr Michael Ng, a veteran in various areas such as wireless and power electronics.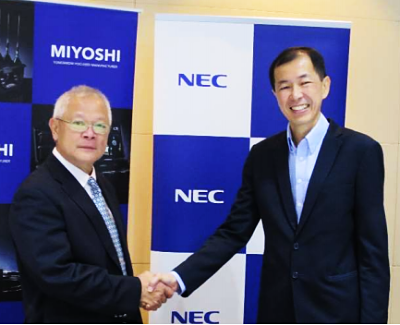 (L-R) Sin Kwong Wah, Andrew, CEO of Miyoshi Limited | Lim Kok Quee, MD and Deputy CEO (ASEAN Sub-Region) of NEC Asia Pacific.
Photo: CompanyThe system reflects Miyoshi's focus on new technologies, another example of which is its investment in an electric vehicle business in China.

The latter investment took place in Aug 2016, making Miyoshi probably the only SGX-listed company that has a direct exposure to sales of electric vehicles.

That's where the action is: China is leading the global boom in sales of electric vehicles. (See: MIYOSHI: Electric-vehicle investment a potential growth driver)

In the meantime, Miyoshi's core business continues to be the provision of precision engineering solutions to clients in the hard disk drive and consumer electronics industries.