Miyoshi Ltd recently raised money through a new-share issue to progressively up its investment (currently at 15%) in an electric car manufacturer in China. (See: MIYOSHI: Raises $7m, mainly to up stake in China's electric-car boom)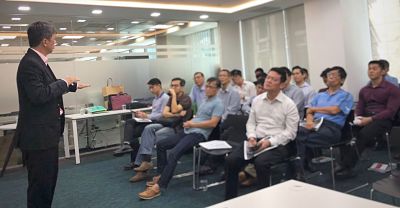 Miyoshi CFO Mark Khoo presenting to investors recently. Photo: CompanyThe manufacturer, Core Power (Fujian) New Energy Automobile, has a sales contract to supply 50,000 cars over the next 3 years.

With the test cars having just passed all the required crash tests, production will begin shortly, with 2,000 cars targeted for delivery this year.


CFO Mark Khoo fields more questions from investors after presentation. Photo: CompanyCore Power's contract is with a subsidiary of Beijing Automotive Group Co., Ltd (北汽集团), the state-owned manufacturer which ranks up there with BYD in the electric vehicle market in China.

In the meantime, Miyoshi is expanding its operations in the Philippines, which is the No.1 contributor (about 60%) to Miyoshi's revenue and looks set to continue to grow.

Miyoshi's capex of S$4.8 million in the Philippines involves the construction of new facilities and investment in equipment (for details, see photo caption).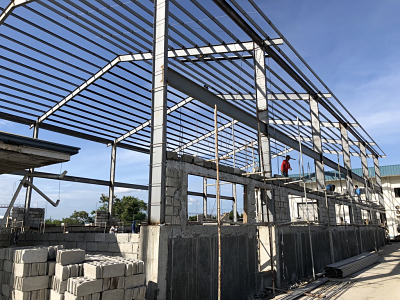 Miyoshi's additional S$4.8 m capex in the Daiichi Industrial Park, the Philippines: It covers the construction of a $0.7m single-storey building (above) and a $1.8m double-storey building, and $2.3m of additional coating lines for its automotive business.
Expected date of completion: Sept 2018.
Photo: CompanyThe operations are centred on manufacturing precision components for consumer electronics, and hard disk drives (HDD) -- as well as leasing factory space for rental income.

Miyoshi's customers are mainly Japanese, which is not surprising given the company's Japanese origins.

Where Miyoshi is located in the Daiichi Industrial Park in the Philippines, there is growing demand for industrial space, so Miyoshi is developing a factory for lease, in addition to an existing property it has leased out.


Revenue from Miyoshi's "integrated engineering services" segment -- which also has manufacturing facilities in Thailand and China apart from the Philippines -- accounted for 97.9% of Miyoshi's revenue in FY2017.


| | | | |
| --- | --- | --- | --- |
| Segments(S$'000) | 9M2018 | 9M2017 | YoY% |
| Consumer electronics | 14,252 | 13,212 | 7.9% |
| Automotive | 10,823 | 8,049 | 34.5% |
| Data storage | 9,697 | 15,673 | (38.1%) |
| Others | 2,960 | 1,136 | 160.6% |
| Rental | 783 | 648 | 20.8% |
| Total Revenue | 38,515 | 38,718 | (0.5% |
| Profit after tax | 1,826 | 1,008 | 81.2% |
| PAT margin | 4.7% | 2.6% | |
Miyoshi's 9MFY18 revenue dipped 0.5% year-on-year.

The decrease in revenue from the data storage segment of 38.1% was offset by a 34.5% increase in revenue from the automotive segment.

Since 2014, Miyoshi has pared down its HDD-related work amid a decline in the HDD industry.

On the other hand, it has grown its auto segment and kept stable its consumer electronics segment.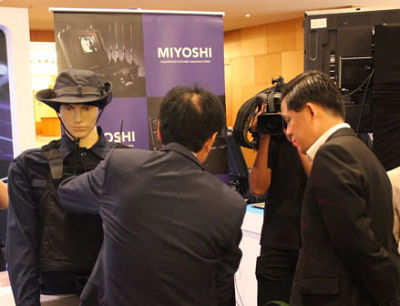 @ exhibition during Public Sector Transformation Awards Reception and Convention, 4 - 5 July 2018. Photo: Company Miyoshi has a budding business in mobile electronic surveillance which Singapore Trade & Industry Minister Chan Chun Sing briefly inquired about recently.

In the picture, he is talking to Miyoshi Optronics Singapore vice-president Michael Ng at an exhibition at the Public Sector Transformation awards reception and convention.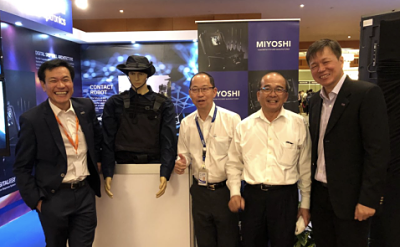 Miyoshi was among a handful of private sector companies invited to the exhibition. Photo: CompanySubsequently, a few government agencies contacted Miyoshi with preliminary enquiries of the system.

With a small camera worn on the body, the surveillance system can be applied at road blocks, for example, with a stream of images sent via wirelessly to a database.

The images are auto-checked against a database of faces using top-notch facial recognition software of NEC, which is jointly marketing the product.

The surveillance camera can also be mounted on robots, remotely controlled 20km away.

For more info, see the PowerPoint material here.