Miyoshi Limited has just raised S$6.82 million in net proceeds, mainly to further invest in its nascent electric car business.


Stock price

5.9 c

52-week range

5.8–8.9 c

PE (ttm)

9.5

Market cap

S$36 m

Shares outstanding

609 m

Dividend
yield (ttm)

6.8%

Price-to-book

0.5

Source: Yahoo!
It issued 115 million new shares at 6.13 cent apiece this month, intending to use the proceeds mainly to increase its stake - currently 15% -- in a Chinese manufacturer, Core Power

(Fujian) New Energy Automobile Co., Ltd

.

Under a MOU, Miyoshi -- which is probably the only SGX-listco to have direct exposure to China's booming electric car sales -- has the option to increase its stake in Core Power to 49%.

Miyoshi's capital raising comes on the back of Core Power having secured two orders from Jiangxi Changhe

Automotive Co., Ltd (江西昌河汽车有限责任公司)

for 50,000 all-electric cars over 2019-2021.

Check out the Core Power all-electric car -->


Since listing in 2000 on the mainboard of the Singapore Exchange, Miyoshi's core business has been the design and manufacture of mould and precision pressed parts for data storage products. Miyoshi's business includes metal stamping, fabrication of parts and components of machine tools, electroplating and surface treatment.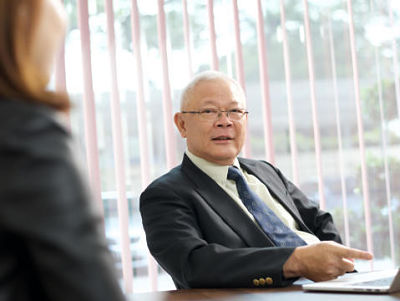 "We are very impressed with the quick approval using the SGX Fast Track for our recent share placement. Going forward, we will be working closely with Enterprise Singapore to grow the overseas sales of Core Power's all-electric vehicles."
Andrew Sin,
CEO, Miyoshi Limited.
Electric vehicles are expected to be a new engine of growth for Miyoshi.

Given its long experience in international markets, Miyoshi will leverage on its network to help distribute Core Power's electric vehicles.

Miyoshi has, this month also, entered into an international distributorship agreement with Core Power to serve its customers in various countries around the world, with the exception of the People's Republic of China.

Core Power will handle business in the Chinese market. Under the terms of the agreement, Miyoshi will help to promote Core Power's all-electric vehicles outside China for 3 years with immediate effect.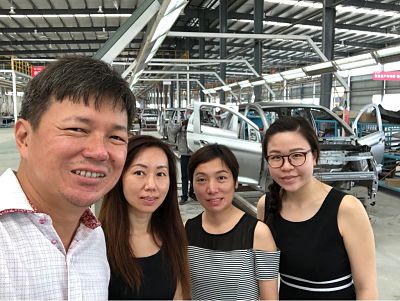 Miyoshi's CFO, Mark Khoo, and colleagues at Core Power's plant: They visit regularly to track business progress and look into issues. Photo: CompanyCore Power's deal with Jiangxi Changhe is a quick development following Core Power's start of production, in 2017, of its own electric cars.

In another fast move, Core Power has grown its distributorship to more than 600 across China.

Its new customer, Jiangxi Changhe, is a subsidiary of Beijing Automotive Group Co., Ltd (北汽集团) which already offers a range of electric car models in China.

The cars to be produced for Jiangxi will have a top speed of 100km/h and 250 km range on a full charge.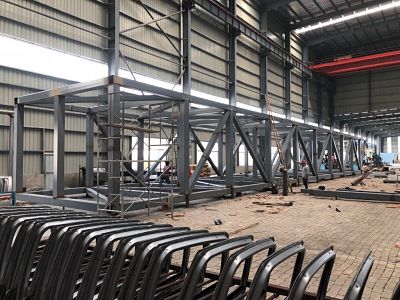 At Core Power's factory in Yong'an about three hours drive from Xiamen, expansion and upgrading works are going on to produce cars for Jiangxi Changhe.
Photo: Company With Miyoshi's capital injection, Core Power is expected to further upgrade its facilities or introduce new facilities such as a cleanroom for spray painting.

Core Power's existing production capacity looks sufficient for now: It is about 100,000 cars a year while its new customer is requiring 50,000 over 3 years.

UOB Kay Hian, in an 18 May 2018 report, estimated Core Power's cost per vehicle for Jiangxi Changhe at "anywhere between Rmb70,000-100,000", which is substantially lower than the pricing of other electric vehicles in China.

UOB Kay Hian said most electric vehicles in China retail at Rmb150,000-250,000 each.

Watch this video of our visit to Core Power in 2017. At 330,000 sq m, the sprawling grounds of the Core Power plant are the equivalent of about 50 football fields.