Photos by Leong Chan Teik

Miyoshi Ltd has been listed on the SGX a long time -- 17 years to be exact -- with its core business being the provision of precision engineering solutions to clients in the automotive, hard disk drive and consumer electronics industries.

Starting from a few years ago, it searched for a new wing of growth. In 2015, Miyoshi finally found it in Fujian and completed its investment in a light electric vehicle venture in Aug 2016.

Miyoshi is probably the only SGX-listed company that has a direct exposure to sales of electric vehicles. China is leading the global boom in sales of electric vehicles (see Forbes story).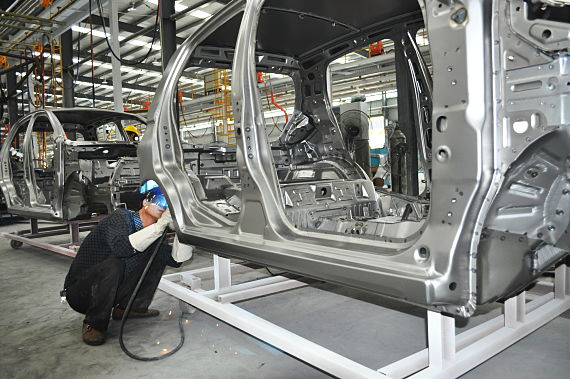 @ Core Power's plant in Yongan City: Light electric cars are being produced.

PRODUCT OF THE FUTURE
"The light electric vehicle business that Miyoshi has embarked on offers an opportunity for the Group to tap into the growth of a sector that is fast gaining traction in China's hinterland, particularly in the rapidly-developing third and fourth tier cities where there is an unmet demand for a relatively faster, reliable and affordable means of transport for families, businesses and even the civil service."

-- Andrew Sin

(photo)

,


CEO, Miyoshi Ltd.
Miyoshi paid S$8.8 million for a 15% stake in Core Power (Fujian) New Energy Automobile Co., Ltd, which values the latter at nearly S$60 million.

Under a MOU with Core Power, Miyoshi has the option to increase its stake to 49%.

Core Power's sprawling manufacturing facility is located in Yongan City about three hours' drive from Xiamen.

NextInsight visited it this week.

Watch our video for insights into the production processes, many of which are not automated yet but will increasingly be so -->




Video highlights:
♦ At 330,000 sq m, the sprawling grounds of the Core Power plant are the equivalent of about 50 football fields.
♦ Car seats being produced in-house.
♦ Steel plates being stamped to produce various parts such as bonnet, door and car frame.
♦ Final assembly -- and our test drives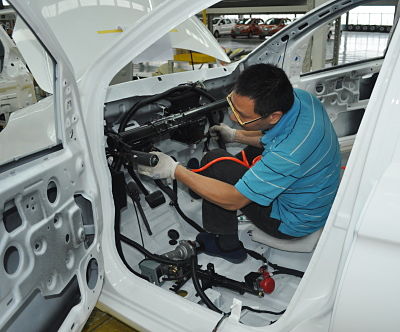 The light electric vehicle is a compact two- or four-seater car that runs on rechargeable batteries.Miyoshi's S$8.8-million investment in Core Power took the form of S$3.6 million cash and a transfer to Core Power of Miyoshi's entire 55% stake in Green Galaxy valued at S$5.5 million.

Green Galaxy had earlier embarked on a greenfield project to develop electric vehicles in Jiangxi province but Miyoshi and its JV partner decided to abort it because of licensing issues.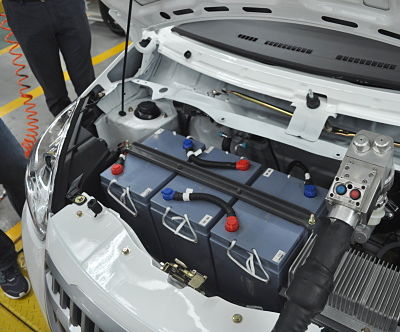 There are 3 rechargeable lead acid batteries in front and 5 at the back of the car (photo). Models may have 5 or 6 or 8 lead acid batteries. Increasingly, Core Power cars will be fitted with lithium-ion batteries, which cost twice as much as lead acid batteries but are lighter and thus require less torque for the same power.Core Power, meanwhile, has made good progress:

♦ It has built a manufacturing plant.
♦ Funding has been settled as it has a wealthy real-estate entrepreneur, Chen Yuming, backing the S$40 million capex.
♦ It has technical support from Tsinghua University through a R&D agreement.


| | |
| --- | --- |
| Date | Milestones |
| June 2016 | Completion of the construction of 4 facilities for stamping, welding, painting and final assembly |
| Sep 2016 | Installation of stamping machines and fully-automated laser cut machine. |
| Nov 2016 | Completion of toolings for metal stamping operations for the car body, bonnet, doors and other steel parts. |
| Jan 2017 | Start of car sales |
| Jan-May 2017 | Sold 2,200 cars in 5 months (annual production capacity: 100,000 cars) |

The average distance the cars can travel on a full charge (at home or anywhere there is a conventional power outlet) is about 120 km. They are not allowed to travel on highways.


Miyoshi stock price

7.3 c

52-week range

2.1 – 10.4 c

PE (ttm)

38

Market cap

S$36 m

Shares outstanding

494 million

Dividend
yield (ttm)

5.48%

Year-to-date return

46%

Source: Bloomberg
Sales are done through 71 distributors in 13 provinces (Fujian, Hunan, Jiangxi, Henan, Shaanxi, Yunnan, Sichuan, Hubei, etc), and driven by 16 sales managers of Core Power.

The business has not turned in a profit yet but stacked in its favour, according to management, is the lack of competition in the southern part of China, where Core Power has focused on widening its distributor network.

Its vehicles are not direct competitors to those produced by the likes of BYD, which score higher in complexity and performance. But they, of course, cost much more.

Core Power sells its light electric vehicles for RMB18,800-28,800 each, compared with electric vehicles that retail at more than RMB140,000 or internal combustion engine vehicles that start at RMB50,000.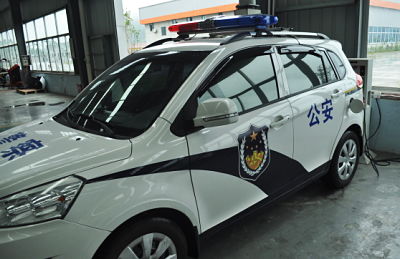 At Core Power factory: A police car getting an electric charge. The car is part of a fleet assembled and sold by Core Power.Besides selling fully-fitted cars, Core Power also produces cars without batteries for third parties as well as OEM for customers.

Core Power has a headstart by being allowed by the authorities to sell its light electric vehicles with licence plates (green) in Fujian province.

It will solidify its leadership position by growing its distributor network, help distributors sell cars, and launch a new car model in August 2017.

Aside from the domestic market, Core Power is looking for distributors overseas for its CKD (completely knocked down) and SKD (semi-knocked down) formats. The target markets: Central Asia and South Asia (ie, India and Bangladesh).

For more on the EV market in China, see Reuters story: China's anti-Teslas: cheap models drive electric car boom