Uni-Asia Group has achieved its best 1H results in five years: Net profit amounted to US$5.5 million (net attributable to shareholders: US$4.8 million).

Its stock price has been rising following a decent 1Q2017 result. So far this year, the stock is up about 30%.

But, at S$1.355, it's still trading at a sharp discount to its NAV of US$2.79 (S$3.77) a share. Its trailing dividend yield is 2.21%.


US$'000

1H2017

1H2016

% change

Shipping
(and related financial services)

Revenue
Net Profit / (Loss)

22,058
4,947

14,773
(2,733)

49%
281%

Property and Hotels (and related financial services)

Revenue
Net Profit

26,154
3,259

26,902
6,021

(3%)
(46%)

Headquarters
(Shared corporate services)

Revenue
Net Profit / (Loss)

26
(2,685)

19
(2,076)

37%
(29%)



Group total

Revenue
Net Profit

48,132
5,521

41,525
1,212

16%
356%

Key takeaways from 1H2017 results:

1. Operating cash flow, which has been positive for the past five years, reached its highest in five years at US$5.9 million in 1H2017.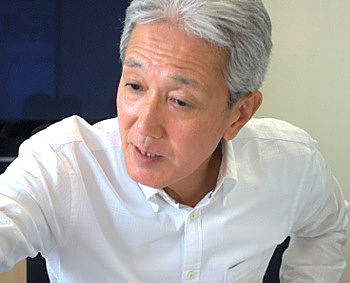 Michio Tanamoto, executive chairman of Uni-Asia Group. NextInsight file photo There was a US$16.9 million cash outflow for investing in properties and ship investments.

2. Both of Uni-Asia's business segments -- shipping and property/hotels -- were profitable.

3. Shipping: Short-term charter rates improved as the dry bulk segment continues to gradually recover with more vessel scrappings and reduced new tonnage coming into the market.

Uni-Asia operates 15 handysize bulk carriers, of which eight are on long-term charter and seven on short-term charter.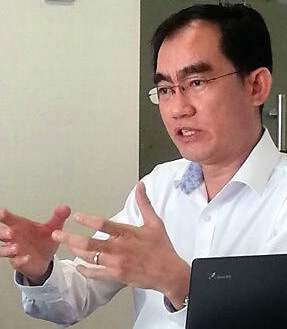 CFO Lim Kai Ching.
NextInsight file photo"The current spot rate is US$6,500-7,000. At this level of charter hire, and looking at the total fleet, we are above the break-even level. To some extent, we are comfortable with the charter hire revenue," says Mr Michio Tanamoto, the executive chairman.

"We see the charter hire market improving next year because of reduced supply of new tonnage in the market."

In addition, after impairment charges for some of its ships last year, the depreciation for these vessels this year has dropped.

In another area, Uni-Asia enjoyed higher fee income of U$2.9 million (1H2016: US$1.8 million) from structuring financing deals for ships.


4. Property: Uni-Asia recognised US$2.48 million in investment returns, the bulk of which is a fair value gain on its current HK property development project, its second such project.
This is a commercial building (650, Cheung Sha Wan Road) which is nearing completion and has enjoyed strong pre-sales.
Uni-Asia has invested US$6.4 million in a new commercial office building project, also in HK, which will be completed by 2019.
In all three HK projects, Uni-Asia took a minority stake in a consortium headed by First Group Holdings.
All three projects are commercial office buildings as there is high demand for office space in Hong Kong but it is difficult to acquire land for its development there.
5. Uni-Asia's small residential development business in Japan has received expressions of interest from Singapore investors.
This builds on a 20-80 JV that Uni-Asia has, since 2016, with CPG Investments to develop residential properties in Japan.
Hotel management: Uni-Asia's Vista Hotel Management in Japan incurred a small loss of US$177,000 in 1H2017.6.



This was due to opening expenses for new hotels and due to renovation work on existing hotels. But this business -- operating 10 hotels currently -- is expected to turn in a profit for the whole year, say CFO Lim Kai Ching.





Vista Hotel Management was voted N0.2 under "business travel - less than JPY15,00 per night' category by Jalan.net, one of the largest online hotels and ryokans booking site in Japan. (The 1st and 3rd places went to hotel chains much larger than Vista).



Vista Hotel Management has five new hotels which will come under its management.

KGI Research expects that, on

reaching 3,000 rooms under

management

by 2019, it will reap US$2-2.5 million in recurring profit a year.