At Uni-Asia Holdings' 3Q16 results briefing on Thursday (8 December), CFO Lim Kai Ching provided insights into its property business in Hong Kong, as well as its hotel business in Japan.

These two segments have mitigated the cyclical weakness in the vessel charter market, enabling the Group to sustain its dividend payout for the past 4 consecutive financial years.

Based on a recent stock price of S$1.055, Uni-Asia has a dividend yield of 6.2%.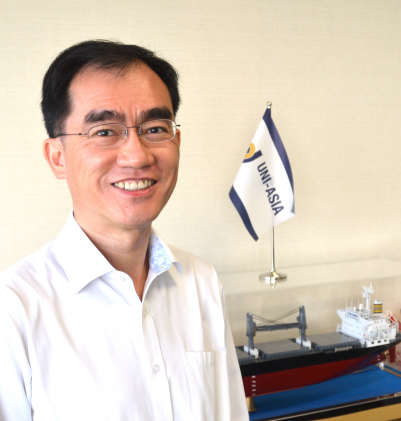 "Rental rates in Kwai Chung, where our 3rd Hong Kong project is located, are high because of its proximity to the container ports."
- Lim Kai Ching
CFO
Uni-Asia Holdings

(NextInsight file photo)
The Group's third commercial development in Hong Kong is in Kwai Chung Town, an industrial area in the New Territories.

The site sits on prime land next to the mass transit railway train station and Kowloon Commerce Centre, a Grade-A twin tower office complex with high rental yields.

Commercial rental rates in Kwai Chung Town are even higher than at North Point on Hong Kong Island where Uni-Asia's office is located, according to the CFO.

Hong Kong is made up of Hong Kong Island, Kowloon, and the New Territories. Hong Kong Island houses the historical, political and economic centre of Hong Kong in the Central, as well as the Victoria Harbour, home to most of Hong Kong's port facilities and one of the busiest in the world.

Kowloon houses Kowloon East, fast emerging as Hong Kong's second largest office market in terms of floor space. The International Commerce Centre project, Hong Kong's highest skyscraper completed in 2010 in West Kowloon, kick-started the trend of developing commercial projects outside Hong Kong Island.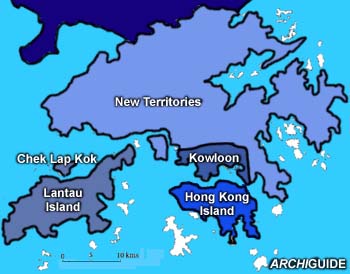 Geographic regions of Hong KongThe New Territories accounts for about 85% of Hong Kong's total land area, is largely undeveloped, and is where many ports and reservoirs are situated.

As part of the consortium led by First Group Holdings for the development, Uni-Asia has an effective stake of 11.9% in the project company for its commercial development at Kwai Chung. First Group will build the office tower and be responsible for the pre-sales and redistribution of retained earnings to the consortium investors.

Pre-sales will commence at the beginning of 2017.


Exiting China
The Group had invested in 14 office units in Guangzhou, of which 9 have been sold to-date. It intends to exit from the China real estate market because capital controls in the country make it difficult for foreign investors to repatriate retained earnings.
Focus on Japan
"We intend to focus on Japan, where we are doing well. Our management is largely Japanese. Many of our offices and business associates are in Japan," said Mr Lim.

The Group has extensive residential development projects in Tokyo. It is also a third-party operator for hotels in Japan and has a strong pipeline of hotel contracts. These contracts include two hotels in Yokohama and Nagoya that are scheduled for opening next summer, as well as a hotel in Hiroshima that is scheduled for opening in the summer of 2018.

The Group's latest results announcement may be viewed here.

Below is an excerpt of the questions raised at the meeting and Mr Lim's replies.

Q: How are Hong Kong's property market cooling measures affecting you?

The property market cooling measures are only applicable to the residential market. Commercial property prices in Hong Kong are still rising.

It is very difficult to acquire land in Hong Kong as land can only be acquired through tenders in government land sales. We successfully won this bid because it happened shortly after the Brexit referendum when the bidding sentiment was generally cautious. We submitted a bid price that was slightly higher than market expectations.


Stock price

$1.055

52-week range

98c - $1.285

Market cap

$47 million

PE (ttm)

-

Dividend yield

6.2%

Gearing

1.35

Data: Company / Bloomberg
Q: Do you intend to completely divest all your 3 Hong Kong development projects?

Yes. We invested about S$10 million (US$6.4 million) in the Kwai Chung project and expect it to generate strong cash flows over the next 3 years. There is high demand for office space in Hong Kong but it is difficult to acquire land there.

Q: As a Japanese company, did you face problems with Sino-Japanese relations in China?

For us, it is all about business. Sino-Japanese relations are only strained in government politics.

Q: How is AirBnB affecting your hotel business?

Our hotels are business hotels each with 100 to 200 rooms situated in the different industrial areas in Japan. For example, we have a hotel next to Nissan's factory. So, we have a contract with Nissan that offers accommodation at corporate rates.

While we target business travellers, the growth of tourism has led to an increase in the number of tourists staying in our hotels.