TO MEET the global shortage of disposable gloves driven by demand from the healthcare industry, Riverstone Holdings embarked on a plan to expand its capacity by a billion nitrile gloves per annum from 2014 to 2018.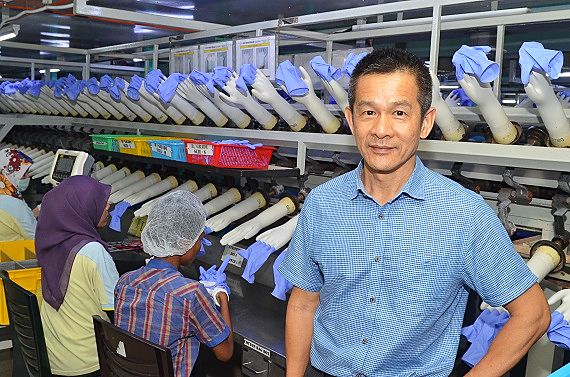 "We are selective about the type of orders we accept as glove demand is so strong that it exceeds our current supply capacity. We focus on meeting demand for customised products such as 15- to 20-inch gloves for pharmaceutical companies."
- Wong Teek Son
CEO
Riverstone Holdings
(Photo by Sim Kih)


Every year, a factory building with 6 production lines is added to its 30-acre site in Taiping. So far, MYR 205.5 million (~S$65.8 million) has been invested in land, buildings, and machinery under phases 1 to 3, whose capacity is currently utilised in excess of 90%.

Each factory is staffed by 250 to 300 workers.

The leading nitrile glove manufacturer has budgeted up to MYR 160 million (S$51.3 million) for phases 4 to 5. Phase 4 is expected to be completed by the end of 2017.

A year ago, it acquired a 9-acre piece of land adjoining the site where facilities under phases 1 to 5 are situated.

A hostel that will accommodate more than 1,000 workers is under construction on the new land parcel. Riverstone intends to construct another factory on the new land parcel for capacity expansion beyond 2018.
The factory under phase 3 is newly completed and had commenced operations in November 2016. (Video by Sim Kih)

Prime factory location

The Group, which also has factories in Selangor (Malaysia), Thailand, and China, chose to relocate its headquarters to Taiping because of the geographical advantage.

"Before investing in a glove factory, one must evaluate the availability of water, electrical power, and local transportation cost in the area," said Mr Wong Teek Son, the founder and CEO of Riverstone, when NextInsight and 4 analysts visited its factory under phase 3.

Glove manufacturing is a water-intensive business, involving multiple processes such as acid wash, leaching, hot water washing, and washing with deionised water.


Stock price

86.5c

52-week range

86c - S$1.25

Market cap

S$641 million

PE (ttm)

16x

Dividend yield

2.58%

ROE

24.8%

Source: Bloomberg
The Group taps into water utilities mainly supplied by the Water Supply Department of Malaysia, as well as underground water, lakes, and rainwater abundantly found in Taiping.

Malaysia has one of the highest rainfall in the world, and Taiping has the highest precipitation in Peninsular Malaysia.

Taiping's water resources have led to its success as the second largest glove manufacturing hub in Malaysia, after Klang, the former capital of the state of Selangor.

About 6 leading glove manufacturers are located in Taiping.

As Perak is home to one of 3 factories owned by Malaysian carmaker Proton, Mr Wong figured that the government would ensure sufficient electrical supply to the state.

Inland container transportation cost is also relatively low from Taiping.