AT FINANCIAL PR's Paid to Wait Conference on 9 June, Tiong Seng Holdings CFO Ken Choo provided insights into the Group's competitive advantage using a range of technologies to drive productivity. These range from advanced formwork systems, and software to integrate 3D, 4D and 5D structures before construction, to green technology.

The leading building construction and civil engineering contractor recently won a S$98.3 million contract to supply and install a water transmission steel pipeline for PUB, adding to its order book of S$1.1 billion as at 31 March 2016.

The project involves open trench, pipe jacking and bored tunnelling work using the Group's recently purchased tunnel boring machine. Underground tunnelling work is a niche area that the Group has established capabilities in.

Last month, it opened a pre-cast tunnel segment factory in Johor, operated by its joint venture with the Japanese leader in this area, Geostr Corporation.

Here is a summary of the questions raised at the investor conference, and the replies provided by Mr Choo.
♦ Competitive Advantage in Civil Engineering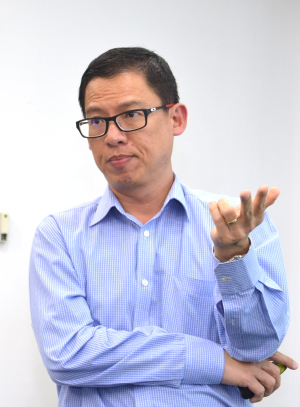 "Ownership of plant and specialised equipment has always been one of our strategies.

"This gives us the advantage of not having to rely on third party suppliers, especially when there is an equipment crunch."

- Tiong Seng CFO Ken Choo
Photo by Sim Kih Q: Are your construction projects in Singapore affected by the slowing construction demand over the next 2 to 3 years?

Our gross profit margin may be affected but many factors determine the final result. For example: material prices, how much we tender for the project and how efficiently we manage the project by introducing innovative processes such as pre-cast modules.

Q: Are the contract prices for your projects fixed?

These are fixed price projects. The contracts for some projects have a built-in clause on cost sharing in event that the prices of raw materials should fluctuate.

Q: Why do you have pre-fab hubs in Myanmar and Malaysia?

Our automated hub in Tuas caters to production that requires workers with more specialized skills.

As land in Singapore is expensive, we have a facility in Malaysia for the production of pre-cast components where large slabs of material are needed. We acquired the land in Iskandar for a good price.

Our Myanmar facility is a joint venture with the Shwe Taung Group, a leading property, retail and hospitality conglomerate in Myanmar. They saw our competitive advantage in pre-cast and approached us.

Our joint venture with them marked our first foray into Myanmar and may lead to opportunities for us there beyond production of pre-cast modules.


He also addressed questions on the outlook for the Group's property development business in China.
♦ Property Segment Outlook
Q: How is the property market outlook in Tianjin and Suzhou?

Tianjin and Suzhou are second tier cities that are benefiting from government measures to stimulate the housing market.

Our development in Dagang, Tianjin comprises of low-rise landed property next to a lake with scenic landscape. The district lies in the outskirts of the current downtown area. The area has been earmarked as a new central business district. We have seen government offices slowly being relocated to this area.

The MRT station there began operating last year. The location of our development is accessible via a half hour train journey from downtown Tianjin.


Q: Will you go to Chongqing or Shenzhen?
The capital investment for a property development project is huge in China compared to in Singapore. We can't compete with the Chinese property conglomerates, Capitaland or CDL. We have to position ourselves in areas where we are strong.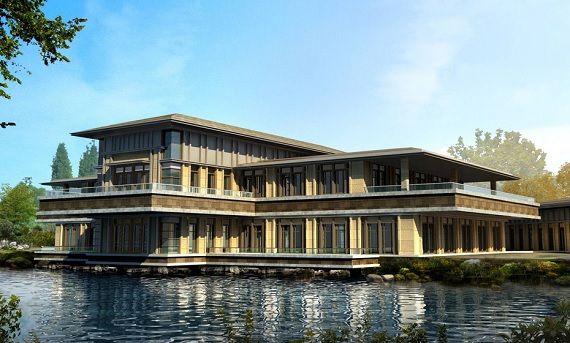 This year, the Group will launch Phase 3 of its Equinox project, comprising of 88 terrace houses in Dagang, Tianjin. Artist's impression
As at 31 March, the Group's property development units sold but yet to be recognized amounted to about S$99.9 milion. These included 63 units of the Equinox project in Dagang, Tianjin, as well as 99 units of the Tranquility Residences in Suzhou.

Mr Choo expects the following measures to benefit the housing market in 2nd and 3rd tier PRC cities, where the Group's projects are located.

Lowering of minimum sum required for mortgage downpayment for first and second home purchases with effect from February 2016.

Lowering of benchmark interest rates 6 times since 2014.

Relaxation of home purchase restrictions across China since 2014.
Prices of new homes in 100 second and third tier PRC cities rose 9% year-on-year in April.