Excerpts from analyst's report

OCBC Investment Research analyst: Eugene Chua


Midas Holdings: Wait for better clarity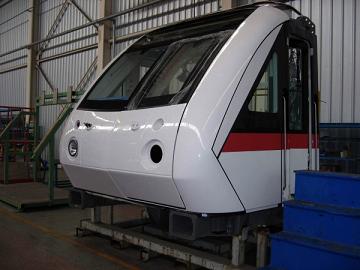 Midas manufactures a wide variety of large-section and high-precision aluminium alloy extruded products which are primarily used in the body frames of high-speed passenger trains and metro trains. Photo: Company
» Expanding into new businesses
» Wait for stronger earnings post-expansion
» Maintain HOLD

Visited manufacturing plants in Jilin and Nanjing
We recently visited Midas Holdings Limited's (Midas) plants in Jilin and Nanjing, China. More specifically, we visited two plants in Jilin, both operated by wholly-owned subsidiaries of Midas:
1) the first belongs to Jilin Midas (JM), the core business of Midas, which produces aluminium alloy extruded products (AEP), and
2) the second belongs to Jilin Midas Light Aluminium (JMLA), a new business segment, which produces coldrolled aluminium alloy plates and sheets (APS).

Separately, we also visited the plant of Nanjing SR Puzhen Rail Transport (NPRT), a JV company (which assembles railway cars) that Midas has a 32.5% stake in, but with no management control.

Two new businesses
Midas is also in the midst of expanding into two new businesses: 1) JMLA, which is currently undergoing trial production phase, is targeted to commence commercial production in 1H16, and 2) its recently announced proposed acquisition of Huicheng Capital (HC), which fully owns Dalian Huicheng (DH), a company that specialises in aluminium stretch plates as well as hot-rolled aluminium alloy plates and coils.

The expansion into these businesses is part of Midas' diversification plan to shift away from its dependence on rail industry. Note that these new businesses focus on supplying basic raw materials, unlike JM, which makes customized extruded products. This means that margins will be lower since it is an industry supplying commoditised raw materials, which has low barrier to entry and high competitiveness.

Lowering FV from 33 cents to 30 cents
While we think diversification may be positive for Midas over the longer-term, we prefer to wait for stronger and consistent trend of contributions from these new businesses before reviewing our assumptions. We are expecting JMLA to start commercial production from 3Q16 instead of 1Q16. Consequently, we cut our FY16 PATMI forecast by 15% and lower our fair value (FV) estimate from S$0.33 to S$0.30. Maintain HOLD for now. Note that we have yet to factor in any impact from the proposed acquisition of HC as the transaction has yet to be confirmed.


CSE Global Limited:
Acquired assets from C C American Group for S$8.7m CSE Global Limited's (CSE) announced that it has acquired certain assets of C C American Group (CCAG) for an aggregate consideration of ~S$8.7m, with an additional S$1.1m to be payable if CCAG achieves the PBT targets of US$4m for 2015 and 2016.



CCAG is in the business of manufacturing and repairing pressure vessels for wellhead oil and gas production. It also manufactures and services production equipment such as fuel scrubbers and line heaters.



We note that being in the oil & gas sector, CCAG will likely be one of those impacted by the oil rout but we believe this acquisition will help CSE strengthen its geographical presence in the Eagle Ford shale region.





Nonetheless, given the current oil & gas conditions, we do not expect significant impact from this acquisition on CSE for now and we keep our forecast unchanged.





Maintain BUY with FV of

S$0.54.

(Eugene Chua)