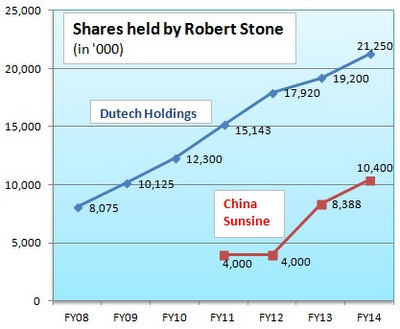 Figures are from lists of Top 20 shareholders in the annual reports of China Sunsine and Dutech Holdings.CHINA SUNSINE stock rose 100% last year and, instead of paring down his stake, Robert Stone increased it significantly.

It is the same story with Dutech Holdings whose share price rose 62%.

As our chart shows, Mr Stone, who is well-known in the investment community in Singapore and has lived here for more than 35 years, has consistently increased his stake in these two companies. And they are S-chips.

His buying could have helped drive up the share prices but both businesses have performed well last year, and other investors would have been happy to bid up the share prices in any case.

In particular, China Sunsine, which is the world's largest producer of rubber accelerators (chemicals used in the production of tyres), reported a 187% jump in net profit to RMB220.2 million in 2014.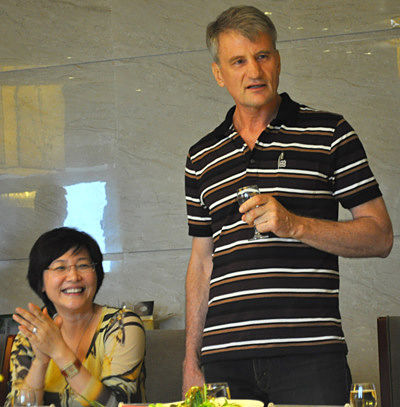 Robert Stone, 57, at an analyst-media-investors' visit to China Sunsine last year. NextInsight file photo.The company, which has paid consistently a 1-cent dividend a year, has now upped it to 1.5 cents for FY2014.

Dutech, which is a key supplier of ATM safes globally, reported a 44% rise in net profit to RMB144.8 million, inclusive of a one-off gain of RMB55.9 million from an acquisition.

Its cashflow from operations in 2014 continued to be strong at RMB102.8 million, compared to RMB76.0 million in 2013.

In the just-released 2014 annual report of China Sunsine, Robert's stake was stated to be 10,400,000 shares, or 2.23%, as at 18 March 2015. That makes him the company's fifth largest shareholder.

At the recent share price of 44 cents, his stake is worth S$4.58 million.

His 5.96% stake in Dutech is worth more at S$6.16 million, making him the fourth largest shareholder of the company.

He holds significant stakes in other companies such as HK-listed Dawnrays Pharmaceutical and listed companies in various Asian markets.
CHINA SUNSINE
Stock price
(17Apr 2015)

44 cents

52-week range

22 – 51.5 cents

PE (ttm)

4.3

Estimated P/E (12/2015) –by KGI Fraser

4.2

Market cap

S$216 million

Price/book

0.93

Dividend yield
Based on upcoming 1.5 cent dividend

3.4%
DUTECH
Stock price
(17Apr 2015)

29 cents

52-week range

18.1 – 31.5 cents

PE (ttm)

3.34

Market cap

S$103 million

Price/book

0.80

Dividend yield
(historical)
Bloomberg data

3.45%
I like companies that are conservative. Merck is the best example of a company that I want to own. Despite Merck being conservatively run, I have been paid several times my original investment in dividends over the 18 years since I started buying it.

Being an individual has some advantages versus a fund manager who has to consider the liquidity of any counter as he may need to retain the option of selling out quickly. As liquidity is not an issue for me, and being a long term investor, investing in small-cap companies is relatively attractive as the valuations tend to be very good and the growth prospects better than larger ones.

-- Robert Stone, in Reaping The Rewards Of 3 Decades Of Investing