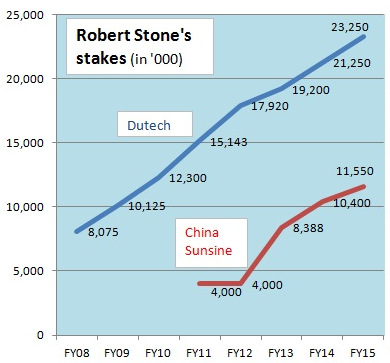 Robert Stone's shareholdings as stated in the annual reports of Dutech and China Sunsine.
Compiled by NextInsightAttracted by some fundamental reasons, many investors buy into a stock only to dump it months or perhaps a year or two later when the price action continues to be lethargic.

Robert Stone is different in this respect, going by his yearly accumulation of the shares of China Sunsine, which is not exactly a well-known S-chip.

He is also into Dutech Holdings, an S-chip with even less recognition power. See chart.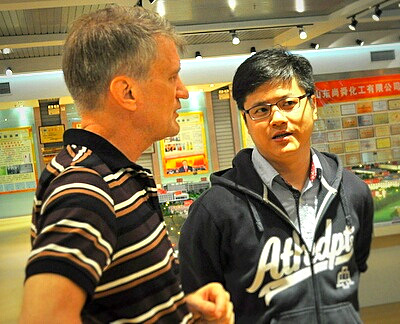 Robert Stone with Tong Yiping, the CFO of China Sunsine, during a visit by analysts and investors to the company. NextInsight file photo.In the top 20 shareholder list of the just-released 2015 annual report of China Sunsine, Robert owned 11,550,000 shares.

They are worth about S$3.92 million at the recent share price of 34 cents.

As for Dutech, Robert owns 23,250,000 shares worth S$7.79 million (recent share price: 33.5 cents).

These two companies share several characteristics, including:

♦ Operating out of China, they are among the top global players in their industries, and continue to sharpen their competitive edge.

♦ Their customers are global names.

♦ They are profitable and have strong balance sheets.

♦ They are trading, and have been trading, at oh-so-cheap valuations. (So what does the market know? Or is it dumb?)

For more on the two companies, see:

DUTECH: Trading at only 4.9X PE, benefiting from low steel prices

CHINA SUNSINE: FY15 profit of RMB 172m is second highest ever
♦ Asking Robert
Q: The businesses of Dutech and China Sunsine have continued to perform well but their stock prices have not. I know of shareholders who are disappointed and potential investors who are uninspired. How do you make the case (at least to yourself) that these stocks were good for further accumulation last year?
A:
I am less concerned about how the share price performs in the short term than what I think the prospects are for the business in the long term. Eventually if a business does well consistently over the long term the true value of the business will be reflected in the stock price. For me that is a matter of faith but is also something I have learnt from experience. Both Dutech and China Sunsine are doing well as you note and the fact that the share price has not only makes it more attractive for me to accumulate more.
Q: Would you name three other stocks that you hold in significant quantities?
A:
Assuming you mean the SGX, three other companies are Darco Water (5.4 million shares), SHS Holdings (3.45 million shares) and Sunmart (27.2 million shares).

For more on Robert's investing views and experience, see:
ROBERT STONE: "My experience with S-Chips & Chinese listcos - The good, the bad & the ugly"