Page 1 of 2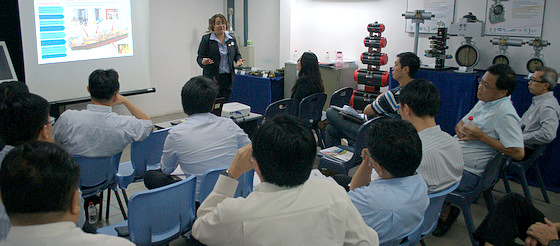 CEO Dorcas Teo presenting at the FY2014 results briefing at the company's office in Kwong Min Road in Jurong.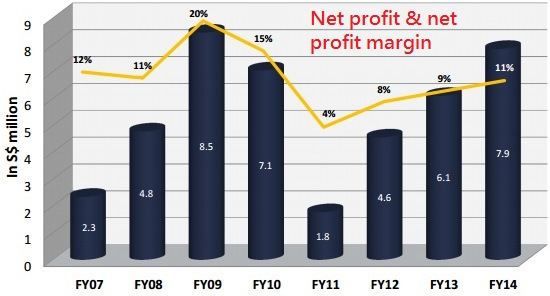 Nordic's profit uptrend has nudged its stock price higher in recent months. At 13.6 cents, the stock's historical PE ratio is 6.9X.

Photos by Leong Chan Teik

NORDIC GROUP delivered full-year profit of S$7.9 million, its third successive year of increase (see chart above).

That has led to the company proposing a doubling in its final dividend from 0.25 cent to 0.5 cent a share, inclusive of a 0.25 cent special dividend.

More good news: The company has announced that it would pay dividends half-yearly from this year, as well as adopt a policy of paying 40% of its earnings as dividends.

It's rare to encounter a small-cap Singapore company which publicly adopts a dividend policy, let alone a relatively high payout of 40%. This is possible due to the recurrent cashflow from Nordic's scaffolding business and MRO (maintenance, repair and overhaul) business (more on this later).

Since there is a significant development in terms of dividends, let's gauge the dividend yield by considering FY2014 earnings of 1.964 cents a share.

On a 40% payout, the dividend would amount to 0.7856 cent a share, or a respectable yield of 5.8% (on a stock price of 13.6 cents).

On an unchanged stock price, the yield would be higher if earnings continue to grow this year.

That seems likely, because after the market closed yesterday (Mar 12), Nordic announced it had signed a non-binding MOU to acquire Austin Energy (Asia), which would have contributed 2 cents to Nordic's earnings per share if the acquisition had been completed in early 2014.

On 4 cents a share in earnings, Nordic's 40% dividend payout would be 1.6 cents, or a high yield of 11.8% (on a stock price of 13.6 cents).

Nordic said Austin Energy is synergistic to its existing businesses. Austin Energy is principally engaged in providing construction services, specialising in thermal insulation, fireproofing and fire protection services in the petrochemical, pharmaceutical and offshore industries.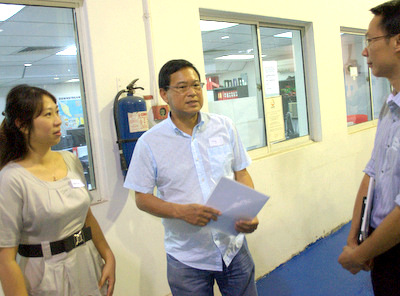 L-R: Group Financial Controller Catherine Thung, Executive Chairman Chang Yeh Hong and a private investor.Earlier this week, Executive Chairman Chang Yeh Hong and CEO Dorcas Teo hosted a FY2014 results briefing. Key developments touched on included:
1) Expanding Nordic's suite of products and solutions that it integrates for ships.

As before, the management cited the example of a typical S$200,000 order that potentially can be scaled up to S$2 million for each vessel.

Nordic supplies and commissions its systems at most shipyards (such as Keppel FELS) in Singapore as well as most of the Chinese shipyards on the government's White List.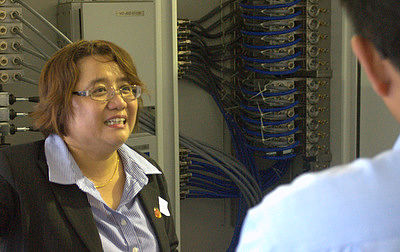 CEO Dorcas Teo.The expanded suite of products will be made possible by agreements with OEM suppliers Praxis (Netherlands) and PSM (UK).

In Q4 of 2014, Nordic clinched an expanded conversion job from Bumi Armada worth over US$2 million -- a more sizeable contract than the typical one of S$700,000.

The task of business acquisition has fallen squarely on a veteran hired from Keppel Singmarine, Mr Foo Chee Tsuan, now Nordic's General Manager for Power and Automation. He has vast experience dealing in the widened suite of systems that Nordic now wants to supply.

(In a related business, Nordic also does MRO -- maintenance, repair and overhaul -- of its systems after they have been installed. Nordic's systems are installed in over 1,000 vessels already.)

2) Getting more scaffolding business.

Nordic is one of the top 3 players providing metal scaffolding works to the oil & gas, construction and marine industry.

This year and next year are likely to see more oil & gas majors in Jurong Island shutting down their plants for about two months for their once-in-two-years major maintenance.

As such, Nordic expects improved revenue from its scaffolding business.

3) Mergers & acquisitions:

With S$32.8 million cash on hand (net cash of S$7.5 million), Nordic is in a position to do M&A.