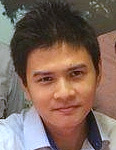 Joshua Wu (left), a private investor, attended yesterday's results briefing and contributed this article to NextInsight.

A ONCE unheard of small-cap company has steadily made its way to the headlines in recent years.

As far as investments go, Riverstone Holdings has all the right boxes ticked.

A robust balance sheet, strong cash flow, consistent and growing dividends, zero debt, defensive elements....

Its management team is also well-regarded -- which is not only my view but also those of analysts and investors I have spoken with.

All these have made this stock an investor's darling since 2012.



Riverstone ($1.19) has a market cap of S$442 million. Chart: www.FT.com
While certainly not as cheap as it was 3 years ago, investors would do well to remember a certain Warren Buffet quote -- "It's far better to buy a wonderful company at a fair price than a fair company at a wonderful price."

Riverstone, for reasons listed above certainly qualifies as one, in my opinion.
Analysts seem to agree from their recommendations on the counter and their strong conviction have been underpinned by a series of strong quarterly results.
Here are some highlights from their FY2014 results: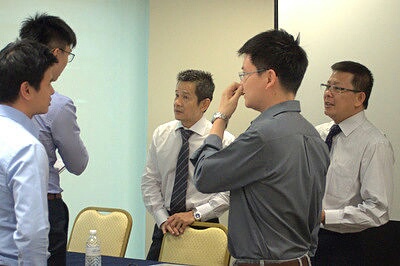 Executive chairman and CEO Wong Teek Son (center, in white shirt) and CFO Lim Sing Poew (far right, in white shirt) speaking with attendees after yesterday's briefing. Photo by Leong Chan Teik» Revenue increased 11.6% to RM399.3 million from RM357.9 million in FY2013

» Net profit attributable to shareholders rose 22.4% to RM71.0 m, a record high

» Completed Phase 1 expansion plan in Taiping, Malaysia, bringing total production capacity to 4.2 billion pieces as at 31 December 2014

» Net cash position of RM79.4 million as at 31 December 2014

» Board of Directors recommends a final dividend per share of 4.55 sen (RM), bringing total dividends to 6.9 sen (RM) for FY2014
As any business guru would tell you, the success of a business depends heavily on the effectiveness of its management team. For investors, the significance of that can hardly be over emphasized.
Riverstone's ability to come out unscathed and grow through tough times is in no small part due to CEO Wong Teek Son and his team as their ability to make the right decisions and ensure the business is able to exploit any opportunities that presents itself.
The business has risks, though.

These include increases in raw material and labour costs, fluctuations in the USD/MYR rates, and competition from other glove manufacturers in an increasingly saturated industry, particularly in the healthcare glove sector.

The management has taken steps to distinguish themselves from the competition by introducing new products and marketing strategies in the cleanroom segment as well as a renewed focus on premium products in the healthcare industry.
Riverstone is a steady grower and a stock unlike some other "exciting" ones in the market. This brings to mind another of Buffett's quote that ranks highly in my investment philosophy.
"You're dealing with a lot of silly people in the marketplace; it's like a great big casino and everyone else is boozing. If you can stick with Pepsi, you should be O.K."