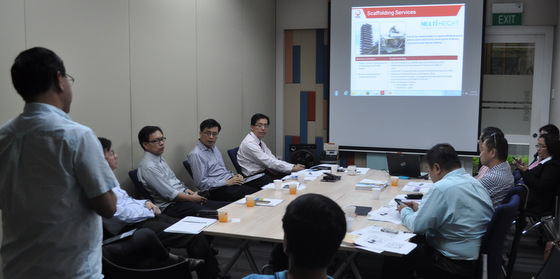 Nordic Group executive chairman Chang Yeh Hong (standing) gave a comprehensive run-down of the business at an investors' briefing last week. Photo by Leong Chan Teik
NORDIC GROUP, after being low-key for a long time, did something recently that signalled it wanted to get back on the radar screen of investors: It uploaded on the SGX website its presentation materials for investor briefings after its recent 3Q results.

The content is comprehensive, covering the business and history of the company. Click here.

In this article, we distill from the presentation materials, and from a briefing by the management, the ongoing transformation of the business.

If its upside potential pans out, this small-cap stock (market cap of S$43 million on stock price of 10.8 cents with a trailing PE of 5.4X) could re-rate nicely.

Already, its 60% y-o-y jump in 9M2014 net profit to S$5.3 million indicates an upturn in the business is underway.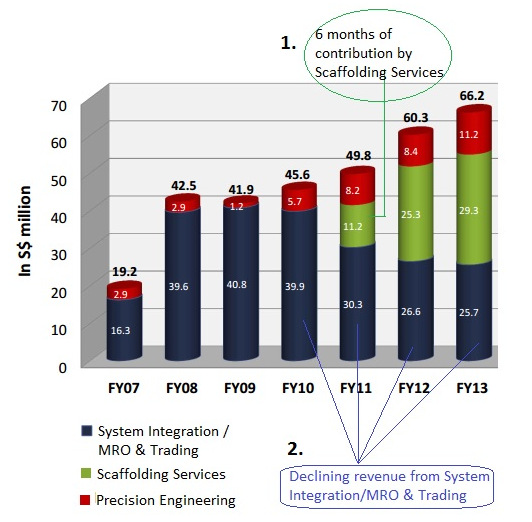 The chart above has two telling points, the first being that the acquisition of MultiHeight Group (which provides scaffolding services to the oil & gas industry) in 2011 sharply boosted Nordic Group's revenue in subsequent years.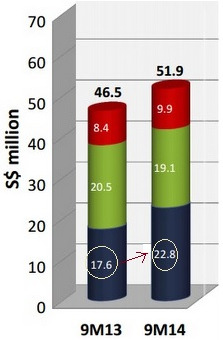 The second point: It countered a multi-year decline in revenue -- caused by a slump in the shipbuilding industry -- from its previous mainstay, the systems integration/MRO & trading business segment.

The next chart (left) is a more recent snapshot, pointing to an upturn in the revenue of the systems integration / MRO & trading segment in the first nine months of 2014.

Is this an inflexion point for Nordic? Will the segment prove to be a comeback kid?

At a results briefing last week, Nordic executive chairman Chang Yeh Hong pointed to the S$57.8 million in sales booking in the first nine months of this year.

As compared to the revenue recognised in the same period, for the first time Nordic is seeing the group's sales booking (for all businesses excluding the scaffolding segment) exceed its revenue since FY2010. See chart below.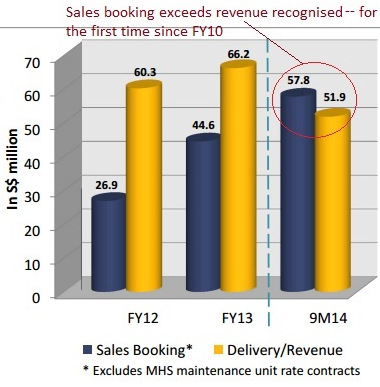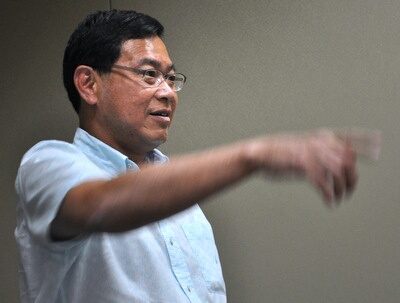 Chang Yeh Hong, executive chairman, owns 205.4 million shares, or 51.35%, of Nordic Group.
Photo by Leong Chan Teik» Systems integration -- the comeback kid?

This segment looks to be the one with potentially the biggest upthrust while the other two business segments appear able to grow incrementally.

Mr Chang explained that this year, Nordic recently entered into OEM agreements with Praxis (Netherlands) and PSM (UK) to expand Nordic's product offerings to its customers which include 29 shipyards out of the 51 on China's White List.

Taking a typical vessel as an example -- one that is relatively small compared to, say, oil tankers -- Nordic currently gets revenue of the order of S$200,000. With an expanded product offering, the same vessel could yield S$2 millon in orders.

"It's a simple bundling strategy and it's an exciting story for us," said Mr Chang, who also highlighted the value of the new General Manager (Power and Automation), Mr Foo Chee Tsuan, who formerly worked at Keppel Singmarine.

He was instrumental in Nordic achieving the OEM agreements with Praxis and PSM and will be responsible for clinching contracts for the expanded product portfolio.

Illustrating the big potential upside, Mr Chang cited the 178 vessels which have been booked in the first 9 months of this year.

Going forward and assuming this volume of vessel bookings in a year, if the owners of just 10% or 20% the vessels agree to have them fitted with the expanded product offering, Nordic's revenue would soar. And the gross margin would still be intact, or even better.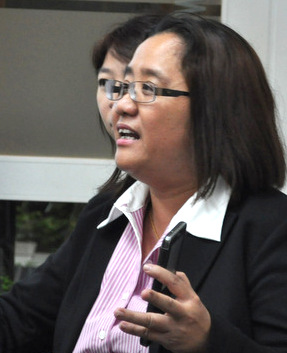 Dorcas Teo, executive director, owns 30 m shares, or 7.5%, of Nordic Group. She is the No.3 largest shareholder after the chairman (51.35%) and executive director Eric Lin (10.88%).
Photo by Leong Chan Teik"This is the catalyst that will take us to the next height," said Mr Chang.

But why should a shipyard or vessel owner want to give all this business to Nordic?

Mr Chang said that Praxis is a well-known brand and vessel owners do want the efficiency and convenience of dealing with a one-stop supplier as Nordic proposes to be.

Nordic has just started offering quotations for its new integrated solutions.

Aside from newbuilds, Nordic is also targeting conversion projects with its expanded solutions.

If a contract currently is worth S$700,000, the expanded offering can be worth about S$2.5 million, as is the case with a contract clinched with Bumi Armada recently.

A couple of more of such contract wins would crystallise the idea that Nordic is set for a surge in earnings growth in a segment that was until last year, its weakest.


There are a number of other interesting facets of Nordic not covered in this article but they can be gleaned from its presentation materials. Check out its strong cashflow, its upcoming higher dividend payout (as alluded to on page 31 of the presentation materials) as well as its steady scaffolding business.