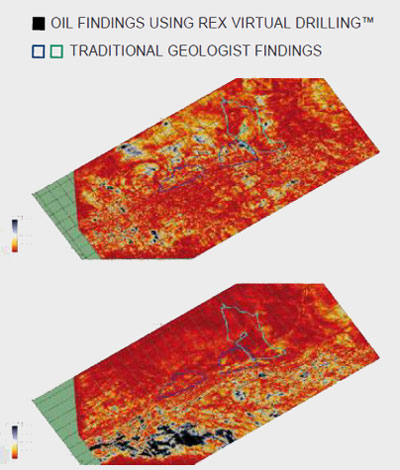 Rex Virtual Drilling shows exact locations of oil reservoirs, compared to estimates outlined by traditional methods.
Visuals from company.Rex International said the drilling of exploration well 16/1-25S under the North Sea licence PL338C has been completed as an oil discovery.

The discovery was made by operator Lundin Norway at the Rolvsnes exploration well south of the Edvard Grieg oilfield in the central North Sea sector of the Norwegian Continental Shelf.

"This is the first time that Rex Virtual Drilling was applied in this kind of rocks, where the calibration was uncertain. We had identified the key risks associated with the Rolvsnes well to be the irregular porosity and permeability distributions in the unconventional weathered and fractured basement reservoir," said Rex's Chief Operating Officer, Mr Svein Kjellesvik.

"The good alignment of Lundin's conventional geological and geophysical prognoses with those of Rex Virtual Drilling, which identified this discovery, strengthens our belief that Rex Virtual Drilling is a powerful tool in reducing exploration risks," he said.

Lime Petroleum Norway AS, which is effectively 98.77%-owned by Rex International, has a 30% working interest in PL338C.

Lundin Norway has a 50% working interest while OMV (Norge) AS has 20%.

Lime Petroleum Norway also has 30% participation in nearby licences (PL544 and PL410) operated by Lundin. The Fosen prospect in PL544 is scheduled to be drilled in January 2016.


♦ Up to 46 million barrels of oil equivalents

COO Svein Kjellesvik. Photo: CompanyThe well encountered a gross oil column of 30 metres in porous granitic basement.

Extensive data acquisition and sampling was carried out in the reservoir including conventional coring and fluid sampling.

Lundin has estimated total gross resource in the range of 12 to 46 million barrels of oil equivalents.

The well was drilled to a total depth of 2,096 metres below mean sea level in a water depth of 106 metres using the semi-submersible drilling rig Bredford Dolphin.

The exploration well 16/1-25S was drilled to clarify the extent and size of the Edvard Grieg South discovery in PL338C, including the presence of a possible Cretaceous/Jurassic sandstone reservoir overlying the fractured basement.

The Edvard Grieg South discovery was made in 2009 in well 16/1- 12, proving a 42-metre oil column in fractured granitic basement.

Liquid hydrocarbon indicator Rex Virtual Drilling showed good correlation with the discovery and indicated a larger prospective area.

A drill stem production test achieved 315 barrels of oil per day through a 36/64' choke. The moderate flow rate seems to be caused by limited communication between the reservoir and the wellbore. A frac and injection test was carried out, giving a stable injection rate of some 6,000 barrels per day.

Further studies will be required to incorporate all the findings and establish future plans, such as the potential drilling of an extended horizontal reach well from the Edvard Grieg platform with an associated long-term production test.


Aside from Norway, Rex has stakes in exploration assets in the Middle East, the US and Trinidad & Tobago.

These offshore and onshore concessions cover an aggregate of over 26,000 square kilometres in regions known for previous oil and gas discoveries.