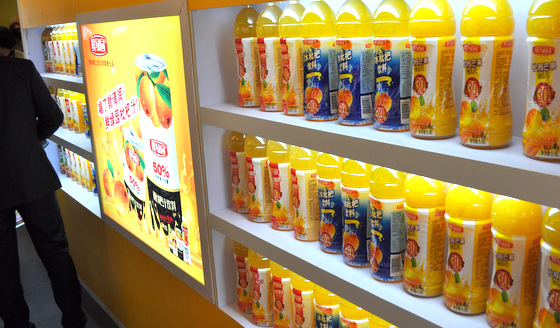 Sino Grandness' range of loquat juices includes loquat-strawberry juice, loquat-kumquat juice and loquat-mango juice. Photo by Leong Chan Teik
SINO GRANDNESS' beverage production plant in Hubei province started operations about a year ago in Oct 2014.

NextInsight and several analysts visited it last weekend. Visiting at the same time were Joseph Chia, a director of Thoresen Thai Agencies (TTA), which became a substantial shareholder of Sino Grandness about a year ago.

He was accompanied by Kamolsut Dabbaransi, the son-in-law of Prayudh Mahagitsiri, the controlling shareholder of TTA. Mr Dabbaransi is Executive Vice President, Head of Food & Beverage, at TTA. (For more, see: SINO GRANDNESS: Attracts two quality investors from Thailand)

Here's our 4-minute video, showing the production of loquat juice in the Hubei factory:
Key notes:
1. The plant operates two production lines with a total capacity of 240,000 tonnes (of beverage) per annum. The utilisation rate is about 50% currently.
2. The highly-automated plant also produces its own PET bottles for the beverages (ie loquat juice, the company's mainstay beverage).
3. Prior to constructing its own 2 production plants (the other being in Sichuan province), Sino Grandness relied on OEMs. The dependence has shrunk to about 50% now.
4. In-house production results in better profit margins (and probably better quality control). In 1H2015, Sino Grandness' beverage division reported 45% gross profit margin, up from 41% in 1H2014.

The margins are indeed high, thanks largely to Sino Grandness' dominance in the loquat juice market (86% in 2014 according to Euromonitor and 78% in 2013 according to Frost & Sullivan).


| | | |
| --- | --- | --- |
| (RMB'm) | 1H2015 | Change (y-o-y) |
| Beverages | 1,048.1 | +21.8% |
| Overseas canned products | 238.7 | -7.2% |
| Domestic canned products | 175.2 | +47.2% |
| Total | 1,507.0 | +17.2% |
China Minzhong, a relatively small player, also has reported a gross profit margin of 45% for its loquat beverages. (

For more, see:

SINO GRANDNESS: Beverage margin unbelievably high? See Minzhong's!)

5. Sino Grandness' beverage sales rose 22% in 1H2015 to RMB 1,048m (see table).

6. Aside from beverages, the Hubei plant also produces fruits in bottles. (More on this in our next video/report).

The plant was a subject of a short-seller's (newman9) report, which turned out to be a case of wrong timing.

It said: "Our researchers found no sign of production within the Hubei factory, which was supposed to be operational in 4Q13 and have up to 200,000 tonnes capacity this year. During the first day, there were no wagons or trucks entering or exiting the main gate. On the second day, an empty truck entered the complex at 9am and remained idle while workers loaded small red boxes onto the vehicle. We do not know what was in the boxes, but we doubt it was juice products. The truck remained at the factory that evening."

The short-seller's report was dated 4 Sept 2014, which implies that his field work was carried out in August, if not earlier -- ie, the timing was premature.

In the next few days, we will upload three more videos from our visit -- 1) the production of bottled oranges, 2) the trade show which Sino Grandness took part in last week, and 3) our checks of convenience stores in HK.