Excerpts from analyst's report

UOB Kay Hian analyst: Loke Chunying


SING HOLDINGS (SING SP) -- Takeaways From Management Meeting

VALUATION
• Sing Holdings is trading at 0.6x 2015P/B with a dividend yield of 3%.

INVESTMENT HIGHLIGHTS
• Sing Holdings is a property developer in Singapore. It currently has interests in two residential projects - a 70% stake in Waterwoods, a executive condominium (EC) in Punggol, and a 100% stake in Robin Residences, a freehold condominium at Robin Road.


"Bumper profit FY15/16.
We understand Waterwoods is expected to achieve TOP at end-15 or early-16. As profits for EC are recognised based on the completion method, we expect Sing Holdings to have a bumper profit year in 2015-16 for the 94%-sold project. The group's net gearing is also expected to be substantially reduced upon the receipt of the remaining sales proceeds from the project."
-- Loke Chunying (photo)
• Slow moving sales at Robin Residences… Affected by the property cooling measures, sales at Robin Residences have been hit, with only about 42% of the project sold to-date. Robin Residences is expected to achieve TOP at end-15. Assuming Sing Holdings is unable to sell any of the remaining units in Robin Residences by end-19, we estimate it may incur cumulative extension charges of up to S$45m.

• …but management remains confident in the project. However, management remains confident on the sales of Robin Residences due to the project's strategic location and freehold status. Robin Residences is located in the vicinity of Singapore Botanic Gardens, Gleneagles Hospital and reputable schools such as Singapore Chinese Girls' School and Anglo-Chinese School. The project is also minutes away from Stevens MRT which will be ready by 2016.

• Investment properties held below fair value at books. Sing Holdings also holds 48 strata units with a saleable area of 50,227sf in BizTech Centre, a freehold industrial building at Aljunied Road which is 90% tenanted. The 48 strata units are being carried at cost of S$26.9m. In 2014, Sing Holdings sold two units (saleable area of about 2,131sf) for a profit of S$0.8m. Based on our back-of-the-envelope calculation, the fair value of Sing Holdings' remaining 48 units may be worth S$45m (or S$0.11/share)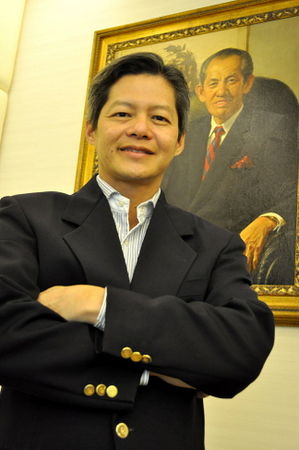 Lee Sze Hao, CEO of Sing Holdings, with a portrait of his father, Lee Fee Huang, the founder of the company.
NextInsight file photo.• Active share purchases by major shareholders. We note management has been actively acquiring the shares of the group since May 14. The direct and indirect interest of Mr Lee, the CEO of Sing Holdings, has risen from 36.6% in May 14 to 38.1% in Aug 15.

• Our View: Like other small local property developers, Sing Holdings is trading at a steep discount to book value due to poor sentiment in the industry.

While we note the potential value in the assets of the company following the imminent TOP of Waterwoods, there are also challenges ahead, such as the slow sales at Robin Residences and the absence of other development projects in the pipeline.