Terence Wong, CFA is head of research at OSK-DMG and has been running a model portfolio. See previous story: Terence Wong: "My $1 m model portfolio is now worth S$2.65 m"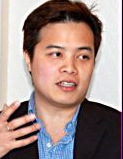 Terence Wong, CFA♦ HanKore Environment, which has fallen a painful 25% since my purchase, booked a CNY114.7m loss for FY14 results due to accounting for non-cash fair value losses and nonrecurring expenses in 3QFY14. Without these items, pre-tax profit would have been CNY84.0m.

The group's strategic merger with China Everbright (CEI) remains the key catalyst, and will likely take place in Dec 2014 based on existing progress. While the long term prospects are there, the stock will unlikely see a spurt any time soon. I think the money could be better used somewhere and I have decided to switch out of Hankore into Oxley Holdings (BUY, TP SGD0.91), which is one of the largest niche developers in Singapore.

♦ I will be selling 180,000 shares of Hankore at SGD0.805, and buying 550,000 shares of Oxley at SGD0.585. I would also like to pad on my position in Centurion Corp (BUY, TP SGD0.88), as the stock has seen a big fall lately following fears of overcapacity in the sector. The selldown appears to be overdone, and I believe there is still good value in the stock. I would be buying 200,000 shares of Centurion at SGD0.56 apiece.
The following analysis of Oxley was done by OSK-DMG analyst Goh Han Peng. It is incorporated into Terence Wong's article.

Once in a while, a new guy comes along that re-defines the existing rules of the game and brings new perspectives to how an industry operates. Ching Chiat Kwong is one such person.

Starting out from a building contractor, Ching was one of the pioneers to introduce shoebox units to the local market on a big scale, and subsequently went on to develop fanciful industrial projects with lifestyle facilities and strata-titled mixed development projects with resounding success.

Ching was formerly a policeman who was, for a while, an otah seller, before becoming a contractor for property companies such as Macly Group and Fragrance Group.

Later on he began to develop his own projects, and in 2010, joined forces with Eric Low See Ching to form Oxley Holdings, which was listed in the same year.
High gearing but pre-sales proceeds will bring it down rapidly
While Oxley's net gearing is high at 4x, we expect this to progressively decline to 1.2x by FY16 as the group collects cash and books in profits from its pre-sold projects locally and overseas.

Under accounting rules, Oxley recognises profit and revenue from commercial property sales and overseas projects only upon completion. As most of its larger projects are still in the early stages of completion, the bulk of the profit recognition will kick in from FY16 onwards.

Attractively priced.
A hallmark of the group has been its impeccable execution, from timely site acquisitions to successful marketing and quick launches. The group's sound execution has led to many projects being sold out, leaving it minimally exposed to a softening property market.
We derive a valuation of SGD1.14 for the stock based on a reappraised-net asset value (RNAV) method. At current price, the stock trades at a 49% discount to RNAV. Our TP of SGD0.91, based on 20% discount to RNAV, offers 56% upside.
Full report here.