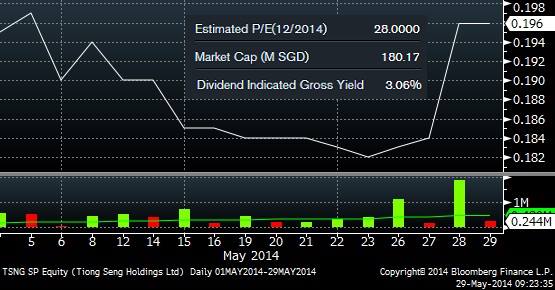 Tiong Seng shares rose 6.5% overnight after it said it secured a MRT project worth S$316 million. Bloomberg data

Tiong Seng JV wins S$316 million MRT contract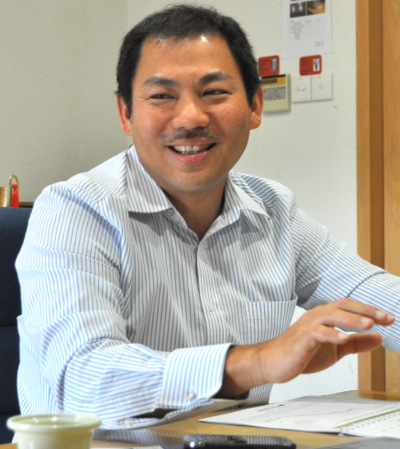 CEO Pek Lian Guan. NextInsight file photoTIONG SENG HOLDINGS shares rose 6.5% to reach 19.6 cents yesterday after the leading construction player in Singapore announced that its joint venture clinched a MRT contract worth some S$316 million.

Close to 2 million Tiong Seng shares changed hands yesterday.

The latest contract adds to its huge order book, which had already amounted to some S$1.17 billion as at 14 May 2014.

The Land Transport Authority awarded the project to the joint venture between the Group's wholly-owned subsidiary, Tiong Seng Contractors (Pte) Ltd, and Dongah Geological Engineering Co.Ltd (Singapore Branch), for the construction of the Great World Station and tunnels for the Thomson Line.

Dongah is a Korean construction company set up in 1971.

Tiong Seng and Dongah have been involved in several LTA projects such as the Marina Coastal Expressway and Downtown Line.as specialist contractors.

Work on the newly-secured contract is expected to commence in May 2014, but the project is not expected to have any material impact on the net tangible assets and earnings per share of Tiong Seng for the financial year ending 31 December 2014.

Construction revenue contributed 98.2% to the Group's 1QFY2014 revenue, which grew 16.0% to reach S$170 million.

Tiong Seng has built many of Singapore's iconic buildings, ranging from condominiums, hotels, to schools and commercial buildings.

The latest contract is the second awarded to the Group by LTA for a MRT network project.

The Group is currently involved in the construction of Downtown Line 2's Hillview and Cashew Stations.
 
Recent story: TIONG SENG: S$1.17 Billion Orderbook To Extend Till 2017
---


Soilbuild Construction wins largest contract since IPO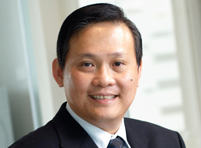 Executive director Ho Toon Bah. Company photo
Soilbuild Construction Group has been awarded construction contracts worth some S$175.5 million for the development of a 7-storey multiple-user general industrial building near SMRT's Kranji depot.

This latest project win brings the construction contractor's order book to about S$512.8 million, and this will be substantially completed by 2016.

"This project is the largest that we have secured since our IPO last May," said Soilbuild Construction executive director Ho Toon Bah.

Work is expected to commence by July 2014 and to be completed by the fourth quarter of 2016.

The contract was awarded by boutique property developer, Kranji Development Pte. Ltd, for the project located at 60 Jalan Lam Huat.

The project comprises contracts for construction, completion and maintenance works, as well as excavation and earth works.

Wholly-owned subsidiary SB Procurement Pte. Ltd will jointly undertake the main contract works, worth about S$179.5 million, with Enviro-Hub Holdings unit Leong Hin Builders Pte. Ltd.

Another Soilbuild Construction wholly-owned subsidiary, Soil-Build (Pte.) Ltd., will undertake the works of the project, worth about S$21.3 million.

Soilbuild Construction posted a 4% year-on-year increase for its 1QFY2014 net profit, at S$3.9 million.

The project is not expected to have any material impact on either the NTA or EPS of Soilbuild Construction for the financial year ending 31 December 2014.