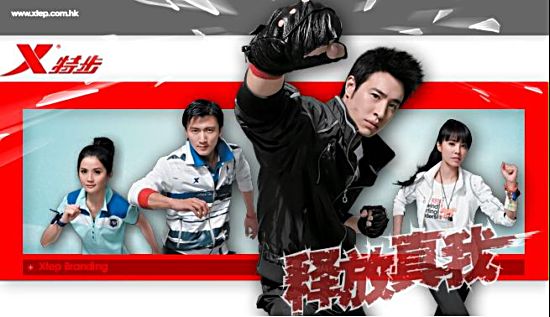 Xtep and other Chinese sportswear plays are hoping the PRC's ongoing urbanization will boost demand by consumers in the nation's fast-growing cities. Photo: XtepMain reference: Story in Sinafinance

CHINA SHARE investors may have something to shout and cheer about next year.

The benchmark Shanghai Composite – the chief Index monitoring the progress of A- and B-shares listed in Shanghai and Shenzhen – is currently trading at levels 8.2% higher than a year ago.

On a year-to-date basis, the Index fares much worse, recently down over 3% since January 1 of this year.

And barring any major market-moving moves on the policy front in the remainder of December, probably the best that the Index can hope for in calendar year 2013 is to have dropped in the low single digits or possibly to break even.

Chinese media recently said that all the talk of the PRC finally looking to its own consumers for growth following the Wall Street meltdown in 2008 is finally showing signs of becoming a reality.

Ever since Chinese exports nosedived when the global financial crisis hit five years ago, the government has been trumpeting the virtues of China looking to pry open the pocketbooks of its 1.3 billion consumers rather than relying on external demand to propel the economy.

Add to the growing attention to the domestic market is the fact that the economy is also benefitting greatly from the constant and ongoing migration of villagers to cities, i.e. China's historic urbanization drive.


Airmate and other home appliance plays are also eyeing China's growing ranks of city dwellers as a huge market potential.
Photo: AirmateRecently, local media reported that both transformations – domestic demand and urbanization – have both helped Anhui Province in particular generate an additional 400 billion yuan in investment per year chasing growing consumer demand in the province.

Provincial government officials said this is a significant boost to the Eastern China region's economic development.

Anhui doesn't get a lot of media attention in the financial pages, and has a quieter news profile than neighboring and more affluent provinces like Shandong, Jiangsu and Zhejiang.

Therefore, the stunning investment figures for the province are all the more encouraging given that the assumption can be made that investment totals chasing urbanization-inspired consumer demand are even higher in more well-to-do provinces.

This can only be good news for China's oft-struggling retail and consumer goods sectors, which are often burdened down by too many competitors, lack of brand awareness and excess inventories.

The PRC's sportswear sector is a prime example of the problems facing domestic-brand retailers.

But with so much money pouring into an anticipated jump in more urbanites hungry for more consumer goods, this can only be an upside for listed consumer plays, including department stores, sportswear plays and a whole range of retail sector listcos.

The recently-convened national-level economic conference was the first to specifically address the progress of urbanization in stimulating consumer demand.

The very positive numbers coming out of Anhui Province in particular should help shine the light even brighter on China's pent up consumer demand, and the possibility of urbanization finally letting the PRC consumer genie (and her wallet) out of the bottle for good.



China shares are struggling to break even as 2013 draws to a close. Source: Yahoo Finance

Another finding coming out of the economic powwow is that much of the attention to new consumer demand evolving from China's historic urbanization is focused on tapping the newcomers' bank accounts.

In other words, villagers moving up the social totem pole in their newly-adopted cities often start from a very low consumption base, and therefore exhibit higher demand for refrigerators, air conditioners, televisions, clothing, décor and a whole variety of gadgets and gizmos that seasoned urbanites consider staples.

Therefore, China's retail/consumer sector is expected to get a bounce next year as city folk start shopping in earnest, and this will help boost investor confidence in a seemingly countless number of retail sector stocks listed in Shanghai and Shenzhen.

Also, on the macroeconomic front, China's bourse watchdog approved 22 new qualified foreign institutional investor (QFII) accounts in November alone, up a robust 58% from a year earlier.

This marks the 23rd straight month in which new QFII accounts were approved by the China Securities Regulatory Commission.

Therefore, not only are investors paying more attention to China's rapidly rising ranks of urban consumers, but foreigners are increasingly turning their collective gaze to A-shares as a promising investment platform.

These ongoing trends will likely translate into greater upside potential for Chinese shares in the coming year.


---

See also:

GOLDEN YEARS: A-Shares Getting Boost From Aging China