MEDIA CHINESE 3M revenue up 3.2%

Media Chinese International Ltd (HK: 685) enjoyed a July-September revenue increase of 3.2% year-on-year to 125 million usd.

However, net profit over the three-month period declined 6.3% from year-earlier levels to 12.07 million usd on lower margin sales.

EPS for the quarter stood at 0.72 US cent.

The board proposed a dividend of 0.75 US cent for the period.

Media Chinese is a diversified enterprise engaged in newspaper, magazine and book publishing as well as tour operations and property investment.


---
PERFECT SHAPE 6M profit up 29.5%
Perfect Shape (PRC) Holdings Ltd (HK: 1830)
recorded an April-September interim net profit increase of 29.5% year-on-year to 42.2 million hkd, helping the firm's share price rise to near 52-week highs.

Interim revenue rose 14.5% year-on-year to 233 million hkd.

EPS stood at 4.2 HK cents.


Perfect Shape announced an interim dividend of 4.3 HK cents with an ex-dividend date of December 17, 2013 and a payout date of January 13, 2014.

This amount is higher than the 3.3 HK cents interim dividend offered a year earlier.

Perfect Shape is principally engaged in the provision of slimming and beauty services and the sales of slimming and beauty products in Hong Kong, the PRC and Macau.


---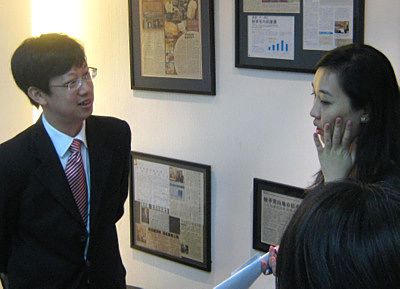 Sijia Finance Department Head Mr. Wu Yonggui (left) speaking with Hong Kong investors. NextInsight file photoSIJIA issues profit warning

Sijia Group (HK: 1863) issued a profit warning, expecting it likely to record a bottom line decline for the year ended December 31, 2012 and for the six months ended June 30, 2013, as compared to earlier corresponding periods.

Such decline is mainly attributable to the decrease in the gross profit of certain products of the group as a result of the decrease in market selling prices of such products and the increase in raw material costs.

In mid-October, Sijia Group appointed Zhonghui ANDA as auditors for the year ended December 31, 2012, and projected Zhonghui would complete its auditing work for the results in 2012 before the end of November.

Sijia is principally engaged in the design, development, manufacture and sale of polymer processed high strength polyester fabric composite materials, and downstream related inflatable and waterproof products targeting the outdoor leisure, recreation and sports consumer markets.


---

See also:

PERFECT SHAPE: 'Great' Beauty Clinic Response

SIJIA Clarifies Audit