GUANGDONG YUEYUN wins prestigious award



Guangdong Yueyun Transportation Co

L

t

d

(HK: 3399) won the "Listed Company with Greatest Growth Potential" honor at the Golden Bauhinia Awards 201

3

.

Guangdong Yueyun is principally engaged in the provision of motor vehicle transportation and auxiliary services, integrated logistics services and expressway-related services

in South China

.





The Golden Bauhinia Awards 201

3

were

hosted by the Chinese newspaper, Ta Kung Pao.

Co-organizers were

The

Chinese Securities Association of

Hong Kong, The Hong Kong Institute of Chartered Secretaries

,

The

Chinese Financial Association of

Hong Kong

,

The

Hong Kong Securities Professionals Association, The Listed Companies Association of Beijing, and

The

Shanghai Association of Stock System Enterprises

.

"This award

shows that our growth potential is widely acknowledged in the capital market

s

.



"

We always attach great emphasis to the efficiency and quality of our business practices so as to achieve stable development

," said Guangdong Yueyun Chairman

Mr. Liu Wei

.

He added that Guangdong Yueyun

will further exploit its advertising resources and optimize its business structure

in

an effort to gain new growth momentum and maintain its competitive edge.



"We are

determined to fulfill

our

growth potential and realize

our

principal goal of becoming a conglomerate integrating road transportation, expressway service

s

, modern logistics, commercial properties and advertising media

."



Guangdong Yueyun was founded in 1999 and listed

in Hong Kong in

2005.




---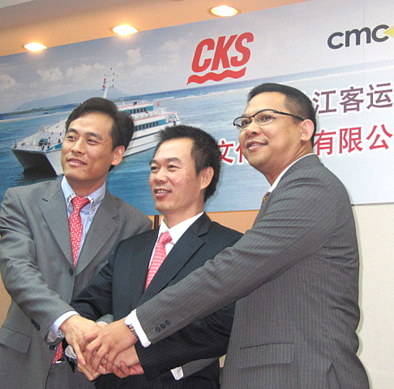 One Media Group and Chu Kong Shipping celebrate their 2012 tieup. From left, Luo Jian, Director & GM, Chu Kong Passenger Transport Co Ltd; Huang Shuping, Vice General Manager, Chu Kong Shipping Enterprises (Group) Co Ltd, and Patrick Lam, CEO, One Media Group Ltd.
Aries Consulting file photoONE MEDIA profit down nearly 28%

One Media Group (HK: 426) saw its July-September net profit fall almost 28% year-on-year to 3.7 million hkd.

Three-month revenue slipped 10.6% year-on-year to 44.9 million hkd on slower sales.

EPS stood at 0.92 HK cent.

No interim dividend was declared.

In November 2012, One Media and South China shipping and passenger ferry play Chu Kong Shipping (HK: 560) inked a 20 million hkd deal to form Chu Kong Culture Media Co Ltd.

The joint venture targets advertising platforms within the growing passenger ferry business in the booming Pearl River Delta.

One Media's shares are currently trading around 0.51 hkd with a 52-week range of 0.45-0.88.

One Media Group is focused on the Chinese-language lifestyle magazine market in Hong Kong and the PRC. It is principally engaged in the publication, marketing and distribution, through third party distributors, of Chinese-language lifestyle magazines and the sale of advertising space in those magazines.

---
See also:

YUEYUN Expands South China Footprint

ONE MEDIA Net Profit Up 10%