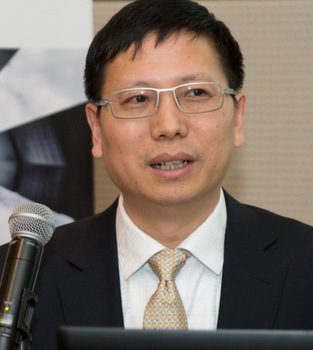 Yueyun Executive Director Mr. Tang Yinghai speaking with investors in Shenzhen. Photo: Aries ConsultingGUANGDONG YUEYUN Transportation Company Ltd (HK: 3399), a leading expressway-based transportation, logistics, service area and toll collection play in South China, is particularly upbeat on a growing facet of its business – advertising – management told investors.

Yueyun Executive Director Mr. Tang Yinghai said that to date, the firm had already signed 38 highway-side advertising contracts.

"We will continue our strong push to boost our highway advertising assets going forward.

"Recently, we received approval to significantly increase the scale of our highway advertising operations and we expect significant benefits down the road," said Mr. Tang on January 10 in Shenzhen at the Aries Consulting-organized "3rd Scaling New Heights – Asia Investment Forum 2014."
Yueyun's growing interest in boosting revenue from placing advertisements on highway-side billboards, at rest stops and on cross-border buses was evident as Yueyun's chairman, Mr. Liu Wei, said the firm would further exploit its advertising resources and optimize its business structure to gain new growth momentum.


As testimony to its robust revenue prospects,
Guangdong Yueyun
recently won the "Listed Company with Greatest Growth Potential" honor at the Golden Bauhinia Awards 2013 in Hong Kong.

"This award shows that our growth potential is widely acknowledged in the capital markets.

"We always attach great emphasis to the efficiency and quality of our business practices so as to achieve stable development," said Mr. Liu upon accepting the honor.

Yueyun also gave its investors an early Chinese New Year Gift on January 23 by issuing a positive profit alert, saying it expects to record an increase in net profit of approximately 80% for calendar year 2013 (2012 net profit stood at 72.5 million yuan).

Yueyun cited an increase in road transportation business profit as a result of the company's optimization of resources and increased adaptation of LNG-fueled vehicles that lowered costs as the reasons for 2013 being a good year.

Other factors include an increase in profit from material logistics services and expressway service zones business as a result of additional service zones being put into use, and higher profit from the operation of the Tai Ping Interchange as a result of the actions led by its parent company, Guangdong Provincial Communication Group, against the evasion of tolls by vehicles.



Guangdong Yueyun's Hong Kong shares have surged of late, boosted in part by a recent positive profit alert. At HK$2.99, the stock trades at a trailing PE of 9.75 and sports a market cap of HK$1.23 billion. Chart: FT.com

Eyes on the Road

In Shenzhen, the leading financial city in South China, Mr. Tang told fund managers and investors that Yueyun was the top integrated logistics/expressway-related services provider in the prosperous South China province of Guangdong and No.4 nationwide.
"We benefit greatly from the support, powerful business experience, stellar reputation and industry network connections of our parent firm and we possess several strategic assets that help strengthen our group as a whole.

"We also bolstered our transportation operations when Guangdong Vehicles Transportation Group became a subsidiary of Guangdong Yueyun, thus adding management business of 53 bus stations, over 1,000 passenger routes, 4,000 buses, and over 60 pairs of highway service stations."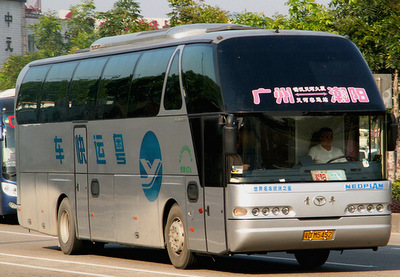 Guangdong Yueyun is a leading transportation play in South China, with 4,000 buses and 1,000 passenger routes to its name.
Photo: www.coach-digi.comHe added that Yueyun was aggressively pushing this aspect of its operational portfolio to boost this segment's revenue contribution and enhance overall value.

It's understandable why the firm was leaning this way as in its most recent results, management of highway service stations contributed 11.7% of the top line but provided 15.3% of net profit.

"We have over 100 highway service area management contracts which is enhancing our reputation in the sector and boosting our brand recognition."

In the first half of 2013, Yueyun inked 105 highway service area project contracts, with four Grade-A year-long projects worth over one million yuan, and 19 Grade-B year-long deals worth between 300,000 yuan to one million.

Another reason for Yueyun to have its eyes on the road was profit contribution from another growing business – toll booth services.

In its most recent results, this fast-rising sector provided less than 3% of Yueyun's total revenue but was responsible for 14.3% of the bottom line.

To boost its public transportation assets in South China, Yueyun announced in September that unit Guangdong Vehicle Transportation Group entered into an MOU to become a strategic investor in Qingyuan City Vehicle Transportation Group and Qingyuan City Second Transportation.

Upon completion, Guangdong Vehicle Transportation will hold a 60% equity interest in Qingyuan City Vehicle and Qingyuan City Second Transportation.

Qingyuan City Vehicle and Qingyuan City Second Transportation are principally engaged in the provision of road transportation and public transportation services in the Guangdong Province city of Qingyuan.



See also:

TECHCOMP, GUANGDONG YUEYUN: Latest Happenings

GUANGDONG YUEYUN Inks Lease Near Guangdong Airport

View this TV programme highlighting the Aries Consulting conference -- with interviews of fund managers and corporate honchos!