MEDIA CHINESE April-June top line up 2.6%

Media Chinese International Ltd (HK: 685) said its April-June revenue rose 2.6% year-on-year to 126.3 million usd mainly due to increased publishing business turnover in the Malaysia market as well as higher tourism segment revenue.

Profit before income tax for the quarter fell 9.0% to18.9 million usd resulting from an increase in finance costs and the recognition of a gain on disposal of convertible notes of 1.1 million usd.



A sampling of some newspapers under the Media Chinese umbrella. Photos: CompanyNevertheless, EBITDA for the quarter improved 2.6% to 23.5 million usd.

Publishing and printing segment revenue in the April-June period rose 1.7% to 100.5 million usd with the segment's quarterly profit before income tax at 19.4 million, a slight decline of 1.3% compared to the same quarter last year.

The growth in revenue over the three-month period was attributable to the increase in advertising revenue from Malaysian operations driven by election-related advertisements in the run-up to the country's 13th General Election held in May of this year.

"We expect the business environment to remain challenging in the coming quarters due to the slowing economy and increased competition in our core markets.

"Nevertheless, Media Chinese will devote continuous efforts to maintain our market share through enhancing our editorial content and strengthening our relationships with customers and business partners," said Media Chinese Company Secretary Mr. Law Yuk Kuen.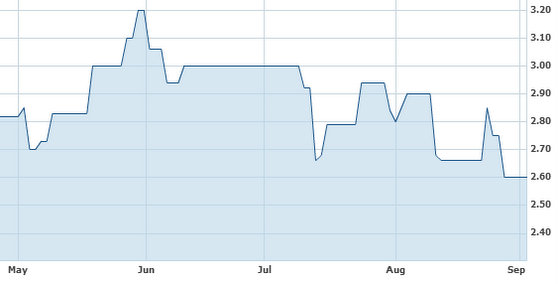 Recent performance of Media Chinese's Hong Kong shares. Source: Yahoo Finance

A decline in April-June revenue was reported by the Group's publishing business in other regions outside of Malaysia.

While Hong Kong operations were impacted by the downturn in the local property market and China's policy in clamping down on extravagant spending, Media Chinese's operations in North America continued to be affected by the region's slow-moving economic recovery.

"Newsprint prices are expected to remain stable in the coming quarters.

"However, if the strengthening of the US dollar against the Malaysian Ringgit continues, there may be an impact on our profitability," said Mr. Law.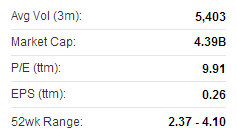 Media Chinese recently 2.65 hkdMedia Chinese's travel segment delivered a solid performance during the quarter with revenue up 6.1% year-on-year at 25.8 million usd while the segment's profit before income tax surged 37.1% to 1.9 million.

The improvement was primarily attributable to the continuing popularity of the segment's European and other long-haul tour products among customers in Asia.

There was no significant currency impact on the Group's financial results for the quarter under review as the exchange rates of the Malaysian Ringgit and Canadian dollar against the US dollar remained fairly stable during the quarter.

"We will continue to maintain our strong focus on cost management in all business units.

"Barring any unforeseen circumstances, we expect overall performance for the financial year 2013/2014 will be satisfactory," added Mr. Law.

One Media Group (HK: 426) in which Media Chinese is a major shareholder, said April-June turnover was down 7.7% at 51.3 million hkd, leading to a 34.7% decline in net profit to 6.5 million.

One Media's April-June quarter earnings per share stood at 1.62 cents with no dividend declared.

Media Chinese International Ltd is a leading global Chinese language media group dual-listed on The Stock Exchange of Hong Kong Ltd (HK: 685) and Bursa Malaysia Securities Berhad (stock code: 5090). Media Chinese's product portfolio in Southeast Asia, Greater China and North America comprises five daily newspapers in 13 editions and three free newspapers with a total daily circulation of around one million copies, as well as some 30 magazines. The Group has also expanded its business into digital media. Media Chinese is the proprietor of Life Magazines, the largest Chinese language magazine publisher in Malaysia, and is the major shareholder of One Media Group Ltd (HK: 426).

One Media Group Ltd is a Chinese-language media institution focused on the Chinese-language lifestyle magazine market in Hong Kong and the PRC. It is principally engaged in the publication, marketing and distribution, through third party distributors, of Chinese-language lifestyle magazines and the sale of advertising space in those magazines.


---
MING FAI H1 revenue up 6%

Ming Fai International Hldgs Ltd (HK: 3828) said its first half top line was up 6% year-on-year to 816 million hkd leading to a 0.4% increase in net profit to 45.8 million.

The retailer and hotel/airline amenities supplier said its relatively stable half-year performance was mainly attributable the firm's capability to adapt to the challenging market conditions and to sustain growth in a gradual manner.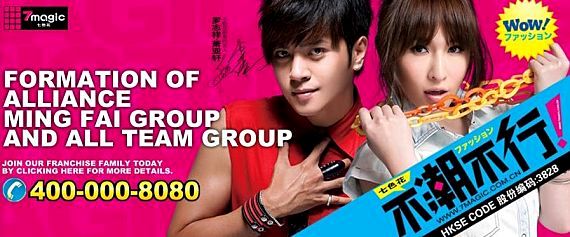 Ming Fai is hoping its 7 Magic chain of retail shops will propel sales across Greater China.
Photo: Company

Basic earnings per share for the six months ended 30 June 2013 was 6.6 HK cents (1H2012: 6.8 HK cents).

"Ming Fai continues to enhance internal management and revamp its operations to maintain stability of its business.

"It is worth noting that the profit attributable to equity holders of the company was actually up by 131.0% year-on-year if the fair value gain on cancellation of shares and compensation income reported in the prior period are excluded," said Ming Fai Chairman Mr. Ching Chi Fai.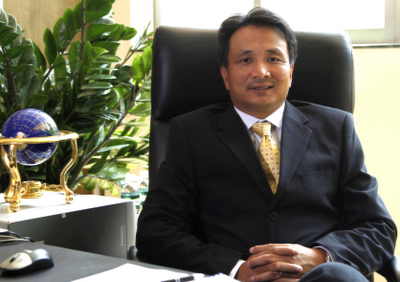 "Increasing hotel occupancy rates stimulate demand for Ming Fai's amenity products across the major markets in which we operate including Greater China, North America and Europe," said Ming Fai Chairman Mr. Ching Chi Fai. Photo: Ming FaiThe overall interim gross profit margin increased to 24.8% from 19.4% in the year-earlier period, which was achieved through what management said was Ming Fai's persistent efforts in cost controls amid escalating manufacturing costs.

"Ming Fai's core business -- the manufacturing and distribution of amenity products -- showed continuous dynamism and remains the key driver for our financial performance.

"However, the retail business '7 Magic' faced a bumpy road while the laundry business has yet to generate a profit," Mr. Ching added.

Ming Fai's board of directors has resolved to pay an interim dividend of 1.5 HK cents per share for the six months ended 30 June 2013 versus 1.0 HK cent a year ago.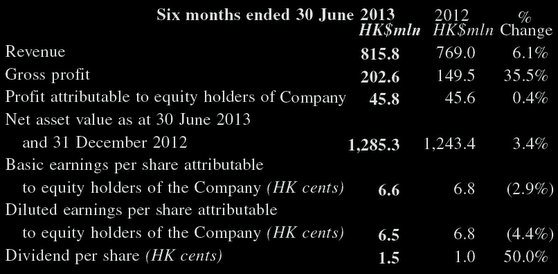 Ming Fai managed a bottom line increase in a tough operating environment. Source: Company

Ming Fai's January-June 2012 bottom-line performance included the following items:

A loss of 8.6 million hkd (year earlier, loss of 9.0 million) related to its operation of a 100%-owned laundry plant in Jiangsu Province; a loss of 8.5 million hkd (year earlier, profit of 13.2 million) with respect to the "7 Magic" retail business in the PRC; a loss of 1.6 million hkd (year earlier, profit of 0.1 million) with respect to the 51% held retail business under brand "everyBody Labo"; share-based compensation of 4.3 million hkd (year earlier, 4.5 million).

Despite the fact that hotel occupancy rates were adversely affected by the protracted economic recovery in Europe and the PRC's policies on clamping down on extravagance, there was a remarkable growth in international tourism, management said.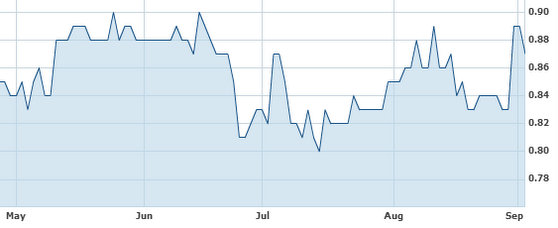 Ming Fai's recent Hong Kong share performance. Source: Yahoo Finance

According to the latest UN tourism statistics, a total of 298 million international tourists travelled worldwide in the first four months of 2013, showing an increase of 12 million as compared to the same period last year.

"The prospects for international travel during the May to August period remain positive with approximately 435 million tourists worldwide likely to travel abroad.

"The increasing hotel occupancy rates stimulate demand for Ming Fai's amenity products across the major markets in which we operate including Greater China, North America and Europe," Mr. Ching said.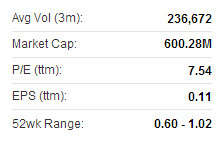 Ming Fai recently 0.86 hkdHe added that with more and more hotels in the PRC being upgraded, Ming Fai continues to target top-tier hotels in order to explore potential business opportunities and expand its customer base.

"As a result of the above, interim revenue of our core business rose 11.7% to 738 million hkd accounting for 90.5% of total Group turnover.

"Despite negative impacts from rising labor costs, Ming Fai managed to achieve a significant growth of 200.0% in the segment profit before income tax, totaling 77.9 million hkd."

Looking ahead, he added that Ming Fai was confident in its ability to enhance its competitive advantages and maintain a leading position in the industry with all the recent strategic moves it has made.

Ming Fai is the leading global supplier to the hospitality, airline, travel and skin care industries. In November 2007, Ming Fai successfully listed on the main board of the Hong Kong Stock Exchange, becoming the first China-based hotel amenities supplier to go public. Ming Fai stepped into the cosmetics market in the PRC, launching a professional skin care brand "everyBody Labo" in December 2009. The brand now sells in Harvey Nichols and Mannings shops across Hong Kong, and is actively seeking expansion in the PRC market. In August 2010, Ming Fai successfully entered the domestic retail market with the acquisition of retail-chain brand "7Magic." Ming Fai was awarded "Best Eco-Friendly Hotel Supplier of the Year" and "Most Outstanding Contribution Award of Low-Carbon Supplier" in 2010, and was ranked on the annual list of China's Greatest Potential Enterprises by Forbes in 2008, as well as being named as a China Hotel Industry Top 100 supplier.


---

See also:

MEDIA CHINESE Top Line Climbs

MING FAI Gets 'Buy' On Retail