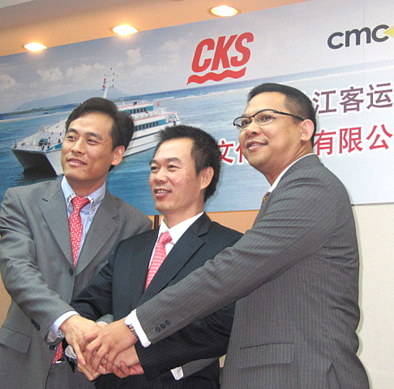 One Media Group and Chu Kong Shipping celebrate their tieup. From left, Luo Jian, Director & GM, Chu Kong Passenger Transport Co Ltd; Huang Shuping, Vice General Manager, Chu Kong Shipping Enterprises (Group) Co Ltd, and Patrick Lam, CEO, One Media Group Ltd. Aries Consulting file photoTWO UP-AND-COMING Hong Kong-listed media plays reported mixed year-to-March results.

ONE MEDIA GROUP (HK: 426) saw its year-to-March net profit rise 10.1% year-on-year to 35.9 million hkd but revenue declined by 3.1% to 217 million.

Gross profit over the 12-month period fell 4.1% to 123 million hkd.

A final dividend of 3.5 HK cents was declared.

One Media Group's Hong Kong-listed shares finished up over 7% on Thursday.

Late last year, Chu Kong Passenger Transport Co Ltd, a wholly-owned subsidiary of Chu Kong Shipping Enterprises (Group) Co Ltd (HK: 560) – teamed up with One Media Group to form a high-speed passenger transportation advertisement company called Connect Media Co Ltd (CMC).

CMC is a high-speed passenger advertising platform for routes between Guangdong, Hong Kong and Macau which leverages on combining the complementary advantages of both companies to serve a captive audience onboard watercraft.

One Media Group is focused on the Chinese-language lifestyle magazine market in Hong Kong and the PRC. It is principally engaged in the publication, marketing and distribution, through third party distributors, of Chinese-language lifestyle magazines and the sale of advertising space in those magazines.


---
MEDIA CHINESE (HK: 685) recorded a top line growth of 1.2% to 478 million usd in the year ending March 31, but its net profit over the 12-month period was down 8.8% at 77.4 million usd.

In the January-March quarter, Media Chinese saw a 6.1% sequential rise in revenue to 110.1 million usd primarily attributable to the improved performance its travel segment while the publishing and printing segment saw a marginal drop in turnover.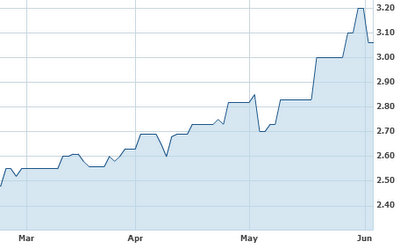 Media Chinese shares have climbed steadily this spring.
Source: Yahoo Finance"We anticipate that the business environment in those markets that the Group operates in will be challenging. The Group's advertising revenue is expected to grow in tandem with the local economy that the Group operates in.

"With the ongoing efforts to strengthen the editorial content of the Group's publications, circulations sales are expected to remain at sustainable levels," said Media Chinese Group CEO Mr. Francis Tiong.

Basic earnings per share for the year ended 31 March 2013 was 3.38 US cents, compared to last year's 3.75 US cents.

As at 31 March 2013, the Group's cash and cash equivalents and net assets per share attributable to owners of the Company amounted to 101.8 million usd and 12.27 US cents, respectively.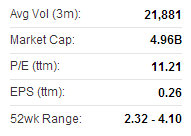 Media Chinese recently 3.1 hkdThe Board has declared a second interim dividend, in lieu of a final dividend, of 1.015 US cents per ordinary share to be paid on 31 July 2013.

Together with the first interim dividend and special dividend of 0.673 US cents and 13 US cents per ordinary share, respectively, the total dividend for the year will be 14.688 US cents per share.

"The Group will continue to put in place cost management measures and take steps to preserve the profit margin. Barring any unforeseen circumstances, the Group is expected to achieve satisfactory performance in the new financial year," Mr. Tiong added.

Media Chinese International Ltd is a leading global Chinese language media group dual-listed on The Stock Exchange of Hong Kong Ltd (HK: 685) and Bursa Malaysia Securities Berhad (stock code: 5090). Media Chinese's product portfolio in Southeast Asia, Greater China and North America comprises five daily newspapers in 13 editions and three free newspapers with a total daily circulation of around one million copies, as well as some 30 magazines. The Group has also expanded its business into digital media. Media Chinese is the proprietor of Life Magazines, the largest Chinese language magazine publisher in Malaysia, and is the major shareholder of One Media Group Ltd (HK: 426).


---

See also:

CHU KONG, ONE MEDIA Ink Strategic 20 Mln Hkd Ad Tieup