Main reference: Story in Sinafinance

THE CHINEXT BOARD, the SME startup often called "China's Nasdaq," surged over 3% on Wednesday to hit a near two-year high, but did witness some predictable profit-taking the following day.

So what's spurring on the Shenzhen-based board, home to listcos like China's top PR firm BlueFocus?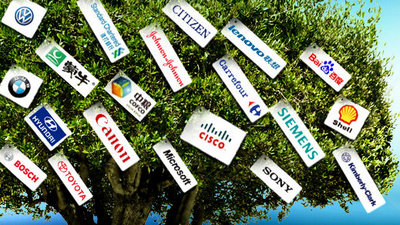 PR firmBlueFocus, one of the higher profile listcos on the ChiNext, counts among its clients 25 of the Global Fortune 500 giants, including Royal Dutch Shell, Toyota, Canon and China's own PC maker Lenovo. Photo: BlueFocusWednesday saw nearly half of ChiNext-listed firms rise by at least 5%.

The board for capital-hunger small- and mid-caps has been on a four-day winning streak.

Among recent big winners include several listcos which all rose by their 10% daily upside limit.

Shaanxi J&R Fire Protection (SZA: 300116) is a maker of fire extinguishing systems.

The company has a debt-to-equity ratio of just under 8% compared to a sector average of 77%.

Beijing Enlight Media (SZA: 300251) recently said it expects Q1 net profit to jump by as much as 320% to 82.8 million yuan.

The firm's shares were up another 7% by the Thursday mid-day break.

Staidson (Beijing) Biopharmaceuticals (SZA: 300204) was recently named No.13 on Forbes' Top 100 Public Small Businesses, and has been buoyed by continued supportive statements from the new national leadership regarding China's drugmakers.

Lithium battery maker Sunwoda Electronics (SZA: 300207) has benefitted from being included in the recently-announced plan by the Shenzhen government for a batch of projects in emerging sectors like new energy, new materials, next generation IT and biotech.

Shenzhen-based BYD Co Ltd (SZA: 002594; HK: 1211), dual-listed on both Shenzhen's A-share main board and in Hong Kong, is China's top hybrid and fully-electric automaker and could potentially be a major downstream buyer of neighboring Sunwoda's batteries.

Hangzhou Tigermed Consulting (SZA: 300347), currently trading at 52-week highs, is an up-and-coming pharmaceutical research firm as well as a provider of professional clinical research and testing services.

Not only has the new leadership in Beijing voiced strong support for China's pharmaceutical sector, but the growing bird flu outbreak is boosting demand for drug and clinical testing plays like Tigermed.

Beijing-based mobile game developer Ourpalm (SZA: 300315) has been on an R&D campaign of late picking up smaller competitors to boost its game offerings.

Hybio Pharmaceutical (SZA: 300199) is also at 52-week highs on strong sector support from the country's leadership.

Janus (Dongguan) Precision Components (SZA: 300083), a mold maker for consumer electronics, has benefited from strong orders from the countless factories in Dongguan and Shenzhen producing everything from iPhones and iPads to laptops and handsets.



The ChiNext board, aka: 'China's Nasdaq', has been anything but stable these past three years. Source: Sinafinance

China's top public relations firm BlueFocus Communication (SZA: 300058) has risen nearly 11% over the past four trading days as it continues its aggressive non-organic expansion strategy, picking up attractive peers along the way.

Analysts say it's time to switch off the bearish investing mindset and start preparing for a return of the bulls to the A-share markets, especially so for A-shares listed on the ChiNext board.

The ChiNext is not called "China's Nasdaq" for nothing.

With its plethora of startup tech firms with plenty of room for growth, there is no reason to believe this capital raising platform of bluechip wannabes isn't ready to take off.

And the fact that the board was established in Shenzhen, China's most crowded city with a steady stream of migrant labor to fill the region's thousands of factories, the logistical advantages are clear.

More importantly, Beijing's newfound commitment to offer strong support to the highly fragmented pharmaceutical industry will help weed out the laggards, with ChiNext-listed drugmakers surviving the cull emerging all the more powerful to make it big.
---