AmFraser Research analyst Sarah Wong noted that Sing Holdings is slated to launch Waterwoods EC (Punggol) in Sep 2013. She gave reasons for expecting that it would be a successful launch amid the current cooling of the property market sentiment.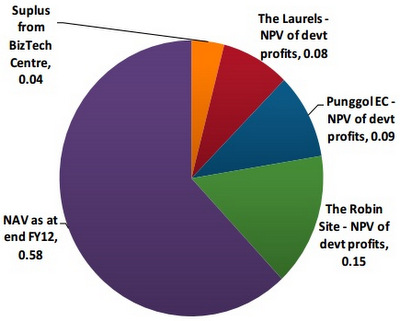 How AmFraser Research derives a RNAV of 93 cents a share for Sing Holdings. Analyst: Sarah Wong

· Buoyant EC market continues to enjoy strong supply-demand dynamics. The EC market has continued to be a buoyant one, with two new recent EC launches registering strong interest from applicants.

According to news reports, Ecopolitan, a 512-unit EC development located at Punggol Way/Punggol Walk, was 2 times oversubscribed at the close of application date 7 July 2013. Lush Acres, a 380-unit EC project located at Sengkang West Way/Fernvale Link, was 1.6 times oversubscribed since its launch on 13 July 2013. The indicative price ranges for both projects are S$750 to S$800psf.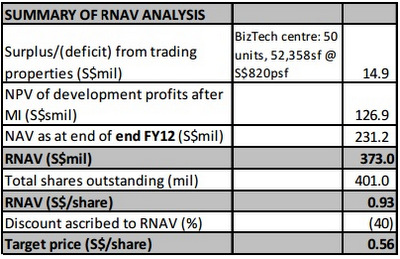 · Potential shortage in launches in the near-term, due to the new 15-month rule. In Round 7 of the cooling measures, MAS mandated that EC sites can only be launched for sale 15 months from the date of award or after completion of foundation works, whichever is earlier.

Based on feedback from developers, foundation works typically take 9 months to complete. This means that there could potentially be a short period of vacuum of EC launches, depending on the timing of sales launches of the remaining EC sites that have been tendered out. At the moment, there are 5 sites have yet to be launched, of which Sing Holdings' Waterwoods site is the only one situated at Punggol.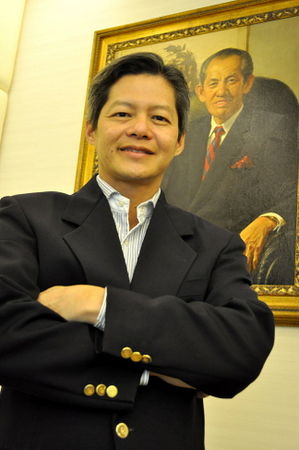 Lee Sze Hao, CEO of Sing Holdings, with a portrait of his father, the founder of the company. NextInsight file photo· Direct impact to Sing Holdings—potential to raise ASP of Waterwoods EC. Our current ASP estimates stand at S$750psf, which is on the low end of the indicative price ranges of Lush Acres and Ecopolitan EC (S$750 to S$800psf).

Given the above factors, we could potentially be underestimating the ASP. A simple sensitivity analysis suggests that should Waterwoods be priced at the higher end of the range, i.e. S$800psf, the NAV-accretion from the project could be increased to S$0.12 from the current S$0.093.

Our current estimates of S$0.093 NAV accretion forms 10% of our RNAV estimate.
· Buy ahead of the successful launch—fair value of S$0.56. Our current RNAV estimates stand at S$0.93, and we value Sing Holdings at 40% discount to RNAV, deriving a fair value of S$0.56.

Sing Holdings' current share price of S$0.47 presents a 19% capital appreciation potential. Reiterate BUY.



Recent story: SING HOLDINGS: On Robin plot ratio, new property strategy and dividends
---
Armarda satellite service usage doubles
Armarda CEO Terence Luk. NextInsight file photoUOB Kayhian issued a non-rated note on Armarda Group shortly after 45%-owned associate company, China Mobile Satellite Communications Group (CMSCG), announced a twofold increase in subscriber usage a month after launching its mobile satellite service.
CMSCG launched its sale of '1349' mobile satellite SIM cards in early May together with China Telecom Satellite ("CTS"), a subsidiary of China Telecommunications Corporation, promoting Thuraya mobile satellite handsets and mobile satellite airtime services to key Chinese distributors.

Monopolizing Satellite Mobile Airtime In China

ICSMCG and CTS are the first and only joint-licensee to provide Thuraya's L-band satellite mobile telecommunications services in China.

According to AC Nielson, demand for dual-mode satellite handsets in China is estimated at 320,000-410,000 units a year and could reach 1.33 million to 3.84 million units in 2-3 years' time.

This represents growth of 60% to 110% per year.
Leveraging on strengths of established partners

"CSMCG has a unique asset-light business model through an exclusive tie-up with Thuraya Telecommunications (Thuraya). It utilizes Thuraya-3 satellite resources and distributes Thuraya's satellite mobile telecommunications devices in China.
"CSMCG leverages on Thuraya's satellite infrastructure and does not incur exorbitant capex.
"CSMCG partners CTS and China National Postal and Telecommunications Appliances Corporation, utilizing their extensive distribution networks to reach new customers."
"Armarda's peers in the satellite communications industry trade at an average historical PE of 18.9x."

Related story: Armarda associate and China Telecom Satellite jointly launch Thuraya mobile satellite service