Additional government measures to cool the property market have virtually shut down en-bloc transactions and dampened property price increases. One property company -- Sing Holdings -- is almost unscathed and, in fact, could eventually be re-rated by the market. Check out the reasons given by "Singapore Investment Research" website. Excerpts of its article:
3 Reasons why Sing Holdings could be the next privatisation candidate

Strong earnings outlook from Parc Botannia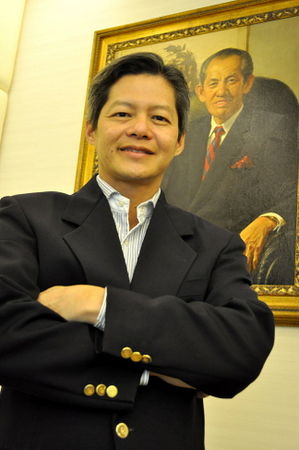 Lee Sze Hao, CEO of Sing Holdings. NextInsight file photo.Parc Botannia is a 99-year leasehold, 735-unit mass market condominium development located along Fernvale Street in District 28. This project is jointly developed by Sing Holdings (70%) and Wee Hur Holdings (WHUR SP) (30%).
Land cost is low as the developers acquired the site for only S$517 psf ppr through the Government Land Sales programme in 4Q 2016. This was even lower than the price of the Executive Condo site at Sumang Walk that CDL and TID Residential recently acquired (S$583 psf ppr).
The project was launched at S$1,270 psf in November last year. Prices have trended higher and the average price of transacted units have increased to S$1,285 psf. The project has sold well, with 60% of the units sold to-date.
At S$1,285 psf, the gross development value of the project is around S$720 mil and the estimated development profit (less land, construction, fees etc) should be around S$174 mil, implying a very development profit margin of 24%.

Hence, we could see a potential S$0.30 per share uplift in Sing Holdings' NAV when the project is fully sold and completed. This is almost a 50% increase in Sing Holdings' existing NAV.

A cash-rich company in 3 years' time
Sing Holdings currently has a cash hoard of S$119.2 mil and quoted investments worth S$9 mil. Once Parc Botannia is fully sold and completed in 3 years' time, Sing Holdings will be able to monetise the project, getting as much as S$182 mil in cash back from the development.

If it can also divest all the remnant units in BizTech Centre, it can get another S$40 mil in cash. Cashflow from Parc Botannia is pretty secured, with 60% already sold.

Within 3 years' time, Sing Holdings could be having close to S$340 mil of cash on its balance sheet, and holding a hotel investment property.